While the market is filled with sleek and powerful countertop microwaves ovens that can do almost anything you want, many of them cost quite a lot. If you're someone that doesn't want to spend too much, especially if you're not going to use it for proper cooking, you can find a good model but inexpensive model instead. Looking for the best microwave under $100 isn't too difficult if you tone down your expectations on things like convenience features and power.
Know that you won't find a unit that's more than 1.1-1.4 cubic feet in volume and 1000 watts is the usually the maximum, although 700W is more common. Inverter technology is only available in higher prices models as is and sensor cooking. You can pop corn, heat up a frozen dinner, defrost and reheat foods but actually cooking food can take a bit of time.
For more choices of the best microwaves under $100, click on to Amazon now. Otherwise, read on for our recommendations.
Note that all these are counter top models, over the range ones cost quite a bit more because of their additional fittings. If you also like baking, roasting and grilling but don't have space for an oven as well, consider getting a countertop toaster oven microwave combination that combines all these cooking methods as well as microwave cooking.
Danby Countertop Microwave (0.7, 1.1 & 1.4 cu.ft.)
This touchpad controlled microwave is really simple to use even though it comes with a lot of preset cooking options. You can also set the timer and power level manually too with this Danby microwave. You can choose from 10 power levels and you can extend cooking time in the middle by 30 second increments if your initial setting was not enough. If that's too much of a bother, you can choose from 6 to 11 common cooking functions depending on the model, including cooking a potato, cooking frozen vegetables, or popcorn. In addition to those, there are 3 programs for defrost by weight, cook by weight, and speed defrost.
This microwave is available in 3 different size models and maximum power levels. The 0.7 cubic feet is rated at 700W, the 1.1 cubic feet at 1000W, and the 1.4 cubic feet unit at 1100W. You can choose one with a black, white or stainless steel exterior.
The Danby is quiet and is made of stainless steel in the interior. A light inside turns on automatically when the door is opened but there is no light during the cooking or warming process. It comes with a child lock too.
The smaller 0.7 unit is best used for reheating foods as cooking things like meat can take a long time because of its reduced power. You will also find that its beep is a bit on the loud side.
Kenmore 0.9 cu. ft. Countertop Microwave White 73092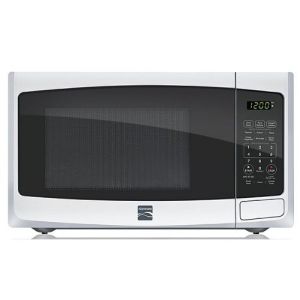 With an average rating of 4.5 stars, this is the top rated microwave in the market. Compact in size and nice looking with a white exterior, some may not like how this Kenmore 0.9 cu. ft. Microwave requires at least three inches clearance on all sides from other objects. It uses 900 watts of power and is energy efficient. You get 0.9 cubic feet of space and a 10.6-inch glass turntable that's dishwasher safe. With a simple push of a button you can open the swinging microwave door that also features a child lock. This is something that a few users don't like, as they're more used to having a handle to pull.
You can extend cooking times at 30 second increments when it's on and explore the six smart touch settings that allow you to do everything from defrost and reheating to melting chocolate. It heats up fast and looks great on the counter. There's an interior light and an LCD settings display and clock, and a beep alert sounds when the cooking is done.
With this microwave you get the benefit of memory cooking that allows you to select a "create and save" option that lets you customize and save cooking time and power level without having to continue to put those combinations in every time you need to cook or heat the same items again.
You can program multiple cooking levels to start at different times in the same cooking cycle. For example, if you're cooking rice in this microwave, you can set it to cook on the highest level first for 5 minutes and then set it to continue cooking on a medium level for the rest of the time. Or you can defrost food for a few minutes and then it can switch to cooking it. The second stage of cooking will start automatically when the first stage ends.
It measures 19″ wide, 11″ tall and 14″ deep.
Westinghouse 600W Counter Top Microwave Oven, 0.6 Cubic Feet (WCM660W)
Easily operate this Westinghouse countertop microwave with its manual dials and no electronic display. It operates on 600 watts of power and is small in size at 0.6 cu. ft., ideal for apartments and dorms. It is really simple to use but a great working appliance for its price. This Westinghouse provides up to six power levels for light cooking and to heat up food. It comes with a 30 minute timer that alerts you when the cooking is done. The mechanical dial controls makes this a good choice for those averse to or can't handle touchpad or button controls.
You get a grip handle to easily open and close the door to the microwave. The interior light stays on only during the cooking process and not when you open the door. It may slide a bit on the counter so you can counter that by either holding it with one hand while opening with the other or you can add 4 pieces of anti-skid under the feet.
For some, this microwave may be a little too small and not powerful enough for real cooking, but it is a handy unit and perfect for couples or single people looking for the best inexpensive microwave that's easy to use.
Nostalgia Electrics Retro Series Countertop Microwave Oven (RMO770BLK)
While all the other models on this list are a bit generic looking, the Nostalgia Electrics RMO770BLK is compact, retro and sleek looking with chrome accents but also has an LED display international time clock and timer with several modern convenience settings. You can buy this microwave in either red or black.
Its capacity is 0.7 cu.ft. and is rated at 700W, so it's not going to warm up a plate in just seconds. If you don't mind going above the $100 limit, they also have a slightly larger and more powerful one. It comes with 5 power levels and 12 pre-programmed settings that you can choose via the dial. As you turn the dial, the display screen will flash the corresponding program image. You can also pause cooking to check up on a dish in the middle. The rotating turntable is made of glass and can be washed in the dishwasher.
Some customers say that this microwave is smaller than expected. Dinner plates will fit but anything bigger will be tight. It is a bit noisy compared to most other models.
RCA RMW1182 Microwave and Grill, 1.1 Cubic Feet
If you prefer a microwave that offers a grilling option, the RCA RMW1182 is the unit for you. It's super handy grilling option allows for more ways to cook your food to perfection. It can cook and heat up sausages, potatoes, pizza, fish and vegetables among other things, and you can heat up your beverages such as tea or coffee when needed. Use the quick start and stop button when in a hurry.
It provides a generous 1.1 cubic feet of space inside. With its stainless steel interior and exterior it is easy to clean. Its glass turntable and grill rack are included and easily removed for washing. As this RCA runs quietly and offers up to 10 power levels, you will never be disappointed with the results.
You may not need to use your wall oven often with this unit, as it uses less electricity and has a maximum of 1000 watts of power output. Never worry about your child being able to open the door to the microwave with its child lock safety feature option. Note that while this does have grilling abilities, you can't replace a toaster oven for certain jobs, especially for when you need convection heating for baking, etc.
You can only add time to the clock when it is already in use, but it's no big deal when considering all of the other features this unit has to offer. Most customers say that this is the best microwave under 100 dollars.