It's that time of year again – a time to celebrate and cherish loved ones. What better way to show them your love than by gifting them something very special. If you're having trouble finding something new and interesting for the foodie and cooking enthusiast in your life, just look to an expert to guide you. Someone like Oprah! She knows what people will like and as she does every year, she has personally hand picked a big list of products that she finds to be special this year. We've sorted through them all and picked out all of the products that a home chef would like. So without further ado, here are Oprah's Favorite Things for the Foodie 2016!
If you'd like to see all the other products she has picked, you can find them all on Amazon.
Note: Oprah's List for 2017 is now out but this 2016 list is still good as most items are still available to buy. You could also check out Oprah's favorites from 2015, as many of those are also still available.
Gifts under $50
Le Creuset Salt & Pepper Mills
Every serious chef should have salt and pepper mills so that you can use freshly ground condiments instead of the readymade stuff while cooking. You can kick it up a notch by getting a beautiful set that can be placed on the dining table and will go with the decor. Table serve your guests with pride using the salt mill and pepper mill by Le Creuset.
Each mill is made of ceramic with a gorgeous ombre effect in a variety of colors. You can adjust the coarseness of grind by a turn of the top knob which has "S" or "P" engraved. They can only be washed by hand and each one measures 8″ by 2 1/2″.
Bialetti Trends Collection 5 Quart Pasta Pot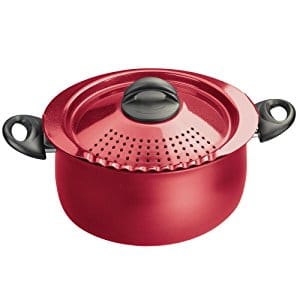 Straining pasta and vegetables the old fashion way by pouring the pot of hot boiling water and cooked food into a colander isn't easy. You're bound to lose a little of the pasta and can easily burn yourself if not careful. That's where the ingenious Bialetti Trends Collection Pasta Pot comes in. It is an aluminum pot with PFOA non-stick inner coating, stay-cool handles and a lid that twists and locks into place for draining. The other cool thing about this lid is the presence of concentric ring holes and small openings along the lip on one side through which hot water can safely drain through without letting any food get through. The pot is oval shaped so you can drop in spaghetti and lasagna noodles without breaking them.
The Bialetti can be used on any kind of stove except induction and is also not for oven use. Do not use metal spoons as they can scratch the non-stick coating. It can be washed in the dishwasher. You can get this pot in one of 4 colors.
Creative Co-Op 4 Piece Stoneware Round Mini Bakeware Set
Who doesn't love a good casserole for some comfort food? But you can take the presentation a step further by presenting each guest with his/her own mini casserole baker, also called cocottes. Cook a single serving of your dish in each cocotte. The Creative Co-Op 4 Piece Stoneware Round Mini Bakeware Set comes in neutral colors with glossy glazed finishes to match any dining room decor and each measures 5″ in diameter and 2.5″ high.
They are oven, microwave and dishwasher safe and can go straight from the kitchen to the table. This saves you extra washing up!
Gifts under $100
KitchenIQ IQ Smart Wireless Kitchen Scale
For anyone who loves to bake or looking to cook healthy, a kitchen scale is invaluable. If you want your baked goodies to turn out perfectly, you have to be exact with measurements, so you need an accurate food scale. If you're tracking portions and the amount of food you eat, the KitchenIQ IQ Smart Kitchen Scale is even better.
The KitchenIQ wirelessly connects to your device through the KitchenIQ food app so you can track the amount of proteins, carbs, fats, sodium, cholesterol and fiber you consume per day. It has a food database that you can customize too. You can journal your weight loss goals and milestones to help motivate you and keep you on track.
If also acts like a regular food scale and can weigh foods up to 11 lbs and alerts you if it is overloaded. You can change between imperial and metric measurements for both weight and volume and convert from one mode to the other. Set the scale to zero or tare if measuring ingredients in a container.
The scale is very lightweight and thin so you can take it with you on a trip if you want to stay disciplined while on the road.
If this scale is too fancy for you, that's ok because we have reviewed other top kitchen food scales for you as well.
RBT Decanter with Wood Coaster and Micro-Perforated Aerator
If your gift recipient loves red wine, the RBT Decanter Aerator is sure to be a hit with them. It's a fact that red wine often contains some sediment that is unpleasant when not removed before drinking and a new bottle needs to be aerated so as to get rid of any unwanted aromas and to let the wine breathe for its full bodied flavor.
While you can use a separate decanter and aerator to do the trick, a one in all like the RBT Decanter is even better! The borosilicate glass decanter has a wide base for stability and the upside down funnel walls do the aerating as the wine flows down them. The micro-perforated strainer is built into the metal stopper and is what catches impurities and sediment. You remove this after completely emptying a wine bottle into the decanter.
It comes with a wooden coaster as a stand that also catches drips before they stain your counter. You only need one hand to pour the wine into a glass and the whole thing is easy to wash but only by hand.
Yonanas Elite Frozen Healthy Dessert Maker
For those who are watching what they eat for health reasons or are allergic to dairy and cannot eat ice cream or even frozen yogurt, there's nothing better than having guilt-free frozen fruit desserts instead. The Yonanas Elite Frozen Healthy Dessert Maker is quieter, more powerful and durable than previous iterations and will turn any of your frozen fruits into delicious smooth and naturally sweet dessert that looks like soft serve ice cream. In fact, this is a machine that you can use everyday.
You can add a mixture of ingredients through the chute, like chocolate and frozen berries or mint and frozen mango. There's no need for any added fat or sugar. Push down the plunger and the Elite's integrated spinning blade mashes and churns everything and out comes your ready to eat dessert. Experiment yourself or try the included recipes. The chute, plunger and blade can be thrown into the dishwasher when you're done.
If ice cream or frozen yogurt is more your thing, take a look at our top picks for ice cream and frozen yogurt makers.
Gifts over $100
360 Cookware Kitchen Cutter
Cooking is fun but the prep work is less so. Make life easier for the cook by gifting a 360 Cookware Kitchen Cutter to them. This kitchen tool has a suction base that you engage by turning the handle at the bottom to hold tightly to any non-porous counter. It comes with 5 cone attachments that are easy to fix and remove. Each cone does a different job of either chopping, grating, waffling or slicing fruits, vegetables or cheese as you feed the foods through the cones from the top as they rotate while you manually crank the handle at the back. A protective flap on top can be used instead of your fingers to hold the last piece of food while it gets cut.
Everything goes into the dishwasher for easy cleaning.
If the 360 cutter is beyond your budget, you could consider the Presto Professional SaladShooter Electric Slicer and Shredder instead. If you have a KitchenAid food processor, you should know that you can use that with a KitchenAid Food Processor attachment.
Philips XL Airfryer, The Original Airfryer
Airfryers are the new health appliances for the kitchen. Who wouldn't want to have french fries and other traditionally deep fried foods without all that oil? The Philips Avance XL Airfryer is the latest, largest and most high tech of the brands range. It is great for making family-sized meals and can fit more than 2.5 lbs of frozen fries in one batch in its basket. Of course, that's not the only thing you can cook! Make vegetables, roast beef, chicken wings and lasagna among other things.
The way it works is to circulate very hot air at a very high speed throughout the cooking chamber. Just a tiny bit of added oil is enough to be picked up by the hot air to fry, roast, grill or bake different foods.
The digital touch screen panel is where you set the temperature (up to 390°F) and the timer (up to 60 minutes) and input favorite presets for your favorite dishes once you figure out which settings work best.
There is an optional grill pan and a kabob rack for even more dishes and the free Philips Airfryer app includes 150 healthy but delicious recipes to help you get maximimum use out of the appliance.
If you're looking for something less expensive, we have reviewed other top airfryers here.
DeLonghi America Livenza All-Day Grill, Griddle and Waffle Maker
A multi-purpose kitchen appliance is invaluable if you want to reduce the clutter in your kitchen. The DeLonghi Livenza All-Day Grill, Griddle and Waffle Maker replaces three and includes 7 cooking functions that use 1 set of Grill plates, 1 set of Griddle plates and 1 set of Waffle plates. All the plates are die cast and non-stick with embedded heating elements and are removable for easy cleaning by hand or in the dishwasher.
The seven functions are contact grill and panini press, open full grill, half grill, open full griddle, half griddle, waffle mode and oven broiler mode. Use the LED control panel and two knobs to control the temperature of either or both plates. When using the contact grill/panini press function, the hanging self adjustable hinge ensures the food won't get crushed between the plates.
There are no hotspots so all the food gets cooked evenly and the extra large surface area means you can do breakfast for the entire family quickly and it's great for entertaining too. Make everything from pancakes and eggs to steaks and sandwiches!
Looking for more options? Take a look at our top picks for electric grills, skillets and griddles and even waffle makers.
Canvas Home Sintra Extra Large Bowl
An oversized bowl is a great centerpiece on a large dining table. This artisanal Canvas Home Sintra Extra Large Bowl is Portuguese and made of glazed terracotta. It is 15″ in diameter and 8″ high. Use it to hold fruits throughout the year or pine cones or Christmas ornaments during the holidays. You can even use it to toss and serve a salad!
Choose from green, grey, pink or teal.
Royal Doulton Gordon Ramsay 6 Piece Knife Block Set
Everyone has a knife block in their kitchen but the Royal Doulton Gordon Ramsay 6 Piece Knife Block Set is no ordinary one! It's a 4.3″ diameter filament-packed cylinder that hold and protects 5 included knives that are made of 3CR13 stainless steel for the blades and black durable ABS plastic for the handles.
This set comes with an 8″ Chef Knife, 7″ Santoku Carving Knife, 5″ Utility Knife, 8″ Bread Knife and 3″ Paring Knife.