Before setting your budget for a juicer, you have to first consider what kinds of fruits and/or vegetables you want to juice. If juicing fast is most important to you, you'll probably have to stick to centrifugal juicers but that means you won't get the best extraction of juice like you do with masticating juicers. How easy to clean its parts may be another factor, as is how noisy it is while running.
Before narrowing down the best juicers for the money, keep in mind that some cheap juicers may give you very little juice and therefore cause you to spend quite a bit on produce in the long run. We'll review both centrifugal and masticating juicers here and give you the best options for your specific budget.
We also have reviews for inexpensive centrifugal juicers, juicers for a budget of $200, and the best citrus juicers.
Breville Juice Fountain Elite 1000-Watt Juice Extractor (800JEXL)
If you want high power and high yield from a juicer, that's what you'll get with the
Breville 800JEXL Juice Fountain Elite
, and you won't be leaving too many valuable nutrients behind.
This distinctively designed juicing system features Nutri Disc technology and a stainless steel mesh filter basket for spinning out the pulp. A patented 3″ circular feed chute that is centered on the shredding disc allows more effective juicing compared to other juicers that bring in ingredients on the side of the shredding disc. The wide mouth also reduces time spent on food prep before juicing.
The Breville Juice Fountain Elite comes with a 1,000-watt motor and an automatic dual speed control, a low speed (6,500rpm) for tender fruits and vegetables, and a high speed (13,000rpm) for tough ingredients. With this amazing speed and power, the juicer takes approximately five seconds to make an 8-ounce glass of juice that is pulp-free. Even leafy greens are processed properly but the output is better if they're rolled up tightly before feeding.
In addition, the juicer also incorporates an overload protection and a safety locking arm that prevents the juicer from operating while the cover is unlocked. The overload protection feature protects the equipment from overheating, and automatically shuts down when it senses any system overload. The juicer is also easy to clean and BPA free to ensure safe use. All parts, including the juice pitcher and pulp container, can be washed on the top shelf, except for the Nutri Disc and food pusher. It also disassembles quickly making it easy to clean. In addition, the spout opening prevents overspray, and the lid on it helps to separate the foam from the juice.
Although there are no negative reviews that have been written by the users of this product, it does not mean that it is perfect. In fact, some customers have raised concerns about the noise produced by this juicer but that can be associated with the fact that it is a centrifugal juicer. It is also expensive but this is the fastest and highest yielding of the centrifugal ones, so it is the best juicer to buy for the money.
Breville Compact Juice Fountain 700-Watt Juice Extractor (BJE200XL)
Breville is known for making excellent juicers, but if the high end 800JEXL above is over your budget, consider the
Breville BJE200XL
. This compact juicer comes with great features that make your investment worthwhile. Even though the power rating is lower than other Breville centrifugal models, the motor still operates at 14,000 rpm to make juice in a jiffy. You can't choose another speed, however, so you'll have less control. To get great juice yield for any type of fruit or vegetable, feed them in slowly and let the machine and blades do their jobs.
The BJE200XL Compact juicer takes less counter space while maintaining an impressive juicing efficiency. It is also fitted with stainless steel micromesh filters, a stabilizing knife, a dual knife, and titanium blades that successfully grind through the skins and rinds of tough fruits to retain impressive quantities of nutrients within the juice. The stainless steel micromesh filter separates the juice from the pulp fully, allowing you to get a smooth drink.
In addition, the Breville BJE200XL is not only reasonably priced, but also technologically advanced with numerous practical considerations such as the 3″ extra-wide circular feed tube that allows you to process whole fruits and vegetables without having to chop them down.
The BJE200XL operates under centrifugal technology and also comes with a 25-oz jug with froth separator that helps reduce froth and oxidation, maximizing nutrition and reducing spoilage.
The juicer is very easy to clean and the automatic cleaning cycle makes the job even simpler. It is easy to handle, fast, inexpensive, reliable, stable, and made for the long haul.
Hamilton Beach Juice Extractor, 2 Speed Big Mouth (67750)
If you want to enjoy a healthy glass of fresh juice each time but don't want to spend more than around $80, try the
Hamilton Beach Juice Extractor (67750)
. This unique juicer sports a powerful 800-watt motor with two speeds that makes it quick to extract juice from all kinds of fruits and vegetables. Depending on your choice of ingredients, the two-speed option allows you flexibility for maximum extraction. For tough foods like carrot and apple, use the higher speed while for tender foods like watermelon, use low setting.
The juicer also comes with a 40-ounce container that can hold enough juice for a single large glass or multiple smaller glasses. For easy cleaning, the juice extractor comes with a cleaning scrub brush that is included for the strainer to help make cleaning easy. Most parts of the Hamilton Beach Juice Extractor are dishwater safe too.
If you enjoy juicing, the Hamilton Beach Juice Extractor comes with a 3″ wide feed chute that eliminates the need to cut up your produce first. Besides being affordable, the Hamilton Beach Juice Extractor offers ample yields with minimal pulp wastage. The device also comes with a one-year warranty and is BPA free. Compared to Breville, the Hamilton Beach Juice Extractor is a bit louder, and the cutting teeth wear out with time. The juicer is also not very stable during operation.
Best Masticating Juicer for the Money
While centrifugal juicers are generally better at the fastest speeds, masticating ones have to be as slow as possible to yield maximum juice and retain the most nutrients. These tend to be quite expensive but can be worth it for health reasons.
Omega J8006 and J8004 Nutrition Center Juicers
We have two juicers here that are almost identical, except in body color and price. The cheaper one is the
Omega J8004
that features a white body, while the
Omega J8006
costs a bit more and features a chrome body. The latter is easier to keep clean because it doesn't show stains and it looks nicer if left out on the counter.
The Omega J8006/J8004 is one of the best masticating style juicers available in the market today, with features and perks that you normally see only on commercial grade machines, making this the best juicer for your money in the masticating category. The distinctive engineering of this device lets it gobble through plant fiber, extracting maximum vitamins and nutrients for the healthiest drink possible.
Unlike centrifugal juicers that process at high speeds, the Omega J8006/ J8004 Nutrition center processes at 80rpm. The low speed prevents oxidation and deterioration of healthy enzymes, allowing juice to be stored for up to 72 hours without going bad.
The GE Ultem Auger, which grinds fruits and vegetables, is eight times stronger than normal plastics and the 2HP motor makes the ideal power setting for all its auger juices. In addition, its double stage juice extraction system allows maximum extraction from your ingredients before the pulp is ejected in the second stage. This results in higher yield of juice and very dry pulp.
Both work perfectly regardless of what one juices in them. The only negative is that these models require instant clean up after use, otherwise it can get a bit difficult once food dries while stuck on.
Omega VERT Slow Juicer (VSJ843QS)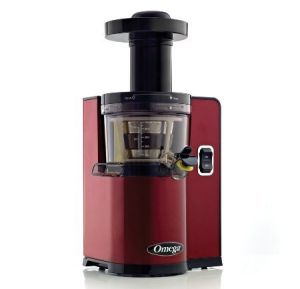 The Omega VSJ843QS is the newest addition to the Omega brand. With a speed of 43 rpm, the
Omega VERT Slow Juicer
rotates at an extremely reduced speed. The super low speed limits heat buildup during operation, helping to preserve the enzymes and nutrients in the juice.
It features the best auger design. This juicer comes with a freshly engineered double-edge auger with a tighter fit that squeezes every last drop of juice in your fruits and vegetables. The VSJ843QS also features an automatic pulp-ejection function and auto cleaning. You can enjoy great quality juices from fruits, vegetables, and wheatgrass because it extracts maximum amounts of juice and has a very efficient filtering system.
This juicer is quite costly and the owner's manual is not as extensive as it could be, however, avid juicers looking for the best that their money can buy, have said that they have no complaints.