Cold brew coffee. A beverage that is as delicious to drink, as it is easy to make in your own home. Often mistaken with iced coffee, cold brew is a drink made by steeping coarse coffee grounds in room temperature water for several hours, then stored cold and served cold. But since you'd need coarse ground coffee for cold brew, where could you get the perfect coffee grounds for it? Right at home!
Grinding coffee at home right before brewing gives you the benefit of having the freshest cold brew there is by retaining the most aroma and core flavors that would otherwise be dulled down slightly in packaged course ground beans. But what is the best coffee grinder for cold brew? Through this article, you will find the best for the right coarse ground coffee beans to make your cold brew.
What is the Ideal Cold Brew Grind Size?
When brewing hot coffee, a finer consistency is required, as this can allow for quicker extraction with hot water. However, you can lose some of the essential oils and much of the aroma in the process and the grounds may be over-extracted, producing a less-balanced flavor profile fitting for our taste buds only when consumed hot. Making a cold brew is a much slower process and for good reasons. This process brings out the coffee bean's flavor profile more efficiently and accurately.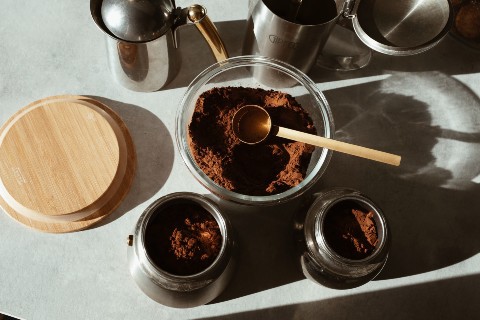 For a good cold brew, a very particular coarse consistency of coffee grounds is required. A coarse ground steeped in room temperature water is ideal for maximum extraction of flavor. Coarse coffee bean grounds, roughly the size of rock salt (1.5mm), is the size you should go for as this allows for water to filter through them much slower than a finer ground, and therefore, give a much more pronounced flavor to your coffee.
However, there's a way to make cold brew with regular ground coffee if that's all you have lying around and no grinder. I just wouldn't make a habit of it!
Now that you know what the best cold brew coffee grind should be, let's break down the factors to determine the best coffee bean grinder for cold brew.
How to Choose the Best Coffee Grinder for Cold Brew
Manual Vs Electric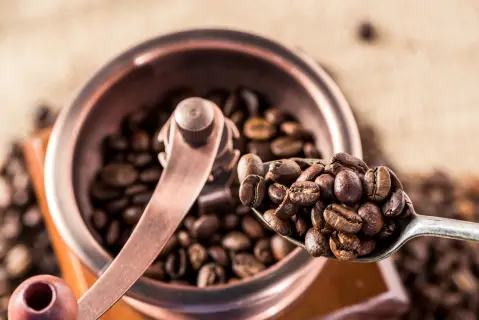 There are benefits to using a manual grinder, such as its portability and the control it gives you to determine what the right coffee grounds should be as per your type of drink. Along with these, a manual grinder is also less noisy and less expensive compared to most electric grinders. But, the time and effort one has to put in to grind a handful or 2 of coffee beans will vary and might tire you out.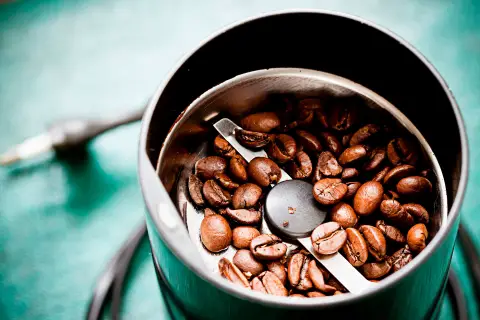 With the advancement of electric grinders, buying a more expensive one that has over 10 levels to provide a wide range of grind consistencies for multiple coffee preparations might be more beneficial to some. This reduces the time and effort spent on just grinding your beans. It can grind much more per batch than a manual one, while also simultaneously giving you multiple choices of coffee grounds for multiple beverages, including cold brew.
Burr Grinder is a Must
A burr grinder is the best machine to use to grind coffee beans, not a blade grinder. In a burr grinder, the beans are crushed between 2 revolving burr wheels. Though generally more expensive, a burr grinder is far more effective than a blade grinder at getting consistent coffee grounds by crushing instead of inconsistently chopping, thereby, making for a better brew. Whether you want a more coarse grind or a finer one for espresso, a burr grinder is ideal for grinding coffee.
Burr Type and Material
There are 2 types of burr grinders, a conical burr, and a flat burr grinder. While both are more efficient than blade grinders when producing even consistencies, the conical burr doesn't get 100% even grounds and sometimes has a few uneven chunks in the grind. Whereas, a flat burr grinder is very accurate when grinding for any type of consistency. It doesn't allow for unevenness and is, overall, the best burr type for cold brew. In fact, flat burr grinders are great for French press and drip coffee too.
As for the material of the burrs, stainless steel has been proven to be the strongest and most durable material for grinding coffee beans.
Quantity to be Made
Most electric coffee grinders have varied bean hopper sizes, and you would have to measure how much coffee you grind per use to know which grinder is best for you. Most grinders can hold a minimum of 9 tablespoons or 130g per use, which should be perfect for most regular coffee consumers. But there are others that can hold up to 1 pound of coffee beans for those who prefer to grind and store enough for a few days.
Best Electric Coffee Grinder for Cold Brew
To know your way around some good coffee grinders before you decide to purchase one, here are some of the best electric coffee grinders that come with a very coarse grind setting among the others.
Baratza Virtuoso+ Conical Burr Coffee Grinder
The Baratza Virtuoso+ is the best burr grinder for cold brew with up to 40 grind settings, providing a wide range of options for your coffee grounds, from very coarse to finer consistencies. On top of this, the grinder also comes with a 40-second timer that can be adjusted to your preferred timing for your chosen amount of beans, which when perfected, can be replicated easily for future grinds.
Once the beans are ground, the grinds will be sent to a separate back-lit container. When grinding for cold brew, a tried and tested level for the perfect coarse grounds can be achieved in the range of 20-25 on this grinder.
Pros:
There are grinding options for every type of coffee, hot and cold.
It is very efficient at getting consistent course grounds for a cold brew with every use.
You can save one custom configuration on your timer and grind settings so that for any future use, you can acquire the same coffee consistency. This can be changed if required.
 
Cons:
This grinder may be difficult to use for beginners, as it has many levels and may take multiple tries to get the right setting and time for a good coarse grind for a cold brew.
May only interest avid coffee drinkers due to its steeper price than most other coffee grinders.
Capresso Infinity Conical Burr Grinder
Along with its ABS black plastic body, the inexpensive Capresso Infinity grinder features conical steel burrs and a motor designed to grind slower than others to create less friction and heat as it grinds. The bean hopper can hold up to 8.8oz of coffee beans which is a suitable amount for everyday coffee drinkers, while the grounds tray can contain only 4oz of grounds. Its 16 grinding options are divided into 4 categories – Extra fine, fine, regular, and coarse. It also comes with a timer dial of up to 60 seconds.
Pros:
It is a simple model and easy for beginners to use for any kind of coffee.
The upper burr can be removed easily without any tool for easy cleaning
It has a compact body.
 
Cons:
After a grind, some of your coffee may be stuck in between the burrs that you will have to take apart and remove immediately to avoid any damage with further use.
When it comes to the grinding options, though it offers a coarse grind setting, it may still be too fine for cold brewing, reducing the overall flavor one should be extracting for a cold brew.
The timer is not of great quality and often turns inaccurate over time.
A static charge builds up in the hopper and grounds container after grinding the beans.
OXO Brew Conical Burr Coffee Grinder
The OXO Brew conical grinder can grind up to 12oz of coffee beans at a time in its hopper, while the grounds tray holds 3.8oz of coffee at a time. It also features 15 micro-setting adjustments for the consistency of your coffee ranging from fine to coarse.
With durable 40mm stainless steel conical burrs, this grinder can give efficient, consistent results in all settings it offers. It is a very simple, basic model that can be used by inexperienced users, and with enough settings to satisfy any kind of coffee drinker.
Pros:
Whether you want fine grounds for hot coffee or very coarse grounds for cold brew, this grinder delivers with precision and consistency.
The one-touch start timer saves your previous setting to make it easier and more convenient for your next use.
Due to it being easy to disassemble, this grinder is also very easy to clean.
Much less-frequent instances of static build-up compared to other grinders.
 
Cons:
It's a very loud grinder, which may bother some while grinding.
Baratza Encore Conical Burr Coffee Grinder
Another from Baratza's line of grinders, the Baratza Encore Conical Burr Grinder is mid-tier and one of Baratza's most popular and for good reason, as it is very accessible to beginners. It holds a little above 1lb of beans when grinding, and has 40 grind levels for fine and coarser grinds. With the use of its hardened alloy steel burrs, it is an ideal grinder for cold brew when you set it to a level in the 25-30 range. This will give you the perfect consistency for a coarse grind, but you can always try different levels to suit your needs.
Pros:
If you ever doubt how long you should set your timer for a coarse consistency, there is a pulse grind button that grinds only while it is pressed for you to carefully grind your beans.
It is a very durable build with high-quality parts.
The hopper can hold a little more than 1lb of bean at a time, a larger amount than most other grinders.
Wide range of grind settings for a number of coffee preparations.
Cons:
More expensive than other electric grinders.
No timer included in this model.
Fellow Ode Brew Grinder
The Fellow Ode Brew Grinder is a high-end, more expensive grinder than the rest, but with a hardier build and upgraded sleek design, it's worth it. It uses large 64mm flat burrs, unlike many contemporary grinders which use conical burrs. The hopper can fit in around 8oz of coffee beans, deliberately kept as a smaller hopper than other grinders to retain maximum freshness per batch of coffee. This is the best grinder to use if you want perfectly ground coffee for brews of all kinds.
Pros:
Very simple to use for experienced and beginner users.
Large 64mm flat burrs yield more accurate grind consistency than conical burrs.
With 11 grind settings and 31 micro adjustments overall, it can give you the right consistency from fine for hot coffee to perfect coarse grounds for a cold brew.
Convenient additional features include an auto-stopper after the beans are fully ground, and a grinds knocker to push out any stuck grounds.
This is one of the more quiet machines available without a loud motor and very minimum bean grinding sound.
 
Cons:
Not designed for espresso, and is mainly focused on brewed coffee methods.
Not designed to hold more than 8oz of coffee beans at a time, lesser than other grinders.
Best Manual Coffee Grinder for Cold Brew
JavaPresse Manual Coffee Burr Grinder
The JavaPresse manual coffee grinder comes with a patented dual-plated ceramic conical burr and a stainless steel body. Intentionally made to be smaller than others, It is a convenient and efficient portable grinder. Made of stainless steel, it is also very durable. The company provides spare parts to replace damaged parts, and also occasionally upgrades parts to their machines for maximum efficiency.
There are 18 manual grind settings to give you a wide variety of coffee bean consistencies for multiple beverages and comes with a clear instruction manual on how to use these settings.
Pros:
The settings allow for accurate grounds consistency for cold brew every time.
Designed with quality materials, and a lightweight body for maximum portability.
Simple design and easy to use for beginners.
Inexpensive.
 
Cons:
Make sure not to add more than 1oz of beans at a time in the hopper as it will be very hard to grind manually.
The hopper may frustrate some due to its small opening, forcing you to insert the coffee beans into the hopper in small amounts.
Changing grind settings multiple times may be difficult as there is no indicator and one must judge by visually seeing a gap increase/decrease as you tighten/loosen the nut for your preferred grounds. However, this is common with most manual grinders.
Hario Skerton Pro Ceramic Manual Coffee Grinder
A new and improved model, the Hario Skerton Pro's build is more sturdy, with a plastic body, a heat-proof glass bowl, and an ergonomically designed handle. You can grind 3.5oz of coffee per use. Its ceramic conical burrs give you a consistent grind that can be adjusted as per your needs by manually adjusting the grind size for a fine or coarse grind.
It is built for maximum portability and with all parts being detachable.
Pros:
Compact size.
Grinds the right course consistency for a cold brew and can also grind fine enough for espresso.
Cons:
Due to its plastic body and glass bowl coffee receiver, it is more prone to breaking than others especially if taken on the road.
Some may find this manual grinder a bit pricey compared to other coffee grinders that offer the same features, including more grinding options and more durable builds for the same price or less.
Over time, the handle may become loose from its base. Even with tightening, it may become loose frequently and be an inconvenience.
1Zpresso JX Manual Coffee Grinder
Though larger and heavier than its previous model, the JX coffee grinder is still a convenient size for travel. It comes with 48mm stainless steel conical burrs and with over 40 grinding consistency options, it can be used to grind beans anywhere from fine to course, providing a perfect consistency for a cold brew as well.
Overall, this 1Zpresso model is a very good quality grinder and provides much more consistent, long-lasting results than contemporary grinders.
Pros:
Very easy to disassemble and clean completely without the use of tools.
Very impressive in build quality, with an all-around stainless steel body and a wooden handle grip, all made to last. This also helps reduce the inner grinding sound.
Small, compact grinder perfect for travel.
Clear, numbered grind settings for easier use.
Cons:
The hopper can hold only about 1oz of coffee beans per grind.
It may not be able to grind fine enough for espresso, even though it does come with a few micro settings meant exactly for that purpose.
PreGround Coffee Vs Beans for Cold Brew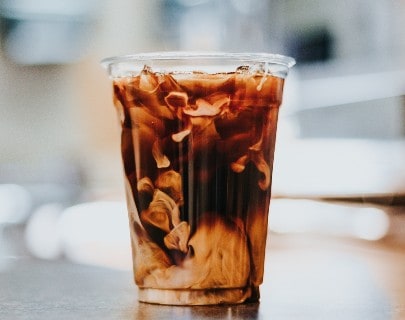 For any fresh cup of coffee, you would need freshly ground beans. This is true for every coffee beverage type, but in particular, true when wanting to make cold brew. The coarse grounds consistency is not the only huge factor when it comes to getting a very aromatic and flavorful cold brew, but also the amount of time that has passed between grinding and the start of the brewing process.
Though convenient, when you use pre-ground packaged coffee, you've already sacrificed much of the aroma and flavor of a cold brew because just within a few minutes of grinding, the essential oils contained within your beans oxidize and evaporate rapidly. Hence, grinding your own beans and brewing immediately after will give you a much more flavorful cold brew. Using pre-ground coffee, in some instances, may also give negative flavor notes such as dullness and sourness.
Though there are many plus points to grinding your own coffee, it also comes with a few inconveniences. To grind coffee beans, you would need to invest in a good grinder, manual or electric. If you want a faster grinder that reduces manual effort, then an electric grinder is the way to go but can be expensive.
Another inconvenience is the time and effort you'd need to set aside particularly for grinding the coffee and cleaning your grinder. But what would be your choice? Decent coffee and convenience, or great coffee with a little more effort?
Why is my Cold Brew Bitter or Sour?
If you ever find yourself asking the question "Why does my cold brew taste bad?" after taking a sip of your cold brew, there are a couple of things to keep in mind. First, always use freshly ground coffee. As mentioned earlier, the fresher the coffee, the better the aroma and flavor, and a much lesser chance of it carrying any negative notes in flavor.
Secondly, make sure to have the correct ratio of water to coarse grounds during the immersion process. While your grounds are immersed in water, don't keep it in for longer than required; 12-15 hours should be just right.
Lastly, if you find your cold brew tasting a bit sour, this could mean that the extraction process wasn't efficient enough, either calling for an hour or 2 more of immersing in water or a coarser consistency with more time in water.
FAQs
Does grinder matter for cold brew?
Yes, it does. You need a coarse consistency of coffee grounds for cold brew, which can only be produced by a coffee grinder.
Can I use fine grind coffee for cold brew?
Using fine ground coffee for a cold brew preparation is not recommended as it will give you over-extracted flavors and therefore, bitterness. If you decide to use fine grounds, then the brewing time should be much less at around 6-10 hours with fewer grounds used as compared to the amount of coarse grounds to be used.
Can you use coffee grounds twice for cold brew?
For the cold brew method of brewing, coffee grounds can be used twice. But the flavor of the first brew will be more pronounced and stronger than the second, and it will also be stronger in caffeine.