Practically no smoothie drinker hasn't heard of the Nutribullet. It is marketed everywhere as the be-all and end-all of smoothie makers. There's even a community of die-hard Nutribullet enthusiasts that share tips and recipes of all kinds of things to make, not just smoothies. But is it the only choice you have if you want an appliance that's not a full-sized blender but can do many of the same jobs? Not by a long shot. Its closest competitor is the Nutri Ninja and the similarities are plenty. The NutriBullet Pro 900W model is the company's most popular and it is sold as part of a 13 piece package online. The closest match from Ninja is the Nutri Ninja Pro BL455 1000W model. We'll break down the similarities of these two along with their differences in the battle of the Nutri Ninja Vs Nutribullet personal blenders.
Nutribullet is constantly updating its personal blender models by capacity, wattage, and features, while there are three main models by Ninja. While there are lower and higher powered models as well as more advanced features from both, we chose these 2 specific models for this matchup because of their popularity and they each have the core features to make very good smoothies in single or double serving cups. Of course, you should also consider some of the other best single serve blenders on the market.
Ninja Vs Nutribullet Comparison
| | NutriBullet Pro | Nutri Ninja Pro BL455 |
| --- | --- | --- |
| Motor Power | 900W | 1000W |
| RPM | 25000 | 21000 |
| Blade | 6 prongs - wide, blunt | 4 prongs - pointy, sharp |
| Largest jar capacity | 32 oz | 24 oz |
| Speeds | Single speed, manual press to pulse | Single speed, manual press to pulse |
| Better for | Very smooth concoctions | Crush ice cubes without added liquid |
| | Check latest price | Check latest price |
| | | |
NutriBullet Pro Features
The 900 watt NutriBullet Pro comes with a high performance motor power base and specialized blade for optimum nutrient extraction with the promise to turn your ordinary ingredients into super healthy concoctions.
The package comes with an extractor blade, 2 32oz jars, 2 lip rings, 2 lip rings with handles, 2 flip-top lids, and a user guide with recipe book to start your bullet blender journey.
The variety of jar colors allows you to color match with your kitchen. The BPA-free plastic jars are light and durable and will last you a long time. They are not meant for making hot soups or coffee but the flip-top lids are perfect for people on the go.
The stainless-steel 2 blade system uses a cyclonic action of 25,000 RPM to break down the toughest ingredients into a smoothie. The machine operates by pushing down and twisting. It will blend consistently and combine the densest of all food, including nuts, seeds, and ice in a jiffy. When you push down repeatedly you activate the pulse function.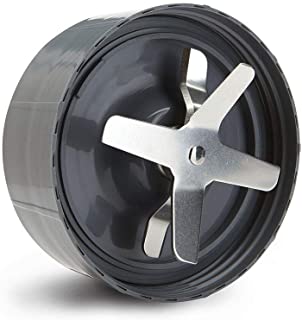 However, large pieces should have enough liquid added in the beginning to start with. It is capable of turning the most challenging whole fruits and veggies into smoothies and shakes and has the additional capability of shredding and grinding small pieces of dry ingredients like coffee beans and carrots too. You can also make natural ice creams and make nut butters by adding a little bit of starter oil.
It is easy to just twist off the blade and rinse it off with soap and water under a tap. The other parts can be placed in the top rack of the dishwasher.
This Nutribullet Pro package weighs just over 10 lbs.
Pros
Large capacity – Even though it is a personal blender, the 32 oz jars not only let you blend a large amount of raw ingredients, but also allow for enough wiggle room that even a large bunch of leafy greens will be able to swirl and can be blended without getting stuck.

 

Versatile – the cyclonic action of the 2 sets of blades crushes everything from fibrous veggies to nuts and seeds to frozen fruit and ice. It makes you the smoothest of smoothies and even a side of delicious nut butter.

 

Ultra-smooth concoctions – The 2 blade system rotating at a high 25000 rpm means that you're very likely to get very smooth blends no matter what ingredients you add.

 

Specific user guidelines – the user manual comes with clear guidelines about dos and don'ts. It mentions all possible hacks for a hassle-free experience. It also has many recipes included.
Cons
Leaky – The Nutribullet is known to start leaking for some customers after several months. What we do know is that some people have used this to make bulletproof coffee or added hot ingredients for soup, which is a no-no, and something like this can cause leaks. There are other ways to make bulletproof coffee. It is also recommended that you replace the blades with gasket every 6 months or as often as needed according to use.

 

Fragile – Some customers say that the plastic base clips are fragile and seem to break off easily, rendering the blender useless.

 

Blades and gasket not dishwasher-safe – The gasket and blades can't be put in a dishwasher as the heat might weaken the gasket further and become useless quickly. This means that you have to ensure that there's no trapped food around the gasket while hand washing.

 

Needs a little liquid – Unless you're grinding only a small amount of dry ingredients like spices or coffee beans, you need to add a little liquid to start with. Plain ice cubes will not blend on their own as the blades are not sharp and pointy.

 

Time limit – The machine should not be used for more than 60 seconds at a stretch. However, most smoothies can be made in that time or less.
Nutri Ninja Pro Features
At 1000 watts, the
Nutri Ninja Pro
is one of the toughest portable blenders out there. The containers are made of BPA free plastic and all the parts are dishwasher safe. For the set, you get three jars of 12 ounces, 18 ounces, and 24 ounces. The containers come with 3 seal and sip lids making them very friendly for those who are always on the go.
The Nutri Ninja Pro has a set of powerful extractor blades that are sharp and pointy and rotate at 21000 rpm. This blade enables the Nutri Ninja to cut your food methodically to extract every last bit of nutrients. The Nutri Ninja is very capable of handling frozen fruits and ice cubes. So, those delicious morning smoothies are now only a whirl away in the Nutri Ninja. It is also good for sauce emulsifications like mayonnaise.
The Ninja needs to be pushed, twisted and pushed down repeatedly to pulse or held down continuously to blend but you'll be done in just seconds. The motor base is sturdy and built well.
This sleek black blender comes with a 75-recipe guide to kick start your ninja life.
This Nutri Ninja Pro package weighs 8.35 lbs.
Pros
Nutri Ninja BL455 Blade and Gasket

Versatility with the jar sizes – The three different jar sizes makes it easier to make small batches of sauces or dips without having to scrape down the sides. The small 12 oz jar is good for grinding small batches of spices.

 

Power – It has a little more power than the Nutribullet, which helps with blending ice cubes even without added liquid.

 

Crushes ice – The powerful 1000-watt motor and sharp Nutri Ninja blade fins that point upwards will pull down and crush lots of large ice cubes effortlessly. It will give you a thick and creamy smoothie instead of those horrible icy ones.

 

Easy clean – the BPA free plastic makes cleaning a breeze. Also, the entire system is dishwasher friendly, and that makes things a lot easier. The blades are removable for those cleanliness obsessed users to have a thorough cleaning once in a while. You won't have to worry about a smelly blender!

 

Fast worker – the hurried morning breakfast no longer needs to be avoided as the Nutri Ninja will make your smoothies in seconds.

 

Sturdy base – The base is heavier and more sturdy than the Nutribullet's.
Cons
Smaller maximum capacity – The largest cup size is 24 oz, which makes blending a large amount of ingredients in one go more difficult. Produce that expands inside, like leafy greens, can get stuck in the beginning without having the extra space to swirl. However, a 32oz jar is available for an extra cost.

 

Not the smoothest smoothie maker – Depending on the ingredients you add, the final product may not be completely smooth and you may find a few small seeds or pieces of produce left. The best way to minimize this is to pulse a few times first and then blend continuously.

 

Needs to be held down – You can't just lock the jars in place and walk away to let the blender do its job. The jar has to be held down even if it is for less than a minute.

 

Difficult lid – The lids are not the easiest to screw on properly or take off easily. If you don't screw them on properly, they'll leak and will be tough to unscrew later on.

 

Spare parts only from the manufacturer – If you want to replace the blade, cups or lids, they're only available from Ninja. You can go to the website and browse the catalog under "Parts and Accessories" for personal blender parts.

 

Small recipe book – You get just a few recipes.
Compare Ninja Vs Nutribullet Pro Individual Features
Motor Power
The Nutri Ninja has a motor power of 1000 watts and it is capable of reaching its peak power. The systematic cutting of food ensures a smooth smoothie without any hassle, including with ice. This high power is especially good for the 24 oz jar and even the optional 32 oz jar.
The NutriBullet is a 900-watt machine with the promise of nutrient extraction. It is famous for its pulverizing capacity of anything from nuts to seed to whole fruits.
When comparing the Nutribullet vs Ninja Pro models, the difference of 100 watts is not very significant, except that the Ninja takes a few seconds less than the Nutribullet to finish blending. But to add to that, the additional 100 watts may be what makes the Ninja a touch noisier.
Build Quality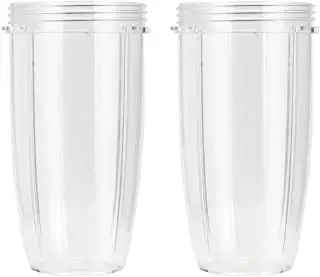 The 1000-watt Nutri Ninja weighs a bit more than the NutriBullet, particularly in the motor base. Each of the machines is quite sturdy despite its weight difference.
The rest of the body for Nutri Ninja is made of stainless steel and comes in only the color black. But the NutriBullet comes in ten colors giving you a lot of options to color match your kitchen.
Cups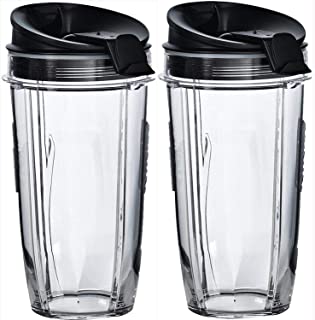 Both Nutri Ninja and NutriBullet are designed to be user friendly and compact. They are all made of BPA free plastic and are impact resistant. Most importantly, the jars are travel friendly for those with rushed mornings.
The Nutri Ninja comes with three jars of varying sizes and three seal and sip lids. Their shape makes them very adaptable to your regular vehicle cup holder. The sealed travel coffee mug inspired the design of the lid and works perfectly to have your drink on the go.
The NutriBullet comes with two equal-sized large cups and a few other added accessories. The large size gives ingredients extra wiggle room to swirl around for blending smoothly.
Blades
The blades are probably the most essential part of this battle of blenders. Their size, shape, sharpness, and build quality make all the difference in whether you get a textured output or a consistently smooth output.
Promising to cut through your foods methodically, the Nutri Ninja has a pointier and sharper blade. There are 4 prongs in total. One pair in a relatively upright angle and the other pair points downwards. This design makes sure all the food under the blades is pushed up and pureed evenly and the sharpness cuts through plain ice cubes effectively.
The blades of NutriBullet are wider, longer and blunt. There are two sets. One set has 4 prongs with two pointing upwards and two lying flat. The other set has two prongs that bend below to collect any ingredients stuck at the bottom. Although lacking in the ability to crush ice well without a little added water, they are excellent for crushing frozen fruit and fibrous or leafy green vegetables. They can even grind small quantities of spices.
Controls
Both of the machines come with only one speed setting and can pulse by pressing the jar down repeatedly and releasing. The Nutri Ninja blends continuously only if pressed down, whereas the NutriBullet works by just locking the jar down and leaving it.
Clean
The cleaning of the cups and lids on both machines is relatively easy and are all dishwasher friendly. However, the blades of the Nutribullet have to be hand-washed only.
Price and warranty
At under 100 dollars, both these blenders are great value for their price. They will undoubtedly make your breakfast regimen healthy. Both will save you money in the long haul instead of having to buy your smoothie every morning. And besides, it's fun to try new recipes with a variety of ingredients too.
The warranty for both the products and the parts is one year.
Availability of Replacement Parts
The replacement parts of Nutri Ninja are the 12, 18, and 24 ounces jars and the two seal and sip lids. There are also the gaskets with the blades attached. The availability of the replacement parts depends mostly on the brand and you may not find them readily available to buy from anywhere other than the Ninja website. The manufacturer can provide you with your replacement part when you place an order through customer service.
The NutriBullet has several parts that are available for replacement, including the to-go lids, 32oz cups, cup rings, and two-handled lip rings. Customer care will hook you up with the necessary parts if under warranty or you can buy them separately online from most e-commerce sites that sell the blenders themselves.
Customer Support
Both brands offer customer service and a hotline but the Nutribullet customer forum provides extensive support for all your questions.
Which is Better: Nutribullet or Ninja?
When compared head to head, both the brands are quite similar in terms of price and don't vary much for that to be the deciding factor.
As for the accessories, both the machines come with an extensive list. Both have multiple jars and to go accessories for easy carrying. However, it is a bit unnecessary to have two large jars for the Nutribullet even though you can blend small servings in them quite well. The Ninja's jars are more versatile to blend everything from small sauce emulsifications to large smoothies, however, it becomes a tight fit with little room to loosen and mix up a large bunch of leafy greens. This might mean that you have to stop blending in between to coax the ingredients down towards the blades.
The mechanism for each machine is slightly different. The Nutri Ninja follows a systematic cutting of the food with sharp fin blades. The upward and downward pointing blades provide cutting off all foods uniformly. If you like adding ice to your smoothies, then the Ninja does a better job of crushing the cubes. The NutriBullet, on the other hand, is slightly better at making velvety smooth shakes and smoothies with no bits floating around. It can also powder your spices in a jiffy.
The Nutri Ninja is more sturdy than its contemporary. It has a 1000 watt power, whereas the Nutribullet is only 900 watt, making the Ninja's ability to crush ice better and to run a bit longer. The emulsification ability of the Nutri Ninja is a bonus to this already great machine. So, nut butters and sauces are now easily done without needing to add any additional oil or other liquid.
The Nutribullet is perfect for those who want to make regular smoothies without large ice cubes. Frozen fruit and fibrous veggies are crushed easily and made into a velvety smooth concoction. However, the Nutribullet should not be run continuously for more than 60 seconds.
The NutriBullet is great for making soups with larger chunks of food. The large jars can be locked in place, so you can walk away each time you turn on the machine—no need to constantly monitor. However, there remains the leakage problem.
The Nutri Ninja is better for more challenging ingredients. However, you can blend only a small amount of ingredients at a time owing to the smaller jars, unless you buy the 32 oz jar separately.
The NutriBullet is lighter and more compact, more comfortable to store or travel with.
The choice of blender totally depends on the user. For most needs, you can opt for either. But if you ask us, the Nutribullet Pro comes out slightly on top if all you want is to make non-iced smoothies and shakes. That's because you don't need to hold the jars down to blend, you don't have to cut up your produce into very small pieces, and spare parts are easily available anywhere. The risk of leakages is small if you clean the gasket area carefully by hand and don't use any hot ingredients.
However, if you like ice in your smoothie but also want the ice to blend well into the drink, the Nutri Ninja Pro is a good choice. It is also a better choice if you plan to do a bit more, like make nut butters.
 
The Upgraded Models
Both the Nutribullet Pro and the Nutri Ninja Pro are very popular but they each have more advanced siblings in the personal blender line.
The NutriBullet Pro Plus is more powerful at 1200 watts, has a pre-programmed pulse cycle, and an automatic shut-off after optimal nutrient extraction is complete. This time you get a 24 oz and a 32 oz jar for more versatility. The higher wattage improves the startup by starting slowly and then moving to full speed. This reduces the risk of motor burnout if you blend tougher ingredients for more than a few seconds and also prevents the blender from jumping around at the start if you add large pieces of hard ingredients. The auto shut-off is a nice feature if you want to step away to do other kitchen chores while blending finishes.
The Nutri Ninja BL480 1000 Watt Auto-IQ is the more advanced version of the BL455, although its wattage and RPMs are the same. The BL480 comes with 2 automatic presets along with 2 manual speed settings. You can lock the jar into the base and just press a button and walk away to leave it to finish its job. This model comes with just the 18 oz and 24 oz jars, which is fine because the 12 oz jar is not very useful. You can buy a 32 oz jar separately.
If the Auto-IQ features interest you, Ninja also has a full-sized high powered blender from the same line called the Ninja BL641.