Over the range microwaves, also called microhood microwaves, are usually of great value, as they provide two functions. They do everything a standard microwave does and they also do what a range hood does – extract and get rid of steam, smoke and odors. They either have a vent to remove air to the outside or use a charcoal filter to clean and recycle air back in.
Because the hood is on the underside of the microwave, they cannot be used on a countertop. However, choosing one of these gives you a great way to save counter space. They are made to fit into spaces between cabinets, which are usually 30" wide, and over a stove.
Here is a quick link to the top rated over-the-range microwaves available on Amazon.
When shopping for a microwave oven with vent, it is important to consider the wattage and CFM (air removal measured by cubic feet per minute). Microwaves of about 1000 watts will generally cook fast and with great efficiency. Anything below 700 watts will be disturbingly slow and will, in most cases, not cook food evenly. A ventilation system that is rated at 300 cfm is good but a lower rating is sufficient for kitchens that are naturally well ventilated.
Choosing a small over the range microwave oven, just like with all other kinds of microwaves, will require you to first learn of what features each appliance has and what is there for you to enjoy from each type. Here are the five best over the range microwave ovens in the market at the moment. They are all available in 3-4 colors.
Best Traditional Over the Range Microwaves
Sharp R-1406 1.4-Cubic-Foot Over-the-Range Microwave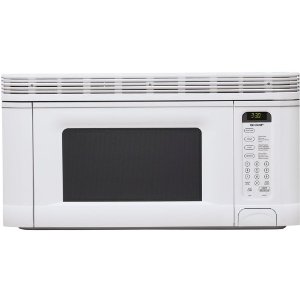 If you're looking for a no frills, no fuss, reliable unit under $250, the Sharp R-1406 950 Watt compact over the range microwave is for you. It is probably the best priced of its kind that you can get anywhere. Any less expensive over the range microwave ovens definitely cannot match the features and ease of use of this unit. It also comes with well detailed directions for installation and all the necessary mounting hardware, which makes it quite an easy job even for one person.
You can choose to vent vertically or horizontally, or you can choose the recirculating option. You will have to buy the charcoal filter separately if you want to use the recirculating option instead of external vent. In addition to the vent fan, it comes with under the hood light bulbs for range cooking lighting.
It fits perfectly in a 30" opening and is designed for low clearance stovetop space. Its capacity is 1.4 cubic feet. It features a wattage of 950, which is sufficient to evenly cook food at a reasonable pace. The turntable is just over 14", which is large enough for a 9″ x 13″ dish. Programming this unit is easy with a cook minute plus setting and you can choose from 4 cooking, 4 reheating and 4 defrosting power options. The LED display is easy to read too.
The only criticism that this unit receives is that its exhaust fan is quite loud.
GE JVM3160RFSS 1.6 Cu. Ft. Over-the-Range Microwave
This GE JVM3160RFSS unit weighs only 61.8 pounds with a width of just under 30" and a capacity of 1.6 cu. Ft. It has a 2-speed venting CFM rating of 300 and has a cooking power of 1000 watts, which means that food will cook fast and evenly. Additionally, it has 10 cooking levels, which allows you to cook, reheat or defrost a wider range of foods and beverages. It also a one touch panel with 6 settings to express cook from 1 to 6 minutes, a timer and clock, and an on and off option for the turntable. Its shell is stainless steel and it looks good in the kitchen. It also makes it much easier to clean. There is a cook top light with two brightness levels in addition to the interior light.
Installation is quite a job, even for two people. However, after that, it is quite simple to use and easy to clean. It also produces a lot less noise compared to most other such units. The turn on and off turntable feature is useful if you need to accommodate large dishes that don't have space to rotate.
It comes with a charcoal filter that efficiently cleans and recycles air but you can also convert it to vent upwards or towards the back if you prefer.

Frigidaire Gallery FGMV175QF 30 in. 1.7 cu. ft. Over the Range Microwave
This Frigidaire Gallery
FGMV175QF Microwave has a 2 speed fan with a 180/300 CFM vent system and Auto-start Heat Sensor and heats food with 1000 watts of power. Its weight is 63 pounds and is also large in capacity at 1.7 cubic feet though it fits in a 30" space. There is an optional built in trim kit. It works efficiently and is quite easy to use and install. It comes with a dishwasher-safe ductless filter and charcoal filters.
It can do everything a microwave oven should do. For the price, it is a great option. The controls are quite efficient with 10 power levels and Express-Select Controls for choosing time and power, but you can also use one of the One-Touch Options options for baking a potato, popping corn, defrosting, add 30 seconds, reheating, etc. It also has a sensor cooking function if you want it to automatically adjust time and temperature to cook the food.
The turntable is 13″ in diameter and can be turned on or off. The SpaceWise Rack maximizes the interior space to allow you to cook multiple dishes at once.
An incandescent night light and cooking light is present under the hood. The machine and fan are not noisy in operation. It also comes in an all black, stainless steel or white.
All in all, it is a great product for the price.
Amana 1.5 cu. ft. Over-the-Range Microwave, AMV1150VAW
This Amana AMV1150VAW unit also cooks at 1000 watts of power and at ten different levels for versatility of cooking. It has a 2-speed vent fan at 220 cfm. The default set up is to recirculate the air with a charcoal filter so if you want it to vent to the outside you'll have to reconfigure it according to the instructions.
It features a simple touch pad and a scrolling word prompt display makes operating it a breeze. You can choose from several auto-cook and auto-defrost options and an add-a-minute feature that greatly simplifies the cooking process. Even without reading the instructions, it is far easier to use compared to other models. It is a stylish looking appliance too.
The biggest problem with this unit is the fan. It is too noisy for anyone to have a decent conversation around the kitchen area while cooking. While the capacity and size of the turntable is not the largest in this list, it is a great option at a low price for a couple or small family.
Best Over the Range Convection Microwave
GE Profile PVM9179DKBB 1.7 Cu. Ft.
This is the most feature packed over the range convection microwave oven in the market. The GE Profile PVM9179DKBB capacity is 1.7 cubic feet and can accommodate small casserole dishes. With 950 watts and 10 heating levels, this unit can boil, reheat, defrost and cook a wide variety of foods and beverages. The biggest reason to buy an over the range microwave convection oven combo rather than a regular one is to get near oven-quality results on certain tasks, like baking. By using the Fast Cook feature on this unit, the combined microwave and convection cooking does just that.
The Chef Connect feature gives you three quick options too. You can set it to automatically sync clocks and your range elements with the microwave's light and vents. The cooktop lighting gives you 3 brightness levels, including night light, and the 3-speed 300 cfm external vent removes steam, smoke and odors efficiently. If you want to recirculate you can use the included charcoal filter kit.
A control dial allows you to set cooking time and temperature in small increments. It also uses sensors to automatically adjust to optimal cooking time and temperature. You can see what the oven status is at anytime from the scrolling electronic display that also shows the time. A removable oven rack is useful for convection cooking and the turntable can be turned on or off as wanted. This microwave comes with a keep warm feature that keeps plates warm till the food is ready to be consumed.
It is also easy to install, has an easy to clean ceramic interior, and has a stylish look. The unit is quite durable and has lots of features.
Some users say that it is difficult to use at first. A few customers say that it quit working a few weeks after buying.