A budget of $200 for a blender is quite reasonable if you're looking for something that is versatile, easy to use, easy to clean up, and above all, gives you great blend quality for a variety of ingredients. For example, a $100 blender is fine for making most fresh fruit smoothies, soups and purees if you don't mind a few lumps in the mix. Or you may have to constantly stop the blending, scrape down the inside walls and start again to ensure everything has been blended perfectly. By getting the best blender under $200, you can increase the range of things you can use the appliance for and you can make quite short work of the job and finish clean up in a jiffy.
However, we'll narrow it down even further for you and tell you why the following choices fulfil the criteria of best blender under 200 dollars. While the following are quite versatile in their uses, some of them can't replace a food processor, so you may want to consider a 2-in-1 blender and food processor appliance. If you feel $200 is overkill for your needs, we have also chosen the best blenders that cost less than $100.
Ninja Mega Kitchen System (BL770)
The Ninja Mega Kitchen System takes the Ninja blender to a new level and also makes our list of best blenders cum food processors. This 1500 watt blender is capable of kneading dough in the included food processor bowl, it will easily juice citrus fruits, but you'll have to strain the contents to get rid of the pulp, and it will crush ice with the best of them for smoothies.
Ninja blenders have become one of the time tested best units in the business, and this one is no exception. The unique stacked blade system ensures that everything gets mixed together, no matter how hard or soft the ingredients are, and it will do it faster and quicker than virtually any other blender on the market. There are 4 pre-programmed buttons. One each for dough, blend, crush and single serve, aka smoothie. There is also a pulse button too, and that makes this kitchen system complete with just about every setting you can think of.
It comes with a 72 ounce blender jar, an 8 cup food processing bowl, and two single serve smoothie cups that fit right onto the top of the blender unit. Most customers say that you can blend just about anything in the blender jar and the single cups. They even love it for berry smoothies, kale smoothies and nut butters.
Except for the base, everything is dishwasher safe, with the bowls being made of BPA-free plastic. It is also one of the quietest blenders here, but be super careful when unpacking it or taking it apart for cleaning. The stacked blades are very sharp, and although that's exactly what you want in a blender, that does not make it very finger friendly.
Although durable and capable of lasting for years, it only comes with a limited 1 year warranty.
Ninja Nutri Blender Duo with Auto-iQ (BL642Z or BL642)
The Ninja brand virtually invented the concept of single serve smoothies on a blender, and true to form, the Ninja Nutri Blender Duo with Auto-iQ, is the best smoothie maker there is for making large quantities or single servings.
1500 watts of power and a stacked blade design make this an ice crushing beast! Add in fruit, yogurt, juice and whatever else, and you'll have a smoothie in less than 30 seconds.
The "Duo" part of this equation is the fact that not only will you get 3 smoothie single serve cups, two at 24 ounces and one jumbo at 32 ounces, but you'll also get a 72 ounce blender jar, and they all come with covers. You can make bulk quantity smoothies all at once for the family, or use the ready-to-go single serving cups with Sip & Seal Lids for smoothies just for you throughout the day.
With the Auto-iQ functions, you'll get pre-programmed buttons for such things as smoothies, blend, ultra blend, and puree. These are timed settings that count down how much time is left on each task with the help of the digital display, so once the cup or blender is loaded, just push a button and walk away. It will blend your drink for the perfect amount of time. Of course, there are manual buttons too, for low, medium, high and pulse, so you can decide how long you want to blend anything.
All the removable parts are dishwasher safe.
The Ninja brand is the best selling smoothie maker on the planet but it is quite large, both in height and in width, so make sure you have a good spot to place it in your kitchen. As with all Ninja blenders, it comes with a 1 year limited warranty.
Oster Pro 1200 Blender Plus Smoothie Cup
At 1200 watts of power you won't be lacking for performance, and if you are interested in a Ninja style kitchen system without paying the almost double Ninja price, then welcome to the Oster Pro 1200 Blender Plus Smoothie Cup. If there was a best bang for the buck model in this category, the Oster would take the prize.
The patented Oster blender blades automatically reverse direction during the blending process. This action thoroughly mixes the contents for wonderfully creamy smoothies. It features 3 preprogrammed buttons, from smoothie to salsa to milkshakes, and of course the obligatory manual speed buttons, low, medium, high and pulse. The blades are larger and the jar base is wider to eliminate air pockets and ensure all ingredients are thoroughly blended.
One thing that might make a difference in any decision to have one, is the glass blending jar. If you are worried about leaching chemicals from plastic blenders, even those that are BPA free, you'll have no worries when using an Oster with a 48 ounce glass jar. However, the 24 ounce smoothie cup, which is included, is made of BPA free plastic.
As far as just being a regular blender for all of your blending needs, Osters are world renowned. They are incredibly durable, with an all-metal drive system, and it shows with a 3 year limited warranty over-all, and a 10 year drive warranty, which is the best in the industry.
 
KitchenAid 5-Speed Diamond Blender with 60-Ounce BPA-Free Pitcher (KSB1575)
This is the most traditional looking blender on the list, and it comes in a variety of colors, like green, pink, aqua, violet, reds and many others, just to name a few, that will blend into virtually any kitchen decor.
The KitchenAid 5-Speed Diamond Blender features 7 speeds, including crush ice, pulse and stir, among others, and the computerized Intelli-speed program channels the right amount of power to the blades so that they never bog down no matter what they are blending. It has a soft-start feature that slowly spins the blades at first, ramping up speed as things begin to blend. This creates a vortex that pulls everything down directly into the blades.
The 60 ounce BPA free blending jar is virtually shatter, crack and stain resistant, and except for the base, it's all dishwasher safe. The base is made of sturdy die cast metal and features an LED-lit control panel. You may have to make a bit of an effort to remove the jar from the base in the beginning. While holding the base firmly, rotate the jar counter clockwise. The unit comes with a 1 year hassle free warranty.
Jamba Appliances Quiet Shield Blender Jar, 32 oz & 20 oz (58916)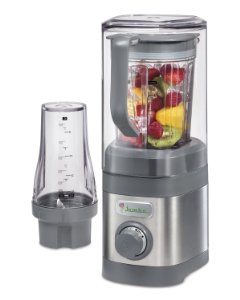 If you love Jamba Juice then you may want to check out their new Jamba Quiet Shield Blender. One of the biggest positives of this blender is that it is QUIET! This is because it comes with a removal shield that goes around the 32 oz. blender jar and not because it is under powered. You also get a 20 oz. travel cup with flip top lid and a tamper to ensure everything gets blended properly without risking cuts to your fingers.
Ice gets crushed in seconds and you have infinite control for all kinds of blending jobs with several speed levels and a pulse level – all controlled by just one dial. The drive and single piece blades are made of hardened stainless steel, and though the blades are not removable, both the jar and the travel cup are dishwasher safe. Or, you can also blend a mix of water and dish soap to clean the inside of the jar if you don't have a dishwasher.
The entire unit is low profile, so it will easily fit under any kitchen cabinet. One slightly strange thing about this Jamba Quiet shield is the absence of a handle on the blender jar. The handle that you see in the picture is attached to the shield. This makes pouring from the jar a bit uncomfortable.
If low noise is important to you, then also check out our other picks for best quiet blenders on the market.
Breville Hemisphere Twist Blender (BBL405BAL)
The Breville Hemisphere Twist Blender is a good low cost option for those who like the more powerful higher end Brevilles but don't have that kind of budget. The 50 oz blender jar is quite enough for most jobs but is not suited for processing large quantities and you're advised not to run this machine for more than 1 minute continuously to blend or 10 seconds to process thick mixtures.
There are two features that make this a stand out blender. The hemisphere blade technology means that lower blades are contoured to catch every bit that's at the bottom of the jar and the upper blades pull down ingredients that tend to rise to the top. This means that your final product, whether a juice, smoothie, puree or chopped ingredients, will be even processed. Lumps mixed in with overly blended ingredients will be non-existent and you don't need to keep stopping the job in the middle to dislodge lumps from under the blades or push ingredients down the walls.
The second feature of the Hemisphere Twist Blender is the citrus juicer lid that comes along with the normal lid. You can use this to press citrus fruits on the cone lid to let the juices flow directly into the jug. When you're not using this lid, just replace it with the normal blender lid.
This Breville model comes with 6 settings: Mix, Chop, Blend, Liquify, Pulse & Smoothie/Auto. So yes, you can use this to chop your baking chocolate and nuts as well as do everything else that most blenders do with just one press of a button for fast and even processing.
The blades are not removable for cleaning, but all you need to do is fill the jar with a few drops of liquid detergent and water and pulse to clean it quickly.