Not all electric coffee grinders are equal and to complicate matters, some grinders will be better for French Press than for drip or espresso coffee and vice versa. That is because while French press brew requires a coarse ground, drip is best with medium and espresso is only good with a very fine setting. While a few grinders can be adjusted to cover a wide range of these settings, most will do best for just one or two of types of coffee. The best burr grinder for espresso is going to be one that consistently gives you a very fine ground beans every single time.
We're only talking about burr grinders here because for espresso coffee you really should not consider blade grinders because the excess heat buildup makes the brew bitter, and inconsistent size of grounds will not extract full flavor. There are two types of burr grinders – conical and flat.
So what is the difference between a conical vs flat burr grinder? The conical type has two cones lying side by side with one of them rotating against the other which is stationary. The beans are crushed by ridges along the surface. The flat type has the burrs lying on top of one another with one sliding and the other stationary and there are teeth along the edges to grind the beans.
A conical grinder produces fewer clumps so you won't have to worry about anything clogging. There is less static, so less cleanup of grounds. The consistency of coarseness or fineness within one grind is also better with a cone type burr. However, a flat burr is easier to adjust when trying different grind settings. It is thought that flat burrs enhance the fruity tones in coffee beans while conical burrs enhance sweetness and chocolate tones.
We'll give you our picks for both conical and flat burr for espresso grinding but be aware that the type of burr is not the only consideration when buying a machine. You have to take other points like ease of use, build quality and overall features into consideration too.
Other than the ones listed below, click here for a few more top rated burr grinders that are best for espresso.
We can also recommend some burr grinders that are best for French Press or Drip coffee and good value burr and blade grinders for home use in general.
Best Flat Burr Coffee Grinder
Baratza Vario 886 – Flat Ceramic Burr Coffee Grinder
The Baratza Vario 886 is the highest priced grinder on this list, and if any grinder that can be used at home comes closer to perfection, it probably hasn't been made.
This is the only digital coffee grinder here that comes with an LED display to tell you precisely what coarseness you have, and you can punch that into the memory, so it will always be available. The ceramic burrs mean they'll remain sharp for longer than the usual stainless steel burrs.
There are over 230 coarseness adjustments for the flat ceramic burrs, but since they are digitally controlled, there is no guessing. Sure, move the lever to the macro setting for French Press and it will be great right off the bat. But you can tailor this pre-programmed grind using a micro adjustment that will make it a bit more coarse or a bit more fine. Where it shines is its consistency each and every time, which is important when it comes to espresso making.
This is a professional grade burr coffee grinder that can do it all, and then some. It is one of the least messy grinders available, as there is hardly any ground coffee left in it after a grind. It is a quiet coffee grinder, gives very consistent grind results time after time, the company offers decent customer service, the hopper holds nearly 1 pound of coffee beans, and it doesn't take up a lot of room on your counter.
Yes, this is a very expensive unit, but if price is truly no object, you are a true espresso connoisseur, and you want your coffee grinder that takes a back seat to no one, the Vario 886 is the best espresso bean grinder out there.
Rancilio HSD-ROC-SD Rocky Coffee Grinder
The Rancilio HSD-ROC-SD Rocky Coffee Grinder is a titan of a grinder that can be used to grind small or big batches of beans in any possible coarseness setting you can imagine. It'll do the job for fine espresso grounds just as well as it will for coarse French press and that's why it is also one of our picks for a grinder for press and drip coffee too.
It's the sort of grinder that will show its superiority if you like to experiment with a variety if coffee beans with different roast levels because the ability to fine tune grind settings allows you to taste the difference in each bean batch. This is definitely a grinder for the nuanced coffee palate and it will do a great job grinding for your espresso needs as well as the other types of coffee.
This model is doserless and is designed to grind directly into a portafilter. If you don't want to do that, you can easily remove the holder underneath and place a container there to catch the grounds. You can also just leave a cup on the holder to catch them as the grinds fall downwards without overspray.
It is also very easy to clean and because it is built like a tank with a heavy duty motor, you can be sure you'll have it for years to come. Of course, you have to pay for what you're getting and this grinder will cost you well over $300 but it's well worth the price.
Best Conical Burr Coffee Grinder
Breville BCG820BSSXL The Smart Grinder Pro Coffee Bean Grinder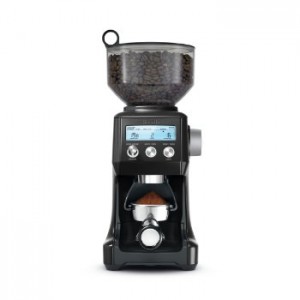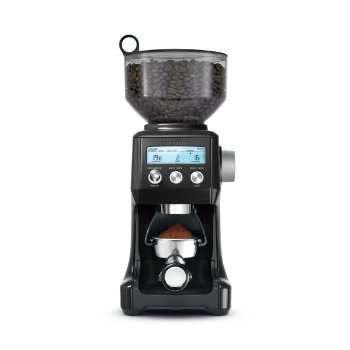 Although the Breville Smart Pro Coffee Bean Grinder is a full service grinder that will give you pretty consistent coarse grinds for such things as French press, drip and percolators, air press makers and everything in between, it excels at grinding coffee for espresso. We also pick this as one of the best coffee grinders you can get for your money.
It features 60 grind settings from course to extra fine, and it comes with the ability to grind your coffee into a filter basket, paper filter, grinds container or even into a portaflter. You don't have to pour the grinds out, just grind it into the filter system that works with your coffee maker and you are good to go. No spilled coffee grounds.
The bean hopper holds a full 16 ounces of coffee beans, which will give you several cups of coffee or espresso before you need to refill. The digital electronic timer with LCD screen allows you to adjust the grind time settings into two-tenth of a second increments, so once you determine exactly the amount of ground beans you want for any application, just set the timer and let the machine do the work.
The machine comes with a cleaning brush, and it is recommended to keep the unit brushed clean after every time the hopper has been used. However, Breville has made the top easy to remove so that cleaning takes little time and effort to accomplish.
All in all, this is a decent mid-cost choice for a pro-style coffee bean grinder.
Breville BCG600SIL The Dose Control Pro Coffee Bean Grinder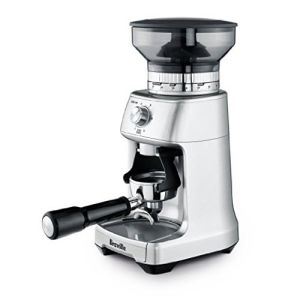 The Breville Dose Control Pro Coffee Bean Grinder is essentially the Breville Smart Grinder without the smarts. It will do virtually everything its smarter sister will do, except you'll have to use a manually turned dial instead of working with digital electronics and an LCD screen.
You manually set how course or fine you want the grind, and you'll have 60 settings to choose from, then turn the dial to one of the 60 second time settings and let it go. It is essentially a manual timed version of the Smart Grinder.
That's not a bad thing, especially if you have some knowledge of precise grinding and the patience to try different grind settings before you get it right. That way you can save a bit on the cost.
It does everything else that the electronic version does but it doesn't cost as much. The same amount of grind settings, same quality and consistent grind everytime, the ability to grind your beans into any type of filter medium including a porta filter, and the same conical burrs that also need cleaning after every hopper full has been used. Speaking of which, the hopper holds 12 ounces of beans so you'll be able to make several cups of coffee, espresso or what have you before it needs to be refilled.
OXO Good Grips Conical Burr Grinder with Intelligent Dosing Scale
The OXO Good Grips Conical Burr Grinder does things a bit differently than the Brevilles. Instead of using a timer, you have a choice between selecting Cup mode, Gram mode or manual mode. Also, ranging from fine to coarse, you get a total of 38 possible settings.
In Cup mode you make your selection based on how many cups of coffee you intend to have. In Gram mode you select anywhere from 0 to 125 grams, where the machine will stop grinding once it has reached the selected weight. So if I choose 8.25 grams (this is the ideal weight of coffee per 150 ml sized cup, according to the SCAA), you should have just the right amount of grounds for a cup of brew. For espresso, it will be 8.25 grams of finely ground coffee. Multiply that if you want to make more than one cup.
Of course, not everyone will agree with the SCAA and might like their brew to be a little bit stronger or weaker. In that case, you can use a manual dial to increase or decrease the weight in increments of 1 gram.
In the Manual mode, the other two modes are disabled and you can just grind as much as you want to fill a porta filter, cup or any other container. However, those who are used to a timer setting in this mode might have to count it down themselves to get the right amount.
The bean hopper holds 16 ounces of beans and it comes with an auto shut off feature if the grinder is started when there are no beans present. There is a "bean trap" to hold any leftover beans when you remove the hopper. There's a little bit of static cling but not enough to create a mess.
The instruction booklet gives you the approximate weights for the amount of coffee cups selected and there is also a read out on the machine. It is easy to use and one of the best choices in this price range, especially for espresso and even Turkish coffee, as the fine settings go quite a way.