If you're a lover of French Press style coffee or drip and want to make the perfect brew at home, you can't just buy only a French Press or drip machine for the brewing process. The coffee you use has to be freshly ground, so you'll also need the best burr grinder for French Press or drip coffee that does a good job grinding the beans to the right consistency. This type of coffee needs coarse or medium coarse and even grounds so that the water can surround and absorb the flavor from every particle equally. If you have even a little coffee dust because of a bad grinder, your brew will be muddy, as the filter cannot remove fine dust.
Whatever you do, don't get a blade grinder. This type cuts the beans rather than slowly crush them and so you'll get a lot of uneven grounds and a lot of dust. The best coffee grinder for French press and drip is a conical burr type that works slowly by rotating a set of gear teeth against a ceramic surface to crush the beans evenly.
If your budget is low, you can just get a good manual grinder, although using it will take a good arm workout, especially if you want to make more than 1 or 2 cups at a time. However, there is a wide price range in the automatic grinder category. If you only drink French Press or even cold brew, you can concentrate on machines that are best for coarse grind. However, if it's for, let's say, a family with differing coffee tastes, you'll have to have a high enough budget for a machine that can grind just as well from coarse to fine. We'll give you the best options in all price ranges and even include the best manual one to buy. We have also reviewed and selected the best manual, blade and burr coffee grinders for the money for all types of coffee and burr grinders that grind best for espresso.
Once you've ground up your beans, you'll have to brew them. If you like having a French Press brew even when away from home, get a travel French Press coffee maker. Otherwise, a regular French Press for the home can brew enough for at least two people.
Best Manual Burr Grinder
Porlex JP-30 Stainless Steel Coffee Grinder
The Porlex JP-30 is considered one of the best manual coffee grinders for French Press and if you're loathe to spend a lot of money on an automatic one, then this is what you should pick. If you remove the bottom canister, you see a square nut beneath the grinder portion. The grind becomes finer as you tighten it, and coarser as you loosen it. You have to find the right setting by trial and error in the beginning by grinding a few beans and checking to see if the consistency is right. You can count the number of clicks you hear as you loosen or tighten the nut. Once you get the correct ground consistency, you can leave the adjustment alone.
However, it has a few quirks that must be considered. The ceramic grinding disks inside are fragile. So don't drop this unit or tighten the grind coarseness screw adjustment too tight, or you may damage them. This is a relatively small grinder, and for French Press, you'll get about 3 cups of coffee with each load of beans.
While you do get an arm workout using this grinder, it should take no more than a 2-3 minutes for grinding an ounce of beans for French Press.
Best Burr Grinder Under $100
Capresso 560.01 Infinity Burr Grinder
Capresso really does make good inexpensive coffee grinders, and while there are better models available like the 565 that we include further down the page, this Capresso 560.01 Infinity is probably the best you can get for around $100 and it is very quiet.
With 16 grind settings from coarse to fine for the conical burrs, a handy 5 to 60 seconds timer to set the amount of coffee to grind each time from the 8.5 oz bean hopper, and 4 oz sealed container for the grounds, you have everything you need in a grinder but without paying a hefty amount.
The extremely slow speed of the grinder means there's less friction and heat build up so as to not destroy the natural flavor of the beans. If you use dark roast or oily beans, there will be a lot of build up under the top burr, so it has to be cleaned properly with the included brush after every use.
While you may have an issue with getting the timer settings right in the beginning, it is not recommended to turn the dial to 0 to stop if you feel that it was set too long. A better method is to just twist the top to the "no grind" mode to stop grinding.
Bodum Bistro Electric Burr Coffee Grinder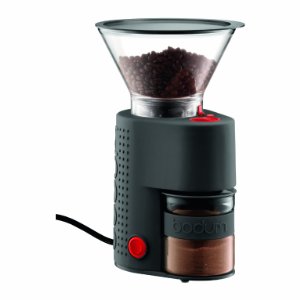 If you are careful with your grinding and can keep it working, the Bodum Bistro will give you terrific results. It is fully adjustable, by rotating the top, to give you the coarse grind you need for French Press. The burr grinder gives you a consistency between batches that is second to none. You get 14 different grind settings, a timer and a quick grind option.
The glass jar that catches the coffee grounds is said to reduce or eliminate static cling or shooting grounds from static electricity and the plastic lid creates a tight seal, so there's no mess after grinding. Finer settings can cause grounds to stick to the upper burr chamber, so before opening, you should tab the sides well to allow them to fall.
The timer only goes to 20 seconds, which is more than enough to get enough coffee for a single person at one time. The manufacturer recommends that you wait 5 minutes before using it for a second grind so as not to burn out the motor. Those who follow these instructions have used this model for over two years with no problem.
This is a great coffee grinder for the money, and although the results for French Press grinding can't be beat, if the unit breaks, you are out of luck.
Cuisinart CBM-18N Programmable Conical Burr Mill
The Cuisinart CBM-18N Programmable Conical Burr Mill is the least expensive burr grinder on this list, but that doesn't mean it's not good. The 18 position selector disk gives you enough choices for coarse to fine coffee grounds, and the top mounted bean bin will accommodate 8 ounces of coffee beans. Granted, it does not have as many grind choices as some other burr grinders, but then you have to ask yourself, how many choices become overkill? If you're most regularly using a drip coffee maker or manual pour-over, then this is a good choice.
The programmable feature allows you to input how many cups of beans you want, that shows on a little LCD screen, and the grinder will stop after that amount has been reached. You can also run the grinder manually to grind the correct amount of beans that suits your taste.
It works in much the same way as the Baratza Encore below. Fill the bin with coffee beans, rotate the grind adjustment ring to the ground consistency of your choice, then turn the unit on. If the ground cup-per-portion programmable setting is to your liking, simply press how many cups you want ground, turn it on and the Cuisinart will turn off when that amount has been ground.
The plastic hopper that catches the grounds has been known to build up static electricity , making the grounds stick to the sides of the hopper. Merely tap the hopper a few times to settle the grounds before you pour them into your coffee filter. You can also use a dedicated brush to brush off any that stick.
When it comes to conical burr grinders, the Cuisinart rates as one of the best bang for the buck units available for drip coffee.
Best Burr Grinder Under $200
Capresso 565 Infinity Stainless Steel Conical Burr Grinder
This is a great coffee grinder that works well for French Press, and if an electric is right for you, you won't be disappointed by the Capresso 565 Infinity.
Consistency is king here, and once adjusted for the perfect French Press grind, it will stay at that setting. You can also try the timer and find what works for you before you keep it at that setting. You can fill the hopper with 1/2 pound of beans, and then only grind up what you need, saving the rest for the next day's coffee.
The outer shell of this model is made of stainless steel, giving it a more durable and heavy feel but it is compact, so you can easily fend a place for it on your kitchen counter.
While many of this type have a problem of getting messy after a grind because of the build up of static electricity, this unit is a lot better. If you do get a little bit of static, a little tap on the sides to unstick the grounds and a swish of the included brush to clean up is all you need.
While many electric grinders are not known for being quiet, this one surprisingly is one of our favorite quiet burr grinders and is what many users love in addition to the grind quality. You could pay more or less for an electric coffee grinder, but this is certainly one of the best French Press grinders in this price range.
Baratza Encore Conical Burr Coffee Grinder with Bin
The Baratza Encore Conical Burr Coffee Grinder is considered by many as the best entry level burr grinder you can get, especially if you most regularly drink drip coffee or espresso. It comes with an 8 ounce coffee bean bin that sits on atop the grinder, and it has a pull-out hopper that catches the ground coffee.
The Encore is very user friendly, and it has 40 different grind adjustments so that you'll get the grind you desire, from coarse to extra fine and everything in between. It comes with an automatic reset function and it has thermal overload protection that will shut the unit down if it is overloaded.
Even with the 40 programmed adjustments, you can actually manually calibrate this unit for the perfect grind that you need. The burrs are easily removable for cleaning, as are the top bin and bottom hopper.
It is also easy to use. Simply fill the bin on top with coffee beans, rotate the grind dial setting to the desired coarseness you desire, and turn the unit on. If you know exactly how much ground coffee you need, you can place a filter into the hopper and push the front-mounted pulse switch. This allows you to grind the precise amount directly into your filter, which can then be placed into the brewing basket of your coffee maker.
Best Conical Burr Grinder Under $300
Baratza Virtuoso Conical Burr Coffee Grinder
If you're looking for the best conical burr coffee grinder that's not among the most expensive but that grinds without leaving your press pot brew all muddy, the Baratza Virtuoso is your best bet. The consistency of the coarse grind is obvious from cup to cup, with a grind range of 40 settings from 250 to 1200 microns.
With the pulse button allows you to empty the grounds directly into your press and the 60 second timer makes it easy for you to always get the right grind time even if you change batch sizes or grind sizes for other types of coffee. The bean hopper capacity is 8 oz while the grounds bin capacity is 5 oz.
The 2nd generation gear box on this model has been strengthened to last and is less noisy.
While the static created with this model is minimal, you have to tap the the unit after grinding and before you remove the grounds bin to prevent them from messing up your counter. Also, the only way to clean out the bean hopper is to tun it upside down. It is a good thing that it is not a heavy unit but this may make it less attractive if you're constantly switching between bean varieties.
KitchenAid KCG0702CU Burr Coffee Grinder
If beauty, form and function are all part of your priorities in a conical burr grinder, with price being no object and drip coffee is your preference, then the
KitchenAid Burr Coffee Grinder must be first on your list. It is considered one of the best looking grinders available, and if you are looking to enhance your counter top space with a lovely grinder, the KitchenAid won't let you down.
If you are familiar with the way a KitchenAid mixer looks, the design of this grinder mimics those lines. It is big, bold and beautiful, and no other grinder can compare. It features both a glass upper bean bin and a glass hopper below. This was done to minimize static cling that is found when plastic, on other grinders, is used for coffee bean and grounds containers. Of course you'll have to be a bit more careful when using glass components, but they are effective at minimizing static cling while adding to the overall beauty.
The top mounted bin holds 7 ounces of beans and the 15 grind adjustments should be more than adequate for virtually any coffee type that you desire. You can grind beans into the hopper or place a filter where the hopper sits and grind beans directly into that.
The adjustment settings are controlled by a front-mounted rotating knob. Turn the knob to the desired grind coarseness you want, flip the side mounted switch and let the grinder do the work. When the amount of coffee you need is ground, flip the switch to "off" and you are good to go.
The KitchenAid has the most powerful motor and the slowest grinding speed for perfect ground coffee every time. If you want the best, and are willing to pay for it, this is the conical burr grinder for you.
Burr Grinders Over $300
Rancilio HSD-ROC-SD Rocky Coffee Grinder
If you want a commercial coffee grinder in a consumer setting, and are willing to pay for that privilege, the Rancilio Rocky Coffee Grinder is your best bet. There is no doubt that it will grind coffee with the best of them, but finding the grind that suits your French Press needs might take a while of trial and error.
The nearly infinite coarseness settings will give you the best French Press grounds you've ever had, but you'll have to hunt for that setting. Grind some beans up, advance or retard the setting and grind some more. And don't worry about grinding too many either. The huge two-thirds of a pound hopper always makes sure there is coffee to spare.
This is one of the quietest grinders here, and for the money, it should be. The infinite grinding adjustment is almost overkill, and although it will make a great French Press grind, and it may take a lot of trial and error to find it, this unit also shines as an espresso maker if you just turn the control all the way to the "fine" setting, and leave it there. In fact, we rate it as one of the best for espresso grinding too. You can grind directly into a porta filter as it is a doserless grinder. It is also nice that its hopper is tinted, so should you choose to leave unused beans there until the next time its used, they won't deteriorate due to sunlight exposure.
If you don't mind spending more dollars and getting the best burr coffee grinder for French press as well as drip coffee and espresso, this could be the one for you.