Carbonated water makers give consumers a convenient, environmentally-friendly alternative to store-bought soda. Most of these appliances are easy to use and require only a few supplies to produce carbonated water. What's more, carbonated water markers are more affordable than buying bottle after bottle of soda, and they also help reduce the number of plastic bottles polluting the environment. By using your own carbonated water machine, you will have complete control over what gets into your soda and avoid artificial sweeteners, colorants and flavors that can negatively impact your health and overall well-being. Check out this short guide for choosing the best carbonated water maker below.
When shopping around for soda makers, there are many factors pertinent to decision-making. Since this is an appliance you will likely utilize for the years to come, you should carefully consider available options to ensure that you will make an informed decision. There are several options but many fall short.
First is the type of appliance. SodaStreams have mostly cornered the market because they're the easiest to use. This is because they use CO2 tanks of 60 litres to 130 litres in capacity and can be used to produce several bottles of soda. The tank is easy to insert and all you have to do is push a button to carbonate a bottle of water. Once a tank is empty, you can have it refilled, although some machines only work with proprietary ones. These machines are the most environmentally friendly, since you can refill tanks over and over again. They do need a bit of space on a counter or in a cabinet.
The other type of at home soda machine uses cartridges that attach to a siphon that you fill with water. Each cartridge can be used just once before either throwing it out or recycling, so you have to buy several of these at a time. These are space savers, as the carbonated bottle is kept in the fridge and the charger can tuck away in a kitchen or bar drawer.
Although most consumers think of carbonating water as a complex process, the truth is it should not be so if you choose the right machine. If ease of use is important, look for a model that does not require any assembly, except for inserting the CO2 carbonator tank (if not already inserted). The carbonating bottles should be easy to remove, but keep in mind that most of them will not be dishwasher-safe.
If you prefer the cartridge type of machine and you want to keep costs down as much as possible, opt for one that uses generic brand cartridges. Most models come with the first CO2 cartridge included, but once you run out of fuel, you will have to replace it and proprietary cartridges are not cheap.
Buying the soda makers themselves is not expensive. What most consumers fail to acknowledge is that, on top of the one-time payment for the machine itself, there is also the cost of each carbonation. If you need to produce soda on a daily basis, then cartridges can become quite expensive.
Before we go further, keep in mind that the level of carbonation heavily depends on the temperature of water used. The colder the water, the stronger the fizz, so always remember to keep a few bottles of normal water in the refrigerator ready to be carbonated. Now let's dig deeper into reviewing our top picks for the best soda makers.
Best Soda Machine for Home Use
The following two products are easiest to use. Although they'll need a bit of counter space, they are generally more convenient and can carbonate more water than cheaper models.
SodaStream Fountain Jet Home Soda Maker Starter Kit
SodaStream is undoubtedly the most important name in the carbonated water industry, and the SodaStream Fountain Jet Home Soda Maker is one of their most popular soda makers. It comes with a 1 litre BPA-free reusable carbonating bottle and a starter CO2 carbonator that can be used for 6 litres of water. This unit only uses proprietary carbonator refills but you can get them refilled in one of 15,000 locations. What's more, you can have your starter carbonator exchanged for a full 60-liter one for free by using the mail-in rebate that comes in the box.
If you want flavored soda, you can choose from over 60 Sodamix flavors that are free of high fructose corn syrup and Aspertame. For its price and all around convenience, this is the best home carbonated water maker to buy.
This model is very easy to use – just connect the CO2 cylinder, fill water in the carbonating bottle, inject the desired amount of carbonation into it, and then add a flavor or syrup of your choice if you want. To ensure that the flavor is fully incorporated, gently rock the bottle back and forth. Furthermore, users have complete control over the amount of carbonation injected into the bottle. It does not need a battery or electricity to run so you can take it with you on picnics or to a party.
Another pro is that the Fountain Jet comes fully-assembled. You will only have to connect the CO2 cylinder and attach the bottle and you will need about 30 seconds to fully-carbonate a bottle of water. Cleaning is extremely easy since you will be working with water only, and you will need a damp cloth to wipe down the unit.
Although the Fountain Jet is one of the best soda makers for home use, there are still a couple of drawbacks that make it less than perfect. In the first place, some customers have reported that some of the Sodamix flavors available taste a bit artificial. Furthermore, full carbonation like the kind you get for cola requires extra pumps, which results in your tank emptying out fast.
Also note that a 60L refill costs $15.
Sodastream Dynamo LX Home Soda Maker Deluxe Mega Pack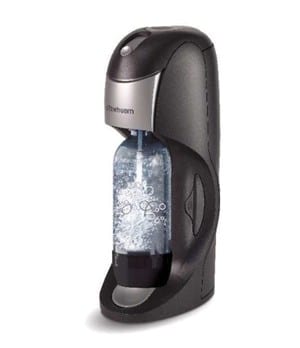 Similar to the Fountain Jet above, the Sodastream Dynamo LX is a more expensive model for home use. It comes with a 130L CO2 carbonator, which means that there will be many months before a tank refill. The product ships with two 1L carbonating bottles and a 12-Flavor sampler included.
This SodaStream unit is easy to use, just like above, and will only take a few seconds to get started – just attach the CO2 carbonator and bottle and push the button to inject the desired amount of carbonation. Depending on how much C02 you pump into the bottle, you should have your carbonated water done in less than one minute. As for the cleaning, this part is easy given that you will only have to rinse the bottle after each use, and perhaps wipe down the unit once in a while.
As for the cons of this soda maker, you should definitely know that you will have to spend a lot more on carbonator refills since they are provided exclusively by SodaStream. Each refill costs $30, which is a lot more than the price of a third-party CO2 refill cartridge that can be used with other carbonated water makers. This size of refill is also not as easily available as a 60L one. However, you should be able to get about 350 cans of soda with each one, so the trade off may be worth it. Moreover, the carbonation level is not great if you want a substitute for store bought cola, but is great for seltzers and fruity drinks.
At Home Soda Maker with CO2 Cartridges
Although most at-home soda makers with CO2 cartridges tend to be cheap, each cartridge can be used just once, which means you throw them out once done. To avoid spending hundreds on new cartridges, opt for a model that can use any standard 8gm cartridge, as you have different options to choose from. A pack of 100 Leland seltzer chargers, for example, costs around $40 on Amazon.
SodaPlus SP76327 Soda Carbonating Starter Kit
The SodaPlus is an excellent at home soda machine that is quite convenient to use despite the inherent costs of charging cartridges. It is easier to use than most soda makers of this type and makes storage a breeze since there's no CO2 tank to worry about.
As one of the best soda makers on the market, we think the SodaPlus SP76327 Starter Kit deserves its own full review with video demo, but you can check it out on Amazon if you're in a hurry.
It uses standard 8gm CO2 cartridges to produce fizz, which makes it substantially cheaper than other models in the long run. The 1.2 L carbonating bottle is first filled with a liquid then carbonated and the resultant fizzy drink is best left in it to be poured out whenever needed.
iSi 2248 Soda Siphon
Even though the iSi 2248 Soda Siphon is similar in appearance to the SodaPlus SP76327, you will find it to work slightly differently and produce different results as well. After charging the bottle, you need to shake it vigorously before keeping it in the fridge for a while. Although you can buy the iSi brand cartridges, it will work just as well with a generic brand.
To prevent the bottle from overflowing, it comes with an overflow regulator tube. Into this goes the siphon tube through which CO2 is dispensed using the charger and holder. When you tighten the screw on the charger, the CO2 is dispensed with a whooshing sound. That's when you can unscrew it, seal the bottle with the metal cap, shake and keep in the fridge for at least 20 minutes.
You don't have to unscrew the cap to serve just a portion of the soda. There is a discharge lever that you use to dispense soda into a glass. This helps retain fizz in the bottle for a long time, which is one big positive of this model. The unit is extremely easy to use, and is very safe. Due to being made of brushed aluminum, the carbonating bottle is fully dishwasher-safe. Last but not least, the unit also comes with a pressure-regulating feature that prevents the dispenser from spraying water everywhere. The neck of the bottle secures with a threading that prevents leaks.
One of the most frequent complaints seems to be the long time the CO2 cartridge needs to fully discharge into the bottle. This will lengthen the time needed for the carbonated water to be done, which is a big let-down if you need the unit for parties and other such special occasions.
 
Best Budget Soda Water Maker
FiZZ GiZ Soda Maker and Home Carbonation Kit
If you are looking for a budget-friendly carbonated water maker, then the FiZZ GiZ Soda Maker will certainly be the best option for your needs.
The FiZZ GiZ is one of the most convenient and best sparkling water maker options, as you will not need any proprietary cartridges or fitting to produce fizz. You can even get a 16 gm CO2 refill from your auto shop! The hand-held dispenser allows you to quickly get your water, juice, wine, beer, etc. fully carbonated in a couple of seconds, not to mention that this item can be used on any type of bottle that can withstand the amount of carbonation you desire. Just buy some plug type soda caps to seal the bottles when done.
It is small enough to store in everyone's drawers with ease and is easy to clean with a damp cloth. The unit is made of solid stainless steel that promises longevity, and it is quite lightweight for an item of its size. The FiZZ GiZ will be a lot cheaper as compared to other models, enabling buyers to score big savings vs. store-bought soda. You can carbonate anything from water to wine, unlike most models that allow you to carbonate only water.
The primary drawback of this soda maker is the inappropriate carbonation level. Although the machine will quickly carbonate water, the carbonation will be relatively poor, with smaller bubbles than store bought soda. Moreover, carbonation lasts for just a couple of hours, which means that you will have to repeat the process or finish your drink quickly.