For more than just toast, toaster ovens use radiant to toast, bake or broil foods in small batches. Better toaster ovens have convection features that circulate the hot air for more even cooking. They are good replacements for traditional range ovens since they pre-heat faster, use up less energy and don't warm up the house as much, a positive in hot summer months.
Since they are typically smaller in size and sit on a countertop, they are not good for large batches of cookies or a whole turkey, but many can be used to roast a small chicken. For turkey, get an electric roaster so that this oven is not tied up. A toaster oven has a range of other uses like making medium sized cakes, small batches of cookies, warming plates, toasting nuts, cooking side dishes, melting cheese on bread and baking potatoes. Reheating pizza or fried chicken in a toaster oven returns the crust to a nice crunchiness, instead of the rubbery texture or sogginess that comes from a microwave. You can even use it for dehydrating food if it is a convection type, as buying a separate food dehydrator may be overkill for infrequent usage. If you don't want to be bothered to preheat your oven just for toast, try a long slot countertop toaster that can toast any length of bread slices.
Did you know that you can combine microwave cooking with convection baking and maybe even grilling using just one appliance? A microwave and toaster oven combo will do just that. And if you want a unit that will also eliminate the need for a separate breadmaker or food steamer, then check out the Cuisinart Steam and Convection Oven.
So what is the best toaster oven to buy? That depends on your needs. Toaster ovens can be purchased with a convection feature or you can get a basic toaster oven for less than $100. Before you buy, know what capacity you'll need and whether or not you have counterspace for the size you want. It should be easy to clean – a non-stick interior makes this easier, and it should come with a crumb and drip tray. Is it easy to use or does it have too many complicated controls? A few presets can be convenient but if you follow temperature guides in recipes, this is not necessary.
If you like to make pizza often you may want to consider a dedicated electric pizza oven that is quite inexpensive but more energy efficient for the job. However, if you only have space for one, the following toaster ovens do have a preset for pizza baking and some even come with a pizza pan or stone. Another good model that has a pizza option and can accommodate two 16″ pizzas is the Oster Digital French Door Oven.
Best Convection Toaster Oven
Breville Smart Oven 1800-Watt Convection Toaster Oven with Element IQ (BOV800XL)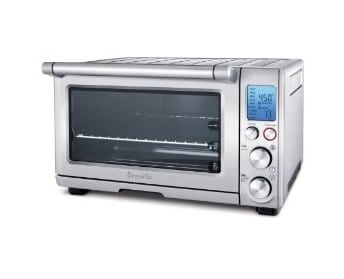 As the best rated toaster oven of 2016, the Breville Smart Oven is the cream of the crop in toaster ovens. It features 1800 watts of power, 0.8-cubic-foot capacity and Element IQ™ technology for better heat control. With a no-fuss control panel of a temperature and timer dial, nine pre-set functions displayed on a blue backlit LCD screen and a control display that turns orange during pre-heat, setting the Breville Smart Oven is easy to do.
The Smart Oven is equipped with five heating elements made of quartz and three rack positions for just the right cooking of your food when placed in the oven. It is large enough to prepare a 13" pizza, 6-slices of toast or roast a small chicken, but its footprint is small enough that it doesn't take that much space on a counter.
The reason it is "smart" is because this is probably the best multi-purpose oven for cooking a range of foods properly. Not only does heat circulate throughout the interior, you can also change its distribution to sear meat, bake cake evenly or toast bread evenly on both sides.
Included with the unit is a patented magnetic auto-eject rack to prevent accidental burns, a removable crumb tray for easy cleaning, a broiler rack, a baking pan and a pizza pan. The interior is non-stick and easy to clean. The beautiful stainless steel exterior will make an attractive and functional addition to any kitchen.
Reviewers give the Breville Smart a 4.5 star review rating and say that the included accessories are all very useful. Other reviewers found temperature management of the oven to be accurate, ensuring perfect cooking. The biggest complaint is the short power cord, making it necessary to locate the oven near an outlet.
A newer Breville model called the Breville BOV900BSS Smart Oven Air has all these features plus an air fryer option for a healthy way of making deep fried foods.
Cuisinart Chef's Convection Toaster Oven (TOB-260)
Boasting 1875 watts of power and a spacious 0.95-cubic foot capacity, the Cuisinart Chef's convection oven is one of the best countertop convection oven options on the market. It also uses a blue digital control display and LED buttons for temperature and time selection, and comes with 15 cooking functions, including Speed Convection and Dual cook. The Exact Heat™ sensor maintains proper temperature and the Always Even™ toast shade control will give you perfect toast every time. If you want to set the temperature yourself, you can do so in 25 degree increments up to a maximum of 450 F. The broil function always cooks at 500F. A two-hour timer and two hour automatic shut off makes the Cuisinart Chef's convection oven safe for you and your family.
It comes with a 13″ pizza stone, 2 cooking racks, 9″ x 13″ baking pan and broiling pan. Equipped with an automatic slide out rack, pull out front crumb tray, and easy clean non-stick interior, you are assured that cleanup is a cinch. The brushed stainless steel exterior has a large glass-viewing door so that you can easily see what you are cooking and the interior light is a nice feature.
Reviewers give the Cuisinart a 5-star rating and found that it is a good substitute for a conventional oven and more economical. Reviewers also like the three-year limited warranty that Cuisinart offers with the Chef's convection toaster oven. The Cuisinart has a lot to offer for the price.
Best Small Toaster Oven
Breville Mini Smart Oven with Element IQ (BOV450XL)
Like its bigger sibling, the Breville Mini Smart Oven uses Element IQ technology for better heat control. With 1800 watts of power, the it has the power over larger ovens but has only 0.45-cubic foot capacity. Three rack positions, temperature and timer controls and eight preset cooking functions enables you to cook a variety of dishes in this unit.
Equipped with a pull out crumb tray, auto-shut off and sound alert, the Breville Mini is easy to clean and safe. Included with the oven is a 10"x10" baking pan. Optional is an 11" non-stick pizza pan and a 10"x10" broiler rack which will add even further versatility to this little toaster oven. The housing is powder coated steel.
Reviewers give the Breville Mini Smart Oven® 4.5 stars claiming that it cooks food perfectly. The biggest complaints are the noisy buzzer and the fact that the tray does not automatically slide out. Other reviewers found it to be pricey, but well worth the price once they began using it. Other reviewers find that it broils a steak perfectly and browns toast to the perfect golden shade.
Best Inexpensive Toaster Oven
Panasonic Flash Xpress Toaster Oven (NB-G110PW)
Less costly than the previous toaster ovens, the 1300-watt Panasonic FlashXpress, uses double infrared light that cooks up to 40% faster than other toaster ovens. The need for preheating is also eliminated with the instant heat feature. It automatically calculates cooking time for reheating, frozen foods and bread with six illustrated preset buttons that allow ease of use and digital temperature settings range from 250 to 500 Degree F for more precise cooking times. The heating elements are made of quartz and ceramic.
Included with the appliance is a square inner tray, a baking pan and removable rack giving you options when placing your product in the oven. The variable temperature settings and ease of use give you the flexibility to cook almost anything that you can get into this small foot print toaster oven. A reminder beep and interior light are also included.
Reviewers give the Panasonic 4.5 stars and say they do not think of it as a replacement for your conventional oven. However, it works great for toast, heating pastries and pizza, or baking cookies, appetizers, biscuits or rolls. Other reviewers say that it is easy to clean, crisps food quickly and evenly, but some wish it could be bigger.
Best Toaster Oven under $100
Black and Decker 8-Slice Extra Wide Toaster Oven (TO3250XSB)
Featuring optimized heat circulation for even cooking and consistent performance, the Black and Decker stainless steel toaster oven offers some features similar to much more expensive ovens. The extra wide interior gives you space for a 13×9 baking pan, eight slices of toast or a 12" pizza. You get cooking flexibility with the preset broil, bake, toast and warm functions. Three rack positions add to the versatility and the four cooking functions and two timers allow you to cook two items at once while timing their progress.
You get a crumb tray along with the rack and even though the interior is stainless steel and not non-stick, it is relatively easy to clean.
Reviewers give the Black and Decker toaster oven 4.5-stars reviewers find the size and performance of the Black and Decker to be comparable with brands that cost much more. Other reviewers find the controls to be easy to use, and the spaciousness receives kudos from most reviewers. One reviewer said that it struggles to reach the higher temperatures and that the toast function doesn't toast bread evenly on both sides.
Black and Decker makes similar models in smaller sizes.