Our kitchen drawers and cupboards are equipped with pots and pans of all shapes and sizes. But do we actually need ten different pans, casserole dishes, and roasting tins when one bit of kit could do? Well, a  multi-cooker may convince you that the answer is no. If this multipurpose appliance can bake, steam, roast, fry, saute and simmer, then it may be worth getting one and doing away with all the clutter in your kitchen.
Our best multi cooker reviews will help you find the best one for your needs, but if you want to look at a few other options too, you can find some more multi-purpose cookers on Amazon.
While all our picks can do a variety of things depending on the cooking function you select, each one tends to be stronger in a particular area, be it frying, slow cooking or making rice. Therefore, it may be wise that you anticipate beforehand what you'll use this appliance for the most. Want to only do slow cooking? If you know what to look for in a slow cooker, you can get a very good inexpensive one.
Philips Electric Multi-Cooker (HD3095/87)
The Philips Multi-cooker is an round power player among cookers in this category. Not only does it boast 10 different pre-programmed cooking functions for methods like sauteing, steaming, baking, roasting, slow and rice cooking, you can also make oatmeal, risotto and yogurt in it.
It is unique in that its heating technology allows you to step away while foods cook without worrying about them burning or sticking because of the micro movements that occur even in the smallest amounts of liquid present inside. Energy rings flow evenly around the cooking pot and automatic temperature control also help deliver perfect results everytime. An up to 24 hour delay timer can be set and so can the 12 hour keep warm function to make meal preparation extremely convenient.
The unit gets hot really fast and you must be careful to use oven mitts when handling the inner pot. The lid with childproof lock and the 16 cup ceramic non-stick inner cooking pot are both removable, making for an easy time of cleaning up either by hand or in the dishwasher. You also get a steam basket, rice scoop, measuring cup, spoon and recipe book.
You may not be able to replace your large crockpot for cooking a leg of lamb, but for regular cooking without needing multiple pots all the time, this appliance is good.
KitchenAid Multi-Cooker (KMC4241CA)
The KitchenAid Multi-Cooker is another clever kitchen aid in the shops, that can do a lot; from roasting, steaming and simmering, to making yoghurt.
At first glance, the KitchenAid Multi-Cooker looks like a slow cooker but there is more to this unit thanks to an assortment of pre-programmed settings and an optional Stir Tower accessory that frees you up.
For convenient entertaining and versatile everyday cooking, this unit comes in three color choices; the stainless steel, candy apple red with stainless steel accents, and black. The cooker also features a glossy exterior that cleans easily and looks fantastic on the counter.
Inside, the KitchenAid KMC4241CA features a 4-quart interior pot with Ceramashield non-stick coating. The capacity is ideal for families of 3 to five. It also features a pour spout that allows convenient transfer of food without spilling.
Although it is comparable to a slow cooker, the KitchenAid Multi-cooker features additional settings that allow you to prepare different kinds of dishes with the knowledge that foods will cook evenly because of the built in EvenHeat technology to monitor the temperature of the cooker from 110° to 450° F for precise temperature control. The optional Stir Tower includes a silicone paddle that mixes and stirs ingredients averting burning and sticking and it allows you to carry out other activities with little concern.
Other features include 10 cooking method settings, four systematic assisted cooking modes for yoghurt, soup, rice, and risotto, 700-watts power, a 12-hour timer, 24 hour "keep warm", and a dual-purpose rack for steaming and roasting.
The KitchenAid Multi-Cooker is flexible and easy to use especially if you buy it with the Stir Tower. In addition, the yoghurt setting is a very nice feature too.
The cooker is not the largest in this list, so it's not the best for large roasts but it will easily cook a good quantity of rice. The 700-watts power is decent but not the highest among our picks and it will not do pressure cooking, as there is no tight seal on the lid.
Scroll down to the end for a video describing all its features.
De'Longhi MultiFry, Low Oil Fryer and Multi Cooker (FH1163)
If fried food is your thing but you want to reduce the amount of oil you use, then this low oil fryer and multicooker by De'Longhi is a good option, as it can cook or fry over 3 pounds of food at a time. It uses an innovative convection heating system that circulates hot air throughout the inner pot while mixing ingredients with an inner cooking paddle to cook foods without the need for much oil. The paddle can be removed if you want to use the device for baking, sauteing, roasting and grilling instead. All these happen in quick time and you can monitor the process if you want to through the transparent BPA-free lid.
The technology uses an upper heating element of 1200 watts and a lower element of 200 watts and you can choose from 4 power levels. This allows you to make rice, soups and stews, while also allowing for grilled or roasted meats and vegetables. The stirring paddle allows you to walk away from the unit without having to worry about food sticking to the bottom.
While this appliance is powerful and well made, it is quite large and the fan is a bit noisy when the convection heating is on. You must also keep in mind that this can only be used to air fry dry frozen and fresh foods with little or no oil but not batter dipped food or doughnuts. Those items will need traditional deep fryers. However, most users say that these are only minor issues.
You could also take a look at some less expensive low oil fryers that are not as good at the other cooking methods but still do a good job with just air frying.
3 Squares TIM3 MACHIN3 20-Cup (Cooked) Rice Cooker and Multi Cooker (3RC-3010S)
If you are looking for larger capacity rice cooker that is also good for food steaming, slow cooking and yogurt making, try out the 3RC-3010S from 3 Squares. This electric smart multi-cooker can carry out many of your cooking functions effectively and conveniently.
The 3RC-3010S performs well both in design and functionality. This highly progressive multi-cooker is equipped with a technologically advanced fuzzy logic 2.0 dual temperature sensor that adjusts cooking time and temperature as needed. The 3RC-3010S has smart touch buttons settings for steaming, slow cooking, quinoa, oatmeal, yogurt, brown rice and white rice, and cooks rice 45% faster than most electric rice cookers.
The 3RC-3010S holds an amazing 20 cups of cooked rice, which is quite enough for a big family. It is also superb when it comes to performing as a slow cooker. This unit offers an easy to use 3-temperature setting that allows you to set the temperature that best fits your recipe needs. You can use the 15 hour delay timer to have meals ready just when you need them and can use the steaming tray to cook veggies or meat at the same time while the rice cooks underneath.
The heavy-duty quality finish coupled with the highly powerful heating element offers extra value to the unit. The unit features accessories such as a silicone rice paddle, steam tray, measuring cup, a recipe booklet, and an instruction manual to help you get started. The unit is inexpensive, and its larger size makes it easy to prepare a meal for a larger family. The non-stick feature of the pot makes it easy to clean.
Most of the negative reviews on Amazon relating to this product were issues to do with the shipping company and not the manufacturer such as dents and dings.
Fagor LUX Multi Cooker (670041960)
If you love pressure cooking but want a cooker for more than just that, then the Fagor LUX Multi Cooker might be your best bet. This 8 quart, silver electric pressure cooker also acts as a rice cooker and slow cooker, as well as yoghurt maker.
The Fagor LUX Multi Cooker features a time delay function that allows you to postpone the start of your cooking for up to six hours. All you have to do is program your multi-cooker to your recipe cooking times and carry on with other activities. Furthermore, you do not have to worry about your rice becoming unpleasantly cold before you eat it because it includes a keep warm function for up to 12 hours.
Another good feature on the Fagor LUX cooker is the rice cooker function. Since the process of preparing different types of rice varies, the multi-cooker comes with three distinct functions for white rice, brown rice, and risotto. All you need to do is start your timer and press a button depending on your kind of rice, and your rice will be perfectly cooked.
This unit also comes with a slow cooker function for preparing soups and stews, and the pressure-cooking function for meats, risotto, cheesecake, and chicken stock. The yogurt maker function is new for the LUX multi-cooker, and it allows you to pasteurize your milk and set yoghurt in one pot. If you'd like to saute or brown foods before slow cooking, there's a setting for that too, as are settings for steaming and simmering.
Its blue removable non-stick cooking pot is dishwater safe, PFOA-free, and FDA safe.
Most customers who have used the LUX multi-cooker have had positive things to say about this product. But this does not imply that the item does not have its shortcomings.
Instant Pot 7-in-1 Programmable Pressure Cooker (IP-DUO60)
For a very popular choice among electric pressure cookers that can do a lot more, the Instant Pot 7 in 1 cooker is a 6 quart appliance that features an easy to use control panel with 14 pre-programmed cooking functions, 3 levels of temperatures for methods like sauteing and slow cooking, and a keep warm function.
The inner cooking pot and steam rack are both stainless steel, so you don't have to worry about the possibility of chemicals leaching into the food.
The Instant Pot IP-DUO60 is one of our top picks for an electric pressure cooker, so you can read our full review here.
Cuisinart 4-In-1 Cook Central (MSC-800)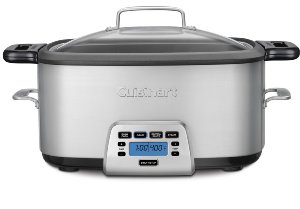 For a good slow cooker option that you can also use to brown meats very well or steam rice or veggies, the Cuisinart 4 in 1 multi cooker is your best bet. At 7 quarts it is large enough for a pot roast and the highest saute temperature is 500F, so you can brown or saute foods before switching to a high, medium or low temperature setting for slow cooking. You can also roast between 250 and 450F, or steam foods using the reversible rack.
This was one of our top picks for a programmable slow cooker, so you can read our full review on the Cuisinart Cook Central here.


Kitchenaid Multi-Cooker with Stir Tower Demo