What is the better purchase when it comes to a bread machine vs stand mixer? It really depends on what you need. Both can make bread for you, but stand mixers usually come with a dough hook for kneading bread and only make the kneading process easier for you. However, bread machines take in all the ingredients at once, mix, knead, rise, and bake to produce the finished product for you.
The consistency of the product varies depending on how well the dough is kneaded and the other ingredients, of course. There are lots of pros and cons to either, and you should decide depending on what you need.
Is it Cheaper to Make Your Own Bread?
Yes, it is cheaper to make your own bread. Making a good quality classic sandwich bread at home is roughly 14 cents cheaper per slice than bakery bread. That is including the energy cost of running your oven. However, make sure that you compare apples to apples here. Different types of bread prices vary considerably. The cost of the cheapest supermarket bread is only about 5 cents more per slice. The more artisan the bread is, the greater the cost difference between bakery and home bread.
The advantages to baking bread vs buying are much more than the price. You can actually control the nutritional value and the taste of the finished product. You can change up the ingredients to add more fiber, or to add specific tastes.
Of course, the pendulum swings in the other direction when you factor in time. Making bread at home is only for those who can set aside a good chunk of time to do it, especially if you're not using a bread machine for the entire process.
How Does a Bread Maker Work?
A bread machine or bread maker basically takes care of the entire bread-making process for you. You just need to add the ingredients into the inner container and you'll get freshly baked bread in a few minutes. It mixes the ingredients, kneads dough, and bakes the bread until it rises to the right height and is cooked through. This saves the hassle that comes with baking bread.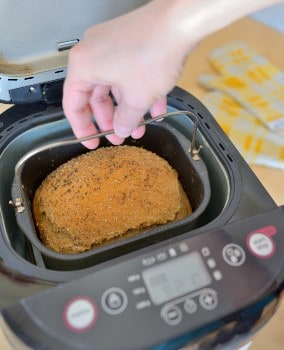 Many bread machines also allow you to do only one or two steps in the process if you like to have more control over the other ones. For example, you can use the machine just to knead the dough and let it rise, then take it out and finish it in the oven. Or you can make your own dough by hand or in a mixer, and do just the baking in the bread machine.
There are baking pans and kneading paddles and a small viewing window available to help you monitor the process. The baking pan basically doubles as a kneading tin and a baking bowl. It's located within the machine itself that heats it up via inbuilt heating elements. It's usually made of non-stick material and has one or two small kneading paddles that lower into the ingredients from above. Inbuilt handles make it easy to remove the paddles either before the dough is about to start rising, or after the bread has finished baking.
Many machines also have default pre-programmed settings that allow you to choose what kind of bread you want. For example, you can get different types of bread like Italian, French, sandwich, gluten free or even basic sandwich bread. The process goes through various cycles that differ in lengths of time depending on which bread type you select.
You can also bake bread with a standard loaf size. It usually depends on the machine you're using, but most machines allow for a 1.5-2 lb bread loaf to be baked. There are even settings for bread machines to set the type of crust you want. These vary from light to dark. There is of course, a timer that sets the time limit for the baking cycle.
As you can probably guess, this takes the hassle out of baking bread. You can set it, forget it, and let the machine do everything for you.
Is a Bread Maker Worth It?
Yes, a bread maker is an affordable appliance that can give you the right taste and texture of bread you want without much effort on your part. All you need do is put in the ingredients, select the appropriate settings, and you're done. The baking will be done without your intervention. It also uses up less energy than a convection oven.
Is a Bread Maker Easy to Use?
Yes, a bread machine is very easy to use. You can bake the bread that you love within minutes and all you need to do is put in the ingredients, select some pre-programmed settings, close the lid, and start it.
How Long do Bread Machines Last?
The best bread machines can last 10 years or more if you take care of them well. Regular use may wear some of the parts down in a shorter time, like the baking pan or the kneading blades, but those can be easily replaced.
Do you Need a Bread Maker to Make Bread?
No, you don't absolutely have to have a bread machine to make bread, especially if you only plan to make it once in a while and not regularly. If you have an oven and you also like to try several different types of baked goodies, consider a stand mixer instead. If you're only making one or two small loaves at a time, you can even make the dough by hand.
How Does a Stand Mixer Work?
Other than the bread machine, you can also try a stand mixer to make your bread for you. It's not as automated as the bread machine, but it will give you great results. Lots of bakers prefer the stand mixer to knead their dough and create a consistent, and very customized final product. The obvious caveat here is that in the bread machine vs stand mixer contest, the bread machine can just do a lot more without you having to tend to the entire process or needing more than one appliance.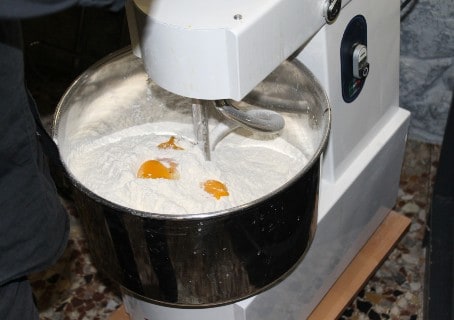 The stand mixer works by simply mixing together all the ingredients which make up the dough. You need to carefully measure out all the ingredients as needed. Then you simply put them into the bowl and set the timer. Then you can just let the mixer do the work. You can attend to other tasks and allow the dough to knead for about 8-10 minutes or longer.
Once the dough has been kneaded, you will need to take it out of the mixer, let it rise in a bowl or baking pan, and then bake it in the oven. So, from there, it's basic baking as usual. Professional bakers like this since they want to have complete control over the final product; size and shape included.
Advantages of Using a Stand Mixer Instead of a Bread Machine
There's one word that can describe almost all benefits that a stand mixer provides: versatility.
Support additional attachments:
Most stand mixers support additional attachments and not just mixing paddles and dough hooks. You can get various food processing ones to make shred veggies for coleslaw, grind and puree hummus, slice potato chips, and extrude frosting, pasta, or whipped cream, among other things.
Make more than just bread:
You can use it to make dough for just about anything including pasta, cookies, pretzels, cakes, and cinnamon rolls.
Control the size and shape:
You can control the size and shape of your loaf more directly using a stand mixer.
Bake as much as you want:
You can create several loaves of bread using the stand mixer at any one time while a bread machine only makes one.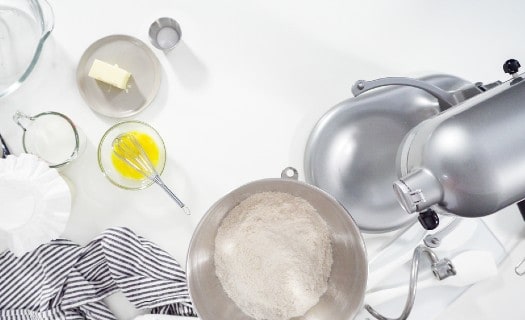 Disadvantages of Using a Stand Mixer
Greater effort needed:
Stand mixers are less automated than bread machines. This means that you need to expend more effort when baking bread with stand mixers than with bread machines. After the dough is kneaded, you may need a second rise and then bake the loaf of bread in the oven.
Constant monitoring required:
You also need to monitor everything a lot more closely. Some mixers don't have timers. If the mixer kneads for too long, it can spell disaster. Some don't have a slow start speed so you'll have to spend more time on clean up if you're not careful.
No proofing dough:
Stand mixers don't proof the dough. After the kneading is done, you have to monitor the temperature and the rising of the dough. With a bread machine, you can literally set and forget the entire process because you can use rapid rise or bread machine yeast along with the other ingredients and it doesn't require activation in water first.
More expensive:
A stand mixer that is powerful and strong enough for kneading bread dough can cost hundreds of dollars more than a bread machine and can even go over $1000 for the most advanced ones. It would have to be a bowl lift type of stand mixer and not a tilt head, which is the less expensive kind. This is without a doubt a deal-breaker for many. Add in the cost of using the oven, which is less energy efficient than a bread machine, and this means that it's a heavy investment for someone on a budget.
Advantages of Using a Bread Machine Instead of Stand Mixer
Less effort expended:
It saves you a lot of effort and time. Bread machines take care of everything including the kneading of the dough, proofing it, and the entire baking process. There are timers and sensors installed that monitor the entire process while you do something else or just lounge around.
User friendly appliance:
Bread machines can be used by complete amateurs and beginners. It's for the bachelor or for the workaholic who doesn't want to spend a lot of time learning to bake. This will do everything for you. You also have pre-programmed settings to make it easy for you, like the type of bread, amount of browning, etc.
Consistency:
You can get the same product each time once you figure out a favorite setting. You will never have to wonder how to make the exact kind of bread you love again. With a bread mixer, the same settings will deliver the same product every time.
Cheap investment:
A bread machine saves you money in the long term. Compared to a stand mixer, you can get 2-3 bread machines for the same price. If you're looking for a quick fix or something that takes the hassle out of baking for cheap, this is the appliance. This makes the bread machine a high ROI investment for individual bakers and non-professionals.
Multipurpose appliance:
You can make things other than bread, including cakes, casseroles, fruit/vegetable butter, or even tomato sauce. This is because it can heat ingredients after they've been mixed.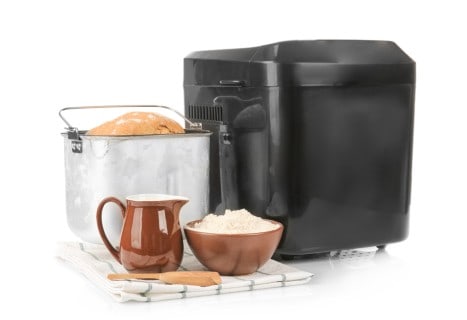 Disadvantages of Using a Bread Machine
Only one loaf at a time:
You can only bake a single loaf each time. This may be annoying to someone who wants to bake in bulk. However, if you're a bachelor or someone who needs a quick snack, this won't be an issue.
You can't control the size:
You are limited by the size of the bread machine, so you can't make very large or small loaves. You will always get the same 1.5-2 lb serving that the machine is primed for.
No shape control:
You can't control the shape of the bread, so the bread machine will be useless for custom baking. If you're looking to make braided loaves or a traditional Panettone, a bread machine isn't going to help.
Best Brands for Bread Makers
These are the best brands for bread makers this year:
Zojirushi makes bread machines with excellent performance and multiple settings for different types of bread. They're some of the best in the business, so they're expensive, but you'll get your money's worth with a purchase from this brand. You can choose to make small to medium-sized loaves with their models.
Breville gives you one or two more features built into its bread machines and they have a larger loaf size capacity if you need it. Just like all their other products, their bread makers come at a price, but this is about the best brand you can buy.
Cuisinart is a good middle of the road brand that's reliable and durable. You have compact and standard options and you can expect to have a good mix of versatility and consistency without too many confusing options.
Hamilton Beach makes good bread makers that are inexpensive with parts that can even be cleaned in a dishwasher – a rarity among bread machines. Expect just the basic settings with one or two extra options for artisan breads.
Oster also makes very basic bread machines that get the job done. They're also pretty cheap to boot. If you're looking for a basic loaf of bread that's pretty good, get a model from this brand.
 
Want specific models? Here are the best bread machines on the market currently. Or you can compare the top bread machine brands in more detail.
Best Brands for Stand Mixers That Can Knead Bread Dough
These are the best brands for stand mixers this year:
KitchenAid is a well-known name in the kitchen appliance game but they're legendary for their range of stand mixers and multiple optional Kitchenaid attachments. You can rely on them with both eyes closed but you'll need one of their more expensive models if you want to make bread regularly.
Hamilton Beach's electric stand mixers can knead dough just the way you want it for the fraction of the cost. Don't expect them to be too versatile though.
Kenmore makes some workhorse appliances, so if you're going to be using the mixer regularly for your family, this is the brand that's reliable.
Ankarsrum mixers feature an industrial design and can mix pretty heavy doughs and yeasted breads without overheating. These are for the serious bakers that know exactly what they want but want to experiment with and control their breads and other baked goods.
 
Want specific models? Here are the best stand mixers for kneading bread dough currently.