If you enjoy baking bread or pizza, a food processor with a dough blade included can save time and energy during the kneading process. It is even faster than using a stand mixer. Of course, it has to do other prep work tasks in the kitchen too to make it a worthwhile purchase. A cook has so many choices, that it can be difficult to find the best food processor with dough blade. These machines can now chop, grate, shred, slice, juice as well as knead dough for the busy cook. It is best to consider just what you need the processor for.
Will you use it only for times when you have company, or on holidays? A less expensive, more basic model with fewer attachments might be just for you. If, however, you cook daily and will be using the food processor for several tasks, including kneading dough for bread or your favorite cookie recipe, you might decide that a model that has a more powerful motor and is extremely well built is an investment worth making.
While the cheaper and lighter weight processors might be good enough for small, easy chopping tasks, they are often too light to remain stable and may not run as smoothly or silently while kneading dough. For the avid bread or pizza baker, spending a bit more for a heavier, more stable unit with a powerful motor will do the job correctly and with less frustration for the cook. If you're a real fan of homemade bread, then a dedicated bread machine is even better.
A dough kneading blade is blunt and usually plastic, unlike a chopper blade that is made of metal. While a side-mounted motor is fine for a processor that is not used frequently, you should stick to top mounted motors for the most part. Capacity is important too. Nine cups is a minimum but 11 cups is better. 14 cups will get you through if you have company.
Of course, you may not want to expand your appliance capabilities to blending and crushing ice too, in which case, you could consider a blender and food processor combo. These all-in-one appliances save space and are more affordable than having 2 separate ones for each type of job.
If you're unsure of a food processor is what you need, you could take a look at some of the best stand mixers with dough hooks. Otherwise, do read on to see what our picks for the best food processor for dough kneading are.
 

Cuisinart Elite Collection 2.0 14 Cup Food Processor (FP-14DCN)
If you want the versatility of having a small bowl for jobs like shredding a little cheese for your omelette and a larger bowl for jobs like kneading dough for several loaves, this Cuisinart FP-14DCN Elite Collection 2.0 model is a good buy. It is a new model of the Elite collection and this one boasts a whopping 1300W at peak motor power, so no job is too hard for it. Even making nut butters or kneading whole wheat dough for 15 minutes straight is easy! This new model is also a breeze to clean, unlike the older one.
You get two bowls to use – one 14 cup and one 4.5 cup, and both have pouring spouts and measurement markings. An adjustable slicing disc for 1mm to 10mm, an adjustable shredding disc (fine or medium), large and small chopping blades and a dough blade make up all the processing attachments and these come in a lockable storage case along with a spatula. Control comes from simple touchpad On/Off and pulse modes with blue LED light indicators. It has a retractable cord, although one reviewer says it doesn't operate smoothly.
You can do all kinds of prep tasks, like chopping, dicing, slicing, pureeing and of course, kneading using just this one appliance. The smaller bowl nests inside the larger one so you can do two jobs at one time, or you can remove the inner bowl and just use the outer one, or you can use only the small bowl while nested inside the larger one!
There are two different-sized pushers, with the larger one integrated and the smaller one removable, so you can add even large ingredients in the middle of a job. The smaller pusher includes a small hole where you can drip oil in if you're making mayonnaise.
The very heavy base and large volume means it's better left on the kitchen counter, but it also means that it is stable and won't move around when doing heavy jobs. Besides, it is very sleek looking, so you'll want to show it off!
 
Breville Sous Chef Food Processor (BFP800XL)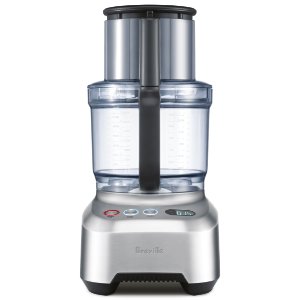 The Breville BFP800XL Food Processor boasts a 5 star rating with over 400 reviews and could very well be the best food processor for bread dough. It is in the $400 price range but is a solidly built work horse with many features for the avid cook to use. It has a 26 pound die-cast metal base, with rubber feet to keep the unit from moving about when it is kneading dough or processing large batches of foods. It has a direct drive motor with a brake system for safety.
Other worthy features include a feed chute safety system that prevents the motor from running until the bowl, lid and large food pusher are locked in place. The food chute is extra wide, which means that larger vegetables may be used with very little prep work. There is a silicone seal on the lid that prevents fluids from leaking out. Also, all parts that come in contact with food are now BPA free. The processor automatically stops and starts when you take the plunger in and out for feeding ingredients in.
The main processing bowl of the Breville BFP800XL holds 16 cups of dry ingredients and 12 cups of liquids, which is very adequate for those who love to entertain. There is also a 2.5 cup mini processing bowl for your smaller tasks.
You also get 5 multi-function discs and 3 blades in an accessory box that you can use vertically or horizontally. The slicing disc gives you 24 levels of thickness to choose from (0.3mm to 8mm) with just an adjustment to the lever. Paper thin radishes and thick cut cucumbers can be made in the same batch. The other discs are for julienne, French fry cutting, whisking, and reversible shredding. The blades are a micro-serrated S-shaped for chopping and even grinding meat, a mini one for the smaller bowl, and a dough blade.
The Sous Chef also has an LCD display with a timer that can count up or down. For the bread and pizza baker, this processor can offer stability and durability when kneading the dough.
You have to be careful not to run this appliance for long. It is very powerful and fast, so the dough can become overworked or the onion could be grated instead of chopped if you're not careful. You also have to be careful while processing cheeses. The manual specifically gives instructions on how to do it. The retractable cord is not really retractable, as you have to push it into its nook yourself.
 
KitchenAid 14-Cup Food Processor with Exact Slice System and Dicing Kit (KFP1466ER)
Another food processor that can handle the rigors of bread dough is the KitchenAid 14 cup Food Processor that comes with a 14 cup bowl and a smaller 4 cup work bowl inside that. This machine has a capacity large enough to accommodate bread dough and it can do many other tasks as well. With a 4.5 star rating, it is one of the newer models put out by KitchenAid. The price is comparable to other well designed food processors at around $349.95.
It has three speeds – low, high and pulse, so soft and hard foods are processed properly. You can cut lightly frozen meats with it as well. It comes with 5 attachments including a dough blade, and features a commercial style dicing kit that offers 6 levels of thickness when used for slicing. Thickness can be adjusted by an external lever. The 2-in-1 feed tube is extra wide for accommodating large chunks and pieces of food, while the smaller tube is good for drizzling in oil. The UltraTight seal allows you to fill the bowl up to capacity without the worry of it creating a mess.
The motor is 420 watts and comes with a one year warranty so it is not as powerful as the Cuisinart or Breville. It is also not as heavy, but the KFP1466 offers very quiet, efficient processing, and at 18 pounds can remain stable when kneading dough.
 

 
Braun Multiquick 600-watt Kitchen Machine Food Processor(K650)
For a less expensive but good option, consider the Braun K650. The motor is rated at 600W and you get a lot of control while operating, unlike the brands above. Combining 14 speeds with a pulse feature means soft to hard foods are processed exactly the way you want. The guide recommends a speed range for each attachment that's included. These are a universal chopping blade for chopping, blending, mixing & pureeing, a dough hook for kneading up to 3 lbs. of dough, a cream attachment for whipping, a slicing system for slicing, shredding and grating to fine and coarse degrees, and a citrus juicer that fits into the work bowl. The 9 cup work bowl features a dual safety lock to ensure that you can't open it while the unit is on and a tight seal prevents splattering when the bowl is full to capacity.
The variable speed feature is great for bread making, since you can control the speed of the blades working into the dough. This makes it impossible to overwork the dough. However, one reviewer says that while making pizza or bread dough, the unit jumps around a bit. This is probably because it is not as heavy as the other brands' offerings.