Women will flat out admit that there's nothing better than a man cooking for his family. Some are naturals at it and they could harbor secret dreams of being a professional chef. The occasional cooks might create a hurricane or take an eternity or try to use kitchen gadgets even when not needed, but they most often than not turn out surprisingly decent meals. Then they'll beam with pride of course, but they deserve a pat on the back.
What better way to encourage them by gifting them something for the kitchen? To help you with ideas, we've come up with a list of some cool gifts for men who like to cook. They run the gamut in price but they are all manly gifts so there's no worry of turning him off. Take your pick of these gifts for men who cook and you'll soon enjoy its culinary benefits! If you'd like a gift specifically for a barbecue lover, we have a list for that too!
Gifts Under $30
Chef Works Culinary Apparel
Whether a guy is doing some serious cooking in the kitchen or over the barbecue or having some fun when guests come over, he'll need appropriate culinary attire. If a man is going to wear an apron in the kitchen, it better be a manly one! Chef Works is an apparel brand that specializes in uniforms for men and women in culinary service and their men's options are particularly appealing! They have everything from chef coats to line cook caps.
This Chef Works Bib apron to the right, for example, measures 34″L x 30″W and is made from 100% cotton denim with criss-cross bar tacks. It has a good metal buckle to adjust the neck strap and long enough waist straps to tie in the front. It can be used while cooking or grilling.
If your recipient likes to dress up more for his role, you can maybe add on their poly-cotton chef hat with Velcro closure to adjust the fit around any head.
Beer Towel

Every cook needs a decent hand towel within easy reach in the kitchen but if the cook is a beer lover, he'll probably get a kick out of this beer towel filled with infographics, historical facts and terminology.
This towel is 29″ long and 19″ wide and the material is a soft quick drying organic cotton. It can be thrown in the washing machine and tumble dried too. Note that this is not a fluffy beach or bath towel, so while it is quite absorbent, don't expect it to be a thick towel. In fact, this could also be gifted as a decorative display item for the kitchen or bar area.
Exclusive Star Wars R2-D2 Measuring Cup Set
This limited edition set of measuring spoons and cups is for the Star Wars fan. Not only is the set fun to use, it's fun to show off to guests too! The ¼, 1/3, ½ and 1 cup measuring cups form the body of the R2-D2 droid and the 1/4, 1/2, 1 tsp, and 1/3 tbsp nesting spoons form the limbs. All of the pieces have to be taken apart and they can rest on the base of the droid when being used while cooking.
All the pieces are made of BPA-free food-grade plastic but cannot be put in the microwave or dishwasher.
Gifts Under $50
Zombie Cajun Hot Sauce Gift Set

Quite a few men love their hot sauces, so they probably also like to use them when they cook too. This zombie themed gift basket contains four 6 oz bottles of Louisiana Hot Sauce. The flavors included are Jalapeno, Garlic, Habanero and Cayenne Pepper, with each one being better than the next and vary in heat intensity. These are not the hottest sauces you can find, as they are meant to add intense flavor to things like chicken wings or as topping on a pizza.
You also get the "The Zombie Cajun Chronicles: A Time to Run" book – sure to please a zombie fan!
CTA Digital 2-In-1 Kitchen Mount Stand for All Tablets
Most men love their gadgets so if they can follow their recipes or even a TV show with just a swipe of a finger, they'll love this mount stand for an iPad, iPad Mini or any other tablet that is at least 6 inches wide but up to 8.5 inches.
The included hardware lets you install this mount to a wall or under a kitchen cabinet, but you can also use it as a tablet stand for use on the kitchen counter and then take it anywhere else in the house when not cooking. It is easy to fix and remove the tablet from the holder using quick release buttons and the holder head rotates 360° so you can read from the tablet at any angle. When not in use, this mount/stand folds up into a compact unit for transport or storage.
Quirky Mocubo Cutting Board
Every chef needs a good cutting board but some chefs tend to get messy while chopping, slicing and dicing. If this sounds like your gift recipient, this beautiful bamboo cutting board with drawers is not only useful but environmentally friendly too. The bamboo is less prone to scratching and its surface is rubbed with mineral oil to give it long lasting durability and reduce absorption of liquids, which is what causes staining. The rubber feet ensures no slippage while working.
The best feature is the addition of three clear plastic slide out drawers under the surface, so cut food can be pushed into each of them as you work. Each drawer can be completely removed and emptied neatly into a cooking pot without creating a mess.
Gifts Under $100
Master Pan Non-Stick Divided Grill/Fry/Oven Meal Skillet
For the man who takes the whole day to cook a meal, this is quite the time saver! This 15 inch stovetop skillet is divided into 5 unequal sections so that various components of a meal for one person can go be cooked separately but all at the same time. If he's doing breakfast, he can drop the egg in one section, pancake batter in one, sausages and bacon in another, veggies in another and potatoes in the last.
The skillet is 100% heavy die-cast aluminium that distributes evenly over all the sections, although the center section gets a touch hotter, making it ideal for grilling meats. The non-stick, no PFOA or heavy metal coating makes cleaning easy either by hand or in the dishwasher. The Bakelite handle is also oven safe, so you can put the pan in the oven for up to one hour at 350°F.
If any of the sections are left empty while cooking, it is recommended that they are filled with a little water to prevent those from getting overheating.
PolyScience Smoking Gun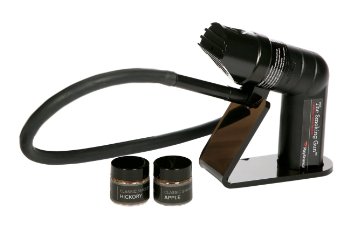 If the guy lives somewhere with cold winters, that doesn't mean he can't have his smoked foods all through the year. With the handheld PolyScience Smoking Gun, he can smoke practically anything indoors. See our complete review of this clever gadget!
Just load the chamber of the gun with wood chips, insert the end of the smoke hose under a food cover, inside an opening in a food bag or even in a blender or food processor to impart smoke to the food.
Gifts Under $200
Miyabi Evolution Hollow-Edge Santokus
Any serious cook needs a good knife – one that cuts like butter, is ergonomic and durable. This artisan crafted Santokus by Miyabi of Japan is a dream to use and well worth the price because it is known to last for years.
You can choose between a 5.5" and a 7" blade that boasts a stellar sharp angle without being prone to chipping because of its degree of hardness. Food does not stick while cutting and the build ensures complete comfort even if used for long periods.
Sansaire Sous-Vide Immersion Circulator
Is your gift recipient like a mad scientist in the kitchen? If so, then he may be interested in trying out the sous vide cooking technique that is usually the domain of only professional chefs. While traditional sous vide cooking involves vacuum sealing food in clear plastic bags and immersing them into temperature controlled hot water baths, this Sansaire immersion circulator can turn any large enough pot of water into a sous vide bath and you don't even need to vacuum seal the food first. This gadget was a hit on Kickstarter where it raised its funding in record time.
Sous Vide cooking lets you cook various foods at the perfect temperature without losing vital natural flavor and nutrients to the cooking liquid. The Sansaire has to be clipped to the side of the pot and its temperature set using simple controls. The LED panel will display the temperature and heat the water precisely and uniformly.
Just use food grade freezer bags to hold the food and slowly lower the partially zipped bag into the pot that is filled with water maintained at the specified temperature by the circulator. Before the water level reaches the zip lock, zip the bag closed completely and insert it into the water fully. The food is cooked for the desired time and it comes out perfectly cooked. Use this method to cook steaks, fish, boiled eggs and almost anything else.
Gifts Under $300
Pizzeria Pronto Outdoor Pizza Oven
This portable Pizzeria Pronto pizza oven takes the cooking outdoors for a party on the patio, camping or tailgating. The domed top and stubby legs are part of a compact unit that can even fit on a table and it disassembles and assembles fairly quickly.
It comes with several features that help make perfect pizza quickly – dual cordierite stones, a moisture vent and a reflective heat shield. This propane oven takes just 10 minutes to pre-heat and ensures even heating up to a maximum temperature of 700°F with no hot spots. Each pizza can be as large as 14 inches and be ready in 5 minutes and there's no waiting time in between.