Gift giving is hard. Occasions come around every year and finding the perfect gift that will suit your budget every time is something that most people balk at. However, if you're shopping for gifts for people who like to cook, you're not in too bad a predicament. That's because you can find something in every price range and there's a constant supply of tried and tested products as well as unique ones that can fit the bill.
Knowing that it can be overwhelming to choose something that your friend or family member will appreciate, we've come up with a list of 10 great gifts for the cooking enthusiast. The list covers every type of home cook, whether he or she is a baker, barbecue expert, coffee or tea connoisseur, or someone who loves to do it all. If you want more options for men, we have a list for male home cooks. We have one for kids that love to cook. We also have a round up of Oprah's Favorite Things for a cook.
Pizza Stone, Cutter and Peel
Everyone knows that the best pizzas are made in wood burning ovens that reach very high temperatures. These go up to 600 degrees F. Even though home cooks don't have access to this sort of oven, the results can be pretty closely replicated by baking pizza on a hot pizza stone in a regular oven. The clay ceramic surface of the stone is unglazed and absorbs moisture and distributes heat evenly to the pizza dough. This is what gives you a great crisp crust.
This homyhomi Ultimate Pizza Making Kits Set features a 15-inch ceramic stone that does the job perfectly. It can withstand extremely high temperatures and absorbs any moisture – key to getting a perfectly crisp crust. The cutter is stainless steel with a wooden handle and the pizza peel is wooden with a tapered edge and ergonomic handle and can be used to serve the hot pizza easily.
The stone has to be preheated in the oven before you place the dough on it for baking. The easiest way to transfer the rolled dough from the kitchen countertop to the oven is by using the pizza peel. You slide the peel under the dough to lift it off and slide it gently onto the stone in the oven. If you're making a really large pizza, you can roll the dough and assemble the toppings on the peel itself. Do the same in reverse to get the hot cooked pizza out of the oven.
The CounterArt Bamboo Pizza Peel is made of bamboo and is a generous 21.4-by-11.9-inch in size. The front edge is tapered to allow for easy sliding under the pizza and the hole in the end of the handle lets you hang it up on a hook. Or if you prefer, the handle folds up to save space in a kitchen drawer.
With these tools there's no need for anyone to ever go out for pizza again. It's a great gift for a cook that likes to replicate restaurant quality dishes.
French Press Coffee, Tea & Espresso Maker
If the gift recipient is a coffee or tea lover that prefers to skip Starbucks and make a gourmet brew at home, the Kona French Press Coffee, Tea and Espresso maker with 34 oz. glass pitcher is a beautiful gift and is great for home or office use. It is very easy to use – just add loose tea leaves or freshly ground coffee beans to the top, pour in hot water and let it do its magic.
It uses a 3 piece stainless steel infuser and plunger filter system that keeps the brew tasting pure and natural, unlike with paper filters and rubber plungers. The 34 oz. thermal shock resistant Borosilicate glass pitcher is protected by an outer shell and comfortable pouring handle and a completely BPS/BPA-free lid. All its parts are dishwasher-safe.
Barbecue Set in Carrying Case
It doesn't matter if you're indoors or outdoors. Barbecuing is fun and a full grilling tool set makes it even more so. Unlike some other sets on the market that only contain a few tools like a baster, spatula and tongs, this grilljoy 20PCS Heavy Duty BBQ Grill Tools Set is all a grill master needs to entertain family and friends.
This set includes a grill brush/scraper, an extra brush head, a spatula with a bottle opener on the other end, a baster brush, a pair of tongs, a large fork, a multipurpose corkscrew, four skewers and eight corn cob holders. Every piece is made of stainless steel and some of the tools have a loop at the end to allow you to hang them up when not in use. They can be packed in the aluminum carrying case to be taken for a camping trip too. Each piece has a dedicated slot with velcro fastening to secure them.
Indoor Garden Herb Growing Kit
Every cook likes to have fresh herbs within easy reach at all times. While having an outdoor garden for them is nice, it may not be practical for everyone. Apartment living and winter weather are two main reasons. Instead, an indoor kit that does not need soil or natural light is a great substitute. The AeroGarden Harvest 360 Indoor Hydroponic Garden comes with a Gourmet Herb Seed Kit and enables a cook to grow fresh herbs all year round. In fact, they can grow faster than the ones outside! A control panel controls the conditions needed for the plants. These include full spectrum energy efficient LED grow lights and reminders for adding water and nutrients to the advanced hydroponics system.
The herb seed kit includes 6 pods of various herbs but it can also be used to grow salad greens and almost any vegetable or fruit. It also comes with a 3 oz bottle of all natural plant nutrients to feed the plants for one full season. The AeroGarden can also be used to raise seedlings to be transferred outdoors in the springtime.
The Miracle Gro is another herb seed kit to check out.
Digital Food Thermometer
The best cooks like to get their dishes right every time. A roasting chicken has to be cooked all the way through, a steak needs to be perfectly grilled, chocolate has to be tempered before using it for coatings, etc. The ThermoPro TP03 Digital Instant Read Kitchen Thermometer with a splash-proof design that can be used for all these things. The stainless steel probe accurately reads the temperature of a food and then its backlit LCD screen displays it within seconds in Celsius or Fahrenheit. Its temperature range is -58°F to 572ºF (-50ºC to 300°C).
It automatically shuts off to save battery life and the probe folds away and locks into position for storage. The magnetic backing allows you to stick it to your and there's a loop at the end if you want to hang it up.
Digital Kitchen Scale
In addition to being able to measure the temperature of food, it's also sometimes important for cooks to be able to measure the quantities of ingredients. Baking requires precise quantities and those watching their weight through portion control will find a food scale useful. The Ozeri Touch Professional Digital Kitchen Scale is a light and sleek looking digital scale with a strong tempered glass top. It comes in several colors too. It operates via advanced touch sensitive buttons and 4 high precision sensors let you weigh ingredients from 0.05 oz to 12 lbs 10.8 oz (1 gram to 5750 grams) and displays it on a bright LCD screen. An automatic Tare button subtracts the weight of the container to give you just the net weight of the ingredients.
Cast Iron Dutch Oven
Fans of slow cooking often have a Le Creuset dutch oven or lust after them if the pricey cookware is not within their budget. However, the Brazilian brand called Tramontina is just as good but a whole lot less expensive. It is assembled and packaged in the USA. A gift of the Tramontina Gourmet Enameled Cast Iron Dutch Oven is not only a very useful gift but is also beautiful to have on a kitchen counter. You can find it in three sizes – 3.5, 5.5 or 6.5 quarts. It can be used on a stovetop or in an oven up to 450 degrees F and retains heat for a long time so it's great for getting something ready ahead of time. The interior is cream colored and the exterior comes in one of 6 different colors. It is heavy cast iron coated twice with a durable porcelain enamel so it doesn't need seasoning like uncoated cast iron and it can be used for acidic foods as well.
Stand Mixer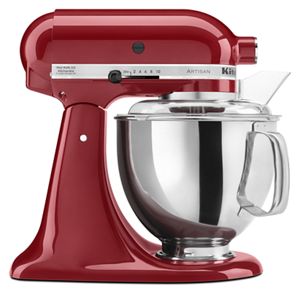 Every baker will tell you it's sometimes hard work mixing or kneading dough for cookies and bread, especially when making large batches. A stand mixer makes an easy job of it and the results are just as good, if not better. The KitchenAid 5-Qt. Artisan Series Mixer is not only a superpower of an appliance, it also looks very good because it comes in various colors. Pick out one that will match the recipient's kitchen decor and it will proudly be displayed for guests to see. This mixer not only mixes dry and wet ingredients together for cakes and cookies, but its motor is powerful enough for tougher bread dough.
It comes with a flat beater, dough hooks and a whip but its multipurpose attachment hub means you can buy up to 15 other attachments. They include everything from a pasta extruder to a meat grinder. Here are some other good stand mixers to choose from.
Food Processor
Another must have in the kitchen is a food processor. For jobs like chopping, shredding, mincing, mixing and emulsifying, this appliance is a timesaver in the kitchen. The Cuisinart DLC 7-Cup Food Processor is the top rated food processor for home chefs and its 7 cup work bowl means that it can do jobs for a large family. It has everything that a good processor needs – a powerful motor, several sharp blades, wide feed tube and durable dishwasher-safe parts to make cleaning up a breeze.
Hopefully our suggestions for gifts for someone who likes to cook will help you make the right choice. We have chosen a few for every kind of budget too!