When the weather gets cold there's nothing better than sitting by a heat source and eating warm comfort food. Whether it's solo, with a loved one, or if you're having a raclette grill party, preparing and eating a Raclette meal can be very satisfying for adults and kids alike. You can do it indoors or on your porch if you get a raclette grill, but what is the best Raclette grill to buy? Our Raclette grill reviews will help you decide based on your needs and budget.
 

What is a Raclette Grill and What is it Used for?
A Raclette is a Swiss/French meal that consists of meats potatoes, bread, or vegetables that are first grilled and then topped with melted cheese. The entire meal can be assembled by using just one appliance called a Raclette grill that can melt a variety of cheeses in small pans and grill a variety of foods at the same time. You then scrape the cheese onto the grilled foods before eating.
This is a great casual dining concept for the entire family or even a small party, similar to a fondue meal, as each diner can melt and grill his/her own foods.
An electric Raclette grill will have one power source that provides heat to the top grill and the bottom Raclette pans.
Raclette Granite Vs Nonstick Vs Cast Iron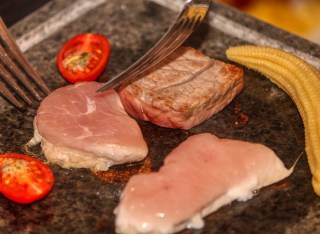 Cooking on a raclette grill may take a little practise to get right initially, and the surface used for grilling does make a difference. The grill top can be more modern and easy to use with a non-stick surface, or it can be high-performance with long term durability with a granite or cast iron surface.
Granite topped raclettes look beautiful and make a nice centerpiece for a party dinner table. Because it is heavy and dense, it will take a long time to heat up, but once it does it retains the heat for a long time. However, there are a few drawbacks. Acidic foods and marinades will stain the stone a little over time but more highly polished granite surfaces will be less affected. It doesn't necessarily mean it's a bad thing because you can think of it as a well-worn grill. It is otherwise very easy to clean with soap, water, and a good scrubber because you don't have to worry about scratches or anything peeling and the grill top will last for years to come.
Another drawback is that the stone doesn't have a lip on the edge to contain the juices as you grill. You can prevent a dripping mess by choosing a grill that has a groove etched all around the border but you still have to keep an eye on it because the groove is only enough to keep a small quantity of oil or liquid contained.
Cast iron grill tops are great for getting a nice char on your meats, etc., and can reach quite high temperatures, but they're a bit impractical for modern usage, as the surface needs to be seasoned well before use and completely dried after use, otherwise rust will form quickly. That's why you won't see any modern raclette sets with a cast iron top.
Most raclette grills on the market today feature a non-stick coated aluminum grill top because it is light and easy to clean. It will reach a high enough temperature quite fast and cool down as soon as you turn the heat off. However, you have to be careful not to use any metal or sharp scrapers and utensils on the surface to preserve the non-stick coating. Plastic or wooden tongs and spatulas are best and you should use only soft scrubbers to clean. These tops will have a lip around the edge to ensure that nothing drips off.
How to Use a Raclette Grill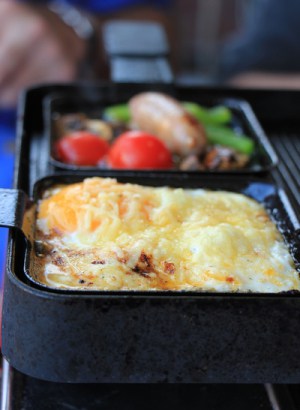 Most electric raclette grills for the home feature either a granite stone top or non-stick metal top with a heating element right below it and a narrow space underneath that for small cheese melting pans. This type of grill and raclette allows you to prepare your entire meal with just this one appliance even for a party, as long as you get one that's big enough to serve 6 to 8 people at a time.
If you have a granite top, you should first lightly oil the surface and then sprinkle a little salt to prevent food from sticking.
There are two ways to use this type of raclette cooking appliance. The first and traditional way is for you to load your plate with the foods that you've just grilled on top and then scrape the cheese that's been melting underneath onto the grilled foods. The second way is to grill the foods first, then serve small portions on each raclette pan, place a slice of cheese on top, and place the pans under the grills heating element so that the cheese melts on top of the already cooked food.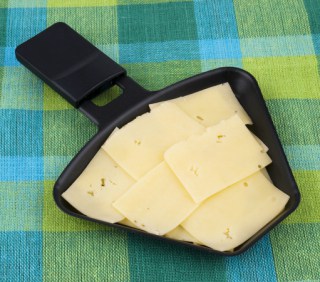 If you don't want to get a special raclette table grill or already have an indoor electric grill, then you only need a way to melt cheese separately. You can do this in two ways – either with an electric cheese melter or with a raclette cheese pan set over a heat source.
A cheese melter has a mechanism to hold a half wheel or quarter wheel of cheese under an electric heat source so that you can scrape the melting cheese onto a plate of food. This option is good when you want to buy a good raclette cheese in a large quantity for a party and don't want to pay an excess for pre-sliced cheese.
The second option is made up of one or more raclette pans set over a heat source. Once the slices of cheese in the pan have melted, you scrape it off and onto a plate of food. This option doesn't necessarily need an electric power outlet, so it's good to use when camping or in your backyard.
Best Raclette Party Grill
Hamilton Beach 8-Serving Raclette Electric Indoor Grill
The 1300 watt Hamilton Beach 31612 Raclette Grill may not have a traditional look to it, but it is extremely functional and, better still, it's the lowest priced rectangular 8 person grill on this list. In fact, if we were going to give a bang for the buck award here, this grill would take top honors, and wouldn't look back.
Now for you traditionalists, this grill won't trip your trigger, but if you are just relaxing with friends in a raclette style, some thinly sliced meat or seafood on top, some gooey melting cheeses below, and a little beverage on the side, then you can't do much better.
Instead of a traditional granite stone on the top grill, you'll get a very large 15.5" by 16.5" die-cast non-stick surface divided into a flat surface and a ribbed surface. You can sear meat and get grill lines on a high temperature on one half and lightly grill your veggies or bread on the other half. Clean-up will be a breeze, as the surface can be wiped clean between batches and you can safely put the removable tray in the dishwasher at the end of the night.
Below the grill are 8 removable heat resistant raclette trays and spatulas that allow you to warm cheese effortlessly, and then you can scrape or pour it onto the goodies cooked above.
This unit is capable of serving 8 people, and each cooking tray is non-stick, while each spatula is heat resistant. The trays and spatulas are also dishwasher safe. There is an adjustable knob with 5 temperature settings, an on/off switch, and a red indicator light to let you know when the unit is heating. The heating element is built under the grill top. Grill meat at a high temperature and you can melt your cheese in the trays underneath at the same time. The melting will take time, as the heating element is not very close to the raclette trays. Also, the cord is a bit short so you may need an extension if an outlet isn't near.
While most users love this raclette grill and say that it gets very hot at the highest setting, a few say that it does not get hot enough for steaks, chops, or any other thick cuts of meat. The reality is that for a good raclette grill at an affordable price, if you are not a traditionalist, this grill has to be first on your list. JUts give the unit enough time (about 10 minutes) to heat up to right temperature before starting your raclette cooking.
It comes with a 1 year limited warranty.
Swissmar 8-Person Stelvio Raclette Party Grill with Granite Stone
The Hamilton Beach raclette grill above does not have a granite stone top grill, so as stated before, for traditional raclette celebrations and more versatility with food types, you'll need to look elsewhere. That's where the Swissmar KF-77081 Stelvio Raclette Party Grill comes in. Swissmar is the most well known raclette brand. It does have a granite stone top, so you can be traditional and have a great get together with friends. for a weekend with the family. The dimensions of the stone are 14.6″ x 9.5″ x 0.75″ inches. This means that it's not really large enough for 8 people and is only large enough for 4 to 6 people.
The granite top means you can scrub it down with detergent and scrub pads, and you won't have to worry about scratches or peeling off a non-stick coating. In that respect, this is one of the most durable units here. The stainless steel bottom looks elegant and will fit in well with virtually any decor. The heat control is variable, and you can turn the unit off without having to unplug it.
It also comes with 8 non-stick cheese pans with stay-cool handles and plastic spatulas. All these along with the stone are dishwasher safe, although the cheese pans are a little on the flimsy side. The 1200 watt heating element here is closer to the dishes than with most other models, so the cheese will melt fast. Again, the power cord is on the short side, so you will need an extension cord if you place it in the middle of your dining table.
While the plastic spatulas are perfect for scrapping cheese from the raclette dishes, they're useless for the stone top, so you'll need to get a separate scraper to remove charred bits from the stone in between courses.
Swissmar is one of the foremost makers of Raclette grills, and both their experience and durability show with this model, and as with all Swissmar Raclette grills, it comes with a 5 year limited warranty.
If you are looking for tradition in a modern and easy to use electric style, this gets our best stone Raclette grill rating.
Swissmar 8-Person Classic Raclette Party Grill with Cast Aluminum Grill Plate
For unmatched cooking versatility, the Swissmar Classic is the best electric raclette grill. Although it does not have a traditional granite top, it does have a top grill that is uniquely different. One side of the grill is completely flat and it is perfect for frying eggs, making pancakes or scrambling eggs. Reverse the top and on the other side you'll find a ridged griddle, which is great for searing steaks, making kabobs or frying bacon. No other Raclette grill gives you that type of cooking versatility. Both sides have a non-stick coating.
The base is anodized aluminum, and is available in several colors, including red and black, so you'll be able to find one that coordinates with any color combination. The Raclette pans and spatulas are the same as the ones from the Stelvio above. The thermostat is infinitely adjustable for the perfect warming or cooking temperature every time, and it even has an on and off switch for added convenience. The heating element is powered at 1200 watts.
So, if you want a raclette grill that can also be used for everyday cooking, at breakfast, lunch and dinner, this Swissmar Classic will tackle all of your cooking jobs in one appliance.
Note that the grill plate here is interchangeable with the Swissmar Granite top that is sold separately. Having both allows even more versatility, as you can use this nonstick grill for everyday family raclette cooking and switch to the granite one for parties to impress your guests.
Swissmar Swivel 8 Person Raclette Party Grill
Featuring one of the neatest innovations in raclette grills, the Swissmar Swivel Raclette Grill takes this appliance to a whole different level. The "swivel" in its name makes this appliance unique.
Unlike other raclette grills that have one large grilling surface on the top, the grill on this unit is split down the middle lengthwise. Each side has its own power control, which equates to having two separate grills in one. One side is an actual hot stone, and the other side is made of aluminum with a non-stick coating. This non-stick side is also reversible, with one surface being flat for making crepes or eggs and the other being ribbed for veggies. The raclette stone grill works better for grilled meats.
Although that is a unique feature in itself, it gets better. Those separate grills can be attached end to end on the swivel post, and once attached, they can be swiveled into any position needed to fit a table or a place setting. For example, if you have people sitting on two sides of a table, the long end and the short end, you can turn the grill into an "L" shape to accommodate both sides. If your table is placed against a wall corner, convert your grill into a "V" shape and make a little grilling nook. If people are sitting inline at a table, just extend it out fully in a "–" shape, and everyone will have access to the grilling surfaces.
The only small drawback with this unit is the absence of temperature control. Once you plug it in and turn any or both sides on, the grill tops are maintained at a nice and even temperature throughout. Most customers say that it is not a problem, but you won't be able to sear steaks or make crispy bacon on it.
Yes, this is the most expensive unit here, but with the grilling surfaces being able to oblige virtually any table setting, no matter where you put it, this Raclette grill will always fit. If you are into the serious Raclette experience and want to "wow" everybody with the most unique Raclette grill here, then this is a must have for any Raclette party.
Artestia Electric Raclette Grill Tabletop BBQ with Reversible Stone and Metal Plates
The Artestia Electric Raclette Grill Tabletop BBQ deals with the versatility conundrum in a different way from the Swissmar Classic model above.
Instead of having to buy a granite top separately, this model comes with two reversible grill tops. One is a cast aluminum grill plate with ribbed surface on one side and a flat surface on the other, and the other is a high density granite grill stone with a smooth surface on one side and a border groove on the other. The cooking surface area on both is 18.3″ X 9.2″. It is recommended that you use the grooved side of the granite top so as to avoid oil and food juice drips down the edges.
This raclette grill comes with 8 silicone cheese dishes with spatulas that can go in the dishwasher. The grill tops can only be hand cleaned, but customers love that they are easy to clean after soaking them in water and soap.
This model goes up to 1200 watts. It has an adjustable slider heat control with a light indicator and the grill plate can reach a maximum of 375 °F. Let the grill heat up fully before placing food on it. That way you'll be able to get a sear.
Milliard Raclette Grill for Eight People
The Milliard Raclette Grill for Eight People is quite similar to the Artesia grill above. It comes with two grill tops – a reversible non-stick one with a grill side and a smooth side, and a granite stone one. Both have 18 x 9¼ inches of grilling surface. You get 8 non-stick raclette pans but no spatulas.
This model is also rated at 1200 watts and has an adjustable slider heat control with a light indicator.
Artestia AR-89007 Electric Raclette Grill
If you want a more professional and speedy raclette experience, the Artestia AR-89007 Electric Raclette Grill with granite stone, 1450W high power, and two-tier heat source takes this appliance to restaurant level.
Unlike most raclette grills that have one heat source for the grill on top and the raclette pans below, this one has dedicated heating elements for each. The stone is powered by a 1200 W heating element, while the raclette pans' heating element is rated at 400 W. There's an ON/OFF switch on the front to turn the unit on and heat up the bottom element for the cheese/sidedish pans. The temperature control dial on the side controls the temperature of the granite stone on top. The high power dedicated heat source enables it to go up to 428℉, give or take. The surface measures 16″ X 7.87″ and has a border groove to prevent drips.
The raclette pans are nonstick with heat resistant, fireproof, and lightweight Polypropylene handles that look like wood, as is the frame of this unit, which makes it an elegant choice for dinner parties.
CUSIMAX Raclette Grill Electric Grill Table
Another high powered grill with raclette pans is the 1500W CUSIMAX Raclette Grill Electric Grill Table. This non-stick tabletop unit has a 14″ x 8.5″ surface that's reversible, depending on what you want to cook on it. The grooved surface gets you grill marks on meat and veggies while letting excess oil drain off. The smooth surface on the other side has two round indentations and is meant for making crepes, pancakes or eggs.
The 8 personal raclette pans that come with this unit are also non-stick and heat resistant and can be used for melting cheese that's placed on whatever foods each is holding.
The adjustable temperature knob goes from 374 to 446°F, which effectively means a range of warm to sear settings. While you should preheat the unit before placing food on the grill, it takes a little less time than other models because of its high power rating.
All the removable parts are dishwasher safe and most customers love that it can be used as an indoor smokeless grill even if you don't want to do raclette on it.
What is missing with this electric raclette grill are spatulas for scraping melted cheese off the pans.
Salton 6-Person Nonstick and Raclette
As we all know, traditional Raclette includes a large rectangular grill on top of a cheese melting warming tray beneath. However, they can take up quite a bit of space and can swamp a regular dinner table. If you're looking for something more compact for a small dinner table and a small dinner party, you can get the round Salton Raclette Grill.
Its main claim to fame is that the entire unit is round instead of rectangular, and with the least overall cooking surface (8 3/4″ diameter) than any of the others, plan on putting this on a smaller table for a much more intimate setting. This is, by far, the lowest priced grill here, with 900 watts power rating, and comes with 6 Raclette pans and spatulas for serving.
That said, it is an extremely capable Raclette grill for cooking and warming. The smaller size means it heats faster and is ready sooner, and really, for a smaller get together on those occasional social visits, this small and adept little unit may be all you need.
The grilling surface is non-stick, and there is a power switch with an indicator light that is on and off capable, so you don't have to unplug it when finished. There is no temperature control.
It comes with a 1 year limited warranty and the entire top grill is removable for the easiest cleaning, both top and bottom, of the bunch.
Best Raclette Cheese Melter
Boska Holland Partyclette Tea Light Raclette Sets
All of the above raclette grills need a power source and they do double duty by allowing you to grill foods on top while melting cheese below. For a non electric raclette alternative, the Boska Holland Partyclette Tea Light Raclette Sets are heated only by tea lights and they're not meant for cooking food, but only for melting cheese.
You can get a personal raclette for one or two people and you can pass them out to each guest at a dinner party, or buy them as holiday gifts, or you can buy a set of 8 raclette pans. Each pan is ceramic coated and set over a box that holds 3 tea candles under the opening flaps. You open the flaps, light the candles, and set the pan with sliced cheese over the open box. Once the cheese melts, you use the included spatula to scrape it off the pan and onto party foods like nachos and burgers. The tea lights are also included to help you start your first batch immediately. The pans and spatulas are dishwasher safe and the frame has to be wiped clean.
Nutrichef Electric Raclette Cheese Melter Machine
Want to get as close to the traditional way of raclette dining? Then get the Nutrichef Electric Raclette Cheese Melter Machine. This tabletop machine features a high powered 450W heating element above a cheese wedge holder. You just plug in the machine, clamp a half wheel or quarter wheel of any melting cheese of your choice below it, and wait for the the edge of the cheese to start melting. Use any spatula to gently scrape and coax the melting cheese onto your plate of food below.
The unit heats between 86 and 1112 °F, so you can adjust it appropriately for the cheese you have. The cheese holder's clamp and angle can be adjusted so that the wedge is held firmly and the melting cheese can fall neatly on to your plate without creating a mess. It may take some practice to clamp the cheese at just the right angle to melt it uniformly, but once you do, you can serve your guests quite efficiently.
The unit is made of food grade stainless steel and is stain resistant, making it easy to clean. When you're done, it is easy to disassemble for storage.
Li Bai Cheese Melter Raclette Grill
If you want to quickly serve a large number of people at your party, then the Nutrichef cheese melter above may not be enough, in which case, the Li Bai Cheese Melter Raclette Grill would be a better choice. This melter can hold and heat two half wheels of cheese at a time, so you can either cut a whole wheel into two or buy two different half wheel cheeses for variety.
While you keep the bottom of the cheese wheels firmly clamped in the two holders, the tops get heated by a powerful 650W heating tube. Once the cheeses start melting, you can tilt the holders at an angle such that it's easy to scrape the melting cheese onto plates of food below.
What to Look for in a Raclette Grill
If you want to entertain with Raclette, you should have 6 to 8 pans to be able to have a good amount of cheeses in several varieties. If you have more guests, it's best to use a separate large grill and a cheese melter instead, which we also feature in this article.
Being able to adjust temperature settings is a must, as you want to keep cheese melted but you don't want it to burn, and you want your grilled foods to be done just right.
Most raclette grills for the home come with short power cords, so if you want to place one in the center of a table, you'll probably need an extension cord.
Keep in mind that the grill top on most of these units are not meant to work like regular electric grills, but you will get good results on thin cuts of meat and veggies. If you're patient, you can preheat the grill until it reaches its maximum temperature and then try grilling small cuts of steak.
Our selected best Raclette grills are ideal for small parties at home.
History of Raclette
Right from the 12th century, farmers and shepherds of the mountains of Switzerland would gather for a fortifying meal in front of a hearth, expose half a wheel of cheese to the heat and scrape the melting cheese onto bread, meat, or vegetable. The tradition eventually made its way down to the valleys to become a well known traditional Swiss dish called Raclette, which comes from the French term "racler", meaning "scrape off".
FAQs 
What Cheese for Raclette Grill?
It is preferable to use a good French or Swiss Raclette cheese for raclette meals. This alpine melting cheese has a wonderful flavor that goes with almost anything. If you can't find Raclette cheese, then any other good melting cheese like Gruyere, Appenzeller, Emmental, or Fontina will do the job.
What Can you Cook on a Raclette?
There's an almost limitless array of treats that you can cook on a raclette grill, like bread, small potatoes in their jackets, onions, peppers, small pieces of corn on the cob, mushrooms, ham, sausages, shrimp, etc.
We found some great inspiration with these raclette party grill recipes too.
Can you Cook Steak on a Raclette Grill?
You can grill bite-size pieces or thin cuts of steak on a raclette grill, but thick cuts of steak and pork and lamb chops are more difficult and may need a dedicated grill. Lightly oil and salt the surface before putting the meat on so that it doesn't stick.
How to Clean a Raclette Grill?
If you have a non-stick raclette, then it is very easy to hand wash with soap and water and a non-abrasive scrubber.
For a granite grill, if you have dried on burnt bits to get rid of, use a stainless steel board scraper first. You can soak the top in vinegar and baking soda before scrubbing with soap and water for regular dried on food. Don't worry if the top starts looking stained because it is a natural stone that will look aged after a few uses. The high temperature of a raclette stone kills all germs anyway.