As our kitchens started filling up with modern conveniences some years ago, we also started replacing our manual coffee brewing methods with machines that run on electricity. These vary in complexity from machines that require some human interference to those that are fully automated. However, with this convenience you don't necessarily get the best tasting coffee. That's why having the best non electric drip coffee maker in your kitchen is actually a good thing, at least when you have a bit of time to tend to the brewing process. Use your electric machine for those rushed early mornings.
Non electric drip coffee makers or pour overs, as they're traditionally called, require you to pour hot water in a controlled manner through coffee grounds held in a filter that sit in a filter holder. This filter holder sits on top of a cup or carafe and can be made of metal, glass, ceramic or plastic.
The design of a coffee maker can vary quite a bit, so you should have a general idea of how the pour over method works, as explained in this excellent Serious Eats article. The secret to many coffee drippers is to "bloom" the coffee grounds first. That means pouring hot water slowly over the top and soaking the grounds for between 30 and 90 seconds. The grounds will expand with the moisture and release carbon dioxide, making flavor extraction through the rest of the filtering process more complete. Once you know that, you'll be ready to pick from our choices of best pour over coffee makers below.
You'll need a kettle that can pour slowly, maybe even an electric gooseneck kettle. If you think that all this is too much of a hassle, you could just stick with an electric drip coffee maker, or you could get the Behmor Brazen Plus that is an electric machine but gives you the option to brew into a manual pour over so that you don't have to spend time tending over the process.
You could also try a percolator coffee maker like the Presto 12 cup Percolator, which is coming back in style.
The following pour over coffee maker reviews run the gamut in price and ease of use, so choose wisely.
 

Best Manual Drip Coffee Maker
Chemex Classic Series Glass Coffeemaker

For the most discerning coffee drinkers who don't mind waiting a bit for their coffee to be ready, the Chemex Classic Series Coffeemaker is made entirely of glass and uses Chemex filters that are extra thick to remove all oils from the grounds to extract only pure flavors. On a purely technical basis, you will get the most purest coffee from this unit than with any other dripper coffee maker.
This is, by far, the most elegant dripper on this list. It is also the most expensive, but it comes with a carafe that is part of the coffee maker. A shaped wooden collar with leather tie surrounding the point where the cone dripper top and the carafe meet provides a method to hold the device without burning your hand, but you can forego this and instead opt for a glass handle if you prefer.
Depending on the size you buy, the carafe can hold between three and ten 5 ounce cups of coffee in one pouring. Although you have to be careful using this pour over dripper because it is breakable, it is a fairly forgiving device and there is no risk of getting a bad brew unless you pour too fast. It does take a bit longer to make a cup because the filtration process is slower as you pour, watch and then pour some more, but this is the best pour over coffee dripper on this list.
Pros:
• Produces coffee with a rich, non-bitter, and non-acidic taste.
• Offers the flexibility to fine-tune the coffee flavor/strength and choose any type of coffee (ground or whole bean) without spending extra on pods or cleaning supplies.
• Easy to clean and maintain by simply rinsing it with water after use and occasionally soaking it with some soapy water.
• Has a unique and beautiful design that looks good on any kitchen countertop.
Cons:
• The wooden ring around the carafe has some craftsmanship issues, with a gap in the back and rough edges near the spout that are not sanded.
• The glass around the top of the carafe is thin and can easily break or chip, making it unsuitable for those who want a more durable coffee maker.
Hario V60 Coffee Dripper
This is a basic dripper coffee maker, and if you want no frills and just performance, check out the Hario V60 Coffee Dripper. With this dripper, you pour water directly in one go and wait for it all to filter through. It is fast and you don't have to worry about how slow or evenly you pour the water, but you won't have the cleanest of tastes becasue it uses the thinnest filters possible. This means you need not be concerned about the taste of the paper coming through but most of the coffee oils will make their way through. The wavy filter paper and the waves on the inside walls of the dripper help to keep the filter away from the walls so that there is minimal contact between dripper and filter.
You can use 3 different types of dedicated Hario filters. A 01 size for 1 to 2 cups of coffee, a 02 size for 1 to 4 cups of coffee, and a 03 size for 1 to 6 cups of coffee. You can also choose between glass, plastic, metal or ceramic.
The Hario V60 pour over coffee brewer is versatile and heavy duty, and the base will fit over a 4 1/4 inch cup or carafe top. No real bells and whistles here, just a fairly inexpensive non electric drip coffee maker that will work once you get it right.
Pros:
• Allows for easy cleaning since the parts can be taken apart.
• Makes delicious coffee with quality materials and design.
• Perfect size with pronounced ridges that help the filter flow/stay off the sides.
• Can be used with generic cone filters.
• Durable and can withstand accidental bumps
Cons:
• Base is not wide enough for some larger mugs, making it tippy.
• Melitta #4 filters need to be folded to fit properly.
Clever Coffee Dripper and Filters – Large 18 oz
If you think that a plastic dripper isn't worth the plastic it's made out of, you might want to think again. The Clever Coffee Maker is made of BPA free plastic, and it is one of the best drippers that you can get. In fact, some coffee drinkers say that plastic is the best material to use if you want the least heat loss during filtration.
Like many drippers, you'll need a filter, but virtually any #4 filter will work. You can place the Clever dripper with its base valve closed on the included coaster, pour a little hot water into the grounds to bloom them, and then slowly pour the rest and let the grounds steep. The closed valve allows the coffee to steep until it's ready to filter down.
Using the valve method, you can make your coffee as delicate or as potent as you want. Place the dripper over your coffee cup and allow the water to flow through as soon as you finish pouring in all the water for light brown colored coffee, or rest the unit on the coaster for 2 minutes to let the grounds steep for a darker or more flavorful cup of coffee and then place it over your mug. There's a lid to cover the top of the dripper while it's steeping. You can even use this coffee dripper to make tea if you so desire.
This method lets you get a strong and smooth cup of coffee as you do with a French press but without the mess of some sediment from the grounds getting through or the more difficult clean up.
If you are not a purist and still want a cup of coffee exactly the way you like it, the Clever Coffee Maker is hard to beat.
Pros:
• Control over brewing time and process.
• Makes a great cup of coffee with full body and rich flavor.
• Easy to use, clean, and works well for daily use.
• Uses readily available filters found in any store.
Cons:
• Narrow base may not fit larger coffee mugs.
Best Pour Over Coffee Maker for Beginners
OXO Brew Single Serve Pour-Over Coffee Maker
When it comes to Pour-Over coffee makers, especially for beginners, the OXO Brew Pour-Over Coffee Maker with Water Tank has to be one of the best choices that made this list. This phenomenal non-electric coffee maker brews the perfect cup of flavorful and aromatic pour-over coffee. It is very consistent and requires very minimal effort, which makes it a great choice for beginners to use.
For brewing a well-balanced coffee, there is an auto-drip tank above the pour-over cone that you fill and it controls the flow of water down into the cone. This makes it very easy to brew a great cup of coffee as you don't have to control and pour water from the kettle directly onto the coffee grounds.
For some added convenience, there are also markings on the water tank for measuring up to 12 ounces of water. There is also a lid included with the coffee maker to keep the heat intact while brewing and later on serve as a tray as well. There are 10 premium quality OXO Unbleached Coffee Filters included that are cone-shaped and all-natural.
Pros:
• It is very convenient to use and has every feature to help beginners, for instance, measurement markings, water tank, etc.
• It comes with cone-shaped coffee filters, 10 in the count, that are unbleached and naturally made.
• It provides the perfect drip rate and distributes the water in a consistent and even stream.
Cons:
• The water tank in the coffee maker is made of PVC plastic that might degrade with use.
Kalita Wave Dripper 185
For a stainless steel unbreakable coffee dripper, the Kalita Wave 185 can give you about four 5-ounce cups with every filling.
The Kalita is tough stainless steel and you can be assured that every last flavor profile will be extracted. The quality of the brew will be excellent even if you are not careful during the process. This is because of the ridged Kalita filters that are proprietary. They are a bit expensive but well worth it for the best results and very forgiving design. Also, as an option, you can get a Kalita pour over coffee carafe that fits the Kalita dripper perfectly.
If you don't want to worry about possibly breaking your coffee dripper and you like intensely flavored coffee but don't want to have to be ultra careful and slow each time you brew, this is the one for you.
Pros:
• Lightweight and easy to clean.
• Three small holes in the bottom help with water flow.
• Ideal for brewing 1-2 cups of coffee.
• Metal cone helps with heat retention.
Cons:
• Wavy/rippled filters can be difficult to separate and can be expensive.
• May not be suitable for automatic drip pre-ground coffee.
• Draw down may be too slow for some people.
Best Pour Over Coffee Maker With Reusable Filter
Bodum Pour Over Coffee Maker with Permanent Filter
While all the above coffee makers are great, they all use disposable filters. The BODUM Pour-Over Coffee Maker with Permanent Filter is the way to go if you are looking for a non-electric coffee maker that's environmentally-friendly. Running late for work? Don't worry, as this pour-over coffee maker lets you make the perfect cup of coffee in a matter of minutes.
This BODUM coffee maker comes with a permanent mesh filter that is made of stainless steel and works effortlessly to get all the flavors and aromas out of your coffee grounds. This steel mesh is a better and more efficient alternative as it does not absorb the aromatic oils of the coffee grounds like regular paper filters. Not just this, the carafe in this coffee maker is made of borosilicate glass with color band detailing that is more durable and heat resistant, making it a functional and more elegant choice.
Pros:
• It makes the brewing process very quick and easy. Add some coffee grounds and water, and there you have it, the perfect cup of morning coffee in just a few minutes!
• It is dishwasher safe and very easy to clean once you are done with brewing your coffee.
• It can make up to 8 cups of coffee that are 4oz. each.
Cons:
• The filter might clog quickly if you use the wrong coffee grounds (coarse ones are recommended for this type of maker).
Hario Woodneck Drip Pot
Are you looking for a high-quality, extremely functional, sophisticated, and simply-made coffee maker? This made-in-Japan pour-over coffee maker, Hario Woodneck Drip Pot, has to be your best shot. The coffee maker has a slow extraction process that brews coffee through a fine and delicate cotton flannel serving as the filter. Since the brewing process is so unique and natural, the natural aromas and flavors of the coffee get enhanced, making the most pleasant cup of coffee that you can have at home.
The flannel filter is reusable and lasts for a long time, even after multiple uses. You just empty the used grounds, rinse it and store it soaking in the fridge until your next use. To keep it germ-free, you should boil the filter once a week.
This pour-over coffee maker helps you brew a cup of coffee at home the professional way and feel like a barista! The Woodneck coffee maker works on a 4-cup Japanese model that is enough to brew 2 American cups of coffee in no time. The design of this pour-over coffee maker is not just functional and safe but also extremely stylish and trendy. This is the one to get if you have tried several at-home coffee machines that promise taste but do not deliver.
Pros:
• The Woodneck Drip Pot is very stylish, convenient, and safe to use.
• The slow dripping of the coffee through the flannel filter ensures that the aromatic oils and subtle flavors of the coffee are all preserved and not absorbed by the paper filters.
Cons:
• Every time you make a cup, you have to thread the filter on and off the ring, but it becomes easy after the first few tries.
COSORI Pour Over Coffee Maker with Double-layer Stainless Steel Filter
There is nothing better than having a warm cup of coffee in the morning without having to leave your home. This is where the COSORI Pour-Over Coffee Maker comes in. The coffee maker has double layers of filter made with stainless steel. This allows all those fine and aromatic oils to get infused in your coffee and make a rich and flavorful cup of brew.
The glass in this coffee maker is heat resistant and is made of borosilicate glass. The decanter is resistant enough that you can heat it on the stove on a low flame to warm up your coffee again. It is also very spacious and can hold up to 34-ounces of coffee, which will be enough to fill eight 4-ounces cups. Not just this, but the cleanup process for this coffee maker is also very simple, and you can safely wash it in a dishwasher.
Pros:
• All the materials used in this coffee maker are natural and BPA free including the glass, filters, handles, and spoons.
• It comes with measuring scoops and user manuals to help beginners out in brewing the best cup of coffee.
• The reusable filter makes it a very eco-friendly option as there is little to no waste.
Cons:
• The design of the wood sleeve is a bit fussy, as you have to tie it on the neck.
Best Single Cup Pour Over Coffee Maker
Melitta Ready Set Joe Single Cup Coffee Brewer
For a single serving dripper coffee, and with a price that is the lowest on this list, the Melitta Ready Set Joe Coffee Brewer is for you and is the easiest to use drip coffee maker on this list.
Granted, it is made of BPA free plastic, which won't appeal to coffee purists, but it is still a quality dripper that makes a great tasting cup of coffee. If you aren't quite sure you want to get on the pour over wagon, you can buy this for peanuts and see for yourself. If you find your brew a bit too weak, try adding more grounds or grind your beans a little finer. Read our full review of this best selling tool here.
Pros:
• An inexpensive option for single-cup coffee making that uses cheap filters.
• Easy to clean and maintain, as it can be rinsed or put in the dishwasher.
• Convenient for travel and camping, being lightweight and easy to carry around.
Cons:
• Requires more effort and time to use compared to other single-cup coffee makers, which could be less convenient for those who prefer a quicker and simpler coffee making process.
• Incompatible with some mugs and cups due to its open base and the size of its bottom ring.
How to Choose a Manual Drip Coffee Maker
The amount of money that Americans spend on buying coffee each year might leave you astounded. With that in mind, it is no surprise that at-home machines are growing in popularity to meet the rising demand for a great cup of coffee. These manual drip coffee makers are providing gourmet flavor from the convenience of your own kitchen for a fraction of the cost. Read on to learn how to buy one that suits your needs, taste, and lifestyle:
Material of the Funnel
For those who are just getting started with pour-over coffee, a polypropylene dripper is a decent all-around option. It is the most budget-friendly dripper available and doesn't break. A glass funnel does not impart any unsavory flavor to your brew but keeps the grounds warm while they bloom. It doesn't stain and you can see the coffee brewing process nicely.
A ceramic funnel is similar to glass but you can't see through it and stains over time. Metal drippers are durable, thin and light but will transfer heat out fast, which affects the extraction of the grounds along with not giving you very hot coffee. Your brew will also get a slight metallic taste.
Type of Filter
We have found that reusable stainless steel mesh filters generate a flat and unpleasant cup of coffee even though they let 100% of the flavorful oils through. They also need rinsing and maybe scrubbing after every use. Therefore, we prefer drippers with paper or reusable cloth filters.
Paper filters aren't very environmentally-friendly and they do absorb most of the flavorful oils from the grounds. Cloth is the very best for allowing most of the oils through and they can be reused multiple times and for quite a few months before they need replacing.
How Fast it Brews
It is very important that your coffee maker brews your coffee in the right amount of time. If it is very quick, the coffee grounds will be weak and not impart all the flavors, and if it is too slow, the coffee will become lukewarm, and no one wants that. Moreover, when the grind size is too fine, the water takes much longer to percolate through the coffee grounds. If you're having this problem, we recommend that you try a larger grind size.
Is it Easy to Use
If you found the process of making coffee to be too hard, you would just go out and buy the coffee. A great drip coffee maker is all about efficiency and usability. If you find a coffee maker to be complicated, we suggest you choose something simpler that gets you the flavor and functionality you're looking for. You may start with a beginner pour-over like the OXO or Kalita Wave models reviewed above.
Consistency
The texture of the coffee grounds makes a big difference to the consistency of your coffee. Pour-over coffee is best made with a medium-coarse grind. A medium-coarse grind is similar in size to a French press grind, but it has a smoother texture and is less lumpy. If you grind your beans at home, choose a good burr grinder for drip coffee to do the job.
Customize the Brewing Process
The flavor profile of pour-over coffee is usually softer than that of other manual procedures such as the French press. This method provides a fully flexible brewing experience, with prep times ranging from 2 to 6 minutes.
That said, you can only avail of these benefits if your coffee maker lets you customize the brewing process. This can allow you to make a flavorful cup of coffee that tantalizes the senses while also giving you your daily caffeine fix. For example, you can control the amount of water used, the grind size of the beans, and the brewing time. For a really good cup of coffee using the pour over method, we suggest a coffee to water ratio of 1:15 to 1:17. This means that you can experiment until you find the perfect cup of coffee for yourself.
Size and Capacity
Once you set out to invest, you need to ensure that you have the right pour-over maker in terms of size and capacity. There are several pour-over makers that do best either as single cup coffee makers or multi-cup. Most people suggest using a coffee maker that can hold at least up to 25 to 30 grams of coffee and 400 grams of water to make a 12-ounce portion.
Portability
If portability is important to you, look for something that fits easily in your bag and can brew good enough coffee without any additional equipment. A coffee dripper made of plastic or stainless steel is likewise a good choice. Ceramic or glass pour-over coffee makers are great at home, but they are far too fragile for frequent travel.
Accessories it Needs
If you want to make an ideal cup of pour-over coffee, you will need a few extra things. Depending on your pour-over coffee maker, you may be able to skip this stuff. For instance, there are certain pour-over coffee makers that come with measurement markings, additional filters, measuring scoops, etc. So, you need to make sure that you are choosing the right coffee-makers with the right accessories.
Advantages and Disadvantages of a Pour Over Coffee Maker
Knowing about the advantages and disadvantages of having a pour-over coffee maker can help you make an informed decision. When it comes to positive points, the pour-over method allows you to enjoy the flavors to the fullest. You will get the most flavor out of the freshly ground beans and will not need to add anything extra. If you choose a high-quality mesh filter or a well-bonded paper filter, it will also remove any sediment or oil that could increase the bitterness of your coffee.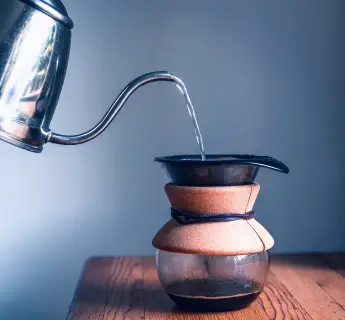 As for the drawbacks, imagine spending several minutes every morning to finish the entire brewing process. The time taken to measure coffee, grind beans, and boil water will also add to this, and you'll have to wait a while before your coffee is ready. If you're looking for more efficiency on that front and lead a fast-paced lifestyle, then this coffee maker may not be the best choice for you.
In recent years, manual pour-over coffee makers have gained popularity among coffee connoisseurs. The following are some benefits and drawbacks of using a manual pour-over coffee maker:
Advantages
• The user has more control over the brewing process with a manual pour-over coffee maker, which is one of its key benefits. In order to make a better-tasting cup of coffee, the user may control the water temperature, the grind size, and the pour pace.
• Pour-over coffee makers are reasonably straightforward and user-friendly. For those who prefer a more conventional method of brewing coffee, there are no confusing settings or buttons to push, making them a fantastic choice.
• Most pour-over coffee makers are compact and light enough to bring with you on camping excursions, vacations, or even to the workplace.
• Pour-over coffee makers are more eco-friendly than many automated coffee makers since they don't use energy to brew coffee.
Disadvantages
• Time-consuming: Compared to automated coffee makers, manual pour-over coffee makers might take longer to prepare coffee. It may take a few minutes for the user to slowly pour water over the coffee grinds.
• Pour-over coffee makers need some experience and ability to provide reliable results. It might be difficult to consistently get the ideal water temperature, grind size, and pour pace, which can lead to unevenly flavored coffee.
• Most pour-over coffee makers are only capable of producing a limited amount of coffee at a time, which may not be adequate for individuals who want a bigger quantity of coffee.
• Cost: Certain pour-over coffee makers, particularly ones constructed of premium materials like glass or ceramic, may be rather pricey.
In conclusion, manual pour-over coffee makers provide a high level of control over the brewing process, ease of use, and portability; yet, mastering the technique might take some time and effort to produce consistently high-quality coffee. These may not be appropriate for those who need to make a lot of coffee or who are on a limited budget.