Buying gifts for all your near and dear ones at Christmas can be stressful. Not only can the activity blow a massive hole in your wallet, but coming up with new and appreciated things each year is not easy. That's why our list of best kitchen stocking stuffers under $10 aims to give you some great options to choose from this year.
These stocking stuffers for chefs and home cooks are cute, fun, practical or all three! They're all inexpensive and are conversation starters, so are good to keep out for guests to admire. Buy one or several of these kitchen gifts under $10 and maybe even one for yourself if you're a cook too!
Architec Recipe Rock
Many cooks now turn to recipe sites online and use a tablet to refer to them while in the kitchen, but many still use good old print outs from those sites, recipe cards and magazines. For those cooks, to keep the book open to the right page all the time or to prevent loose pages from getting in the way, a clever kitchen accessory like the Architec Recipe Rock is very useful.
This magnetized rock and ball is a paper holder for about 8 pages and is small enough that it doesn't take up space in the kitchen. You can choose from 6 different colors to match the giftee's kitchen decor.
OXO Good Grips Jar Opener
Most cooks have a tin opener in a drawer but few have a jar opener and probably struggle to open jars with their bare hands or have to use cutlery to pry them open. Enter the OXO Good Grips Jar Opener. This simple tool is a Y-shaped jar opener that can help you open any size jar easily. One side of the tool features sharp stainless steel teeth that grip the lid of the jar and twist it off while you turn the contoured handle counter-clockwise.
You also get a base pad that you stand the jar on to prevent it from slipping and reduces the effort you need even further.
This jar opener will work on anything from small condiment jars to large pasta sauce jars and is especially useful for those with arthritic hands.
AccuSharp 001 Knife Sharpener
Experienced chefs know how to use sharpening rods to sharpen their knives but for most home cooks, a rod is not that easy to use properly. That's why the AccuSharp 001 Knife Sharpener is so popular. It's a tool with sharpening blades that you draw over a knife's blade and you'll get a sharp edge in no time.
You can use this tool for any kind of kitchen knife, even serrated blade ones. Just set the knife horizontally on a counter with the blade pointing up and set the sharpener's groove over one end of the blade and draw it along the knife's edge to sharpen. You don't have to use oil and you don't have to worry about the angle or pressure exerted because the sharpener does all the work for you.
The sharpener blade is made of diamond-honed tungsten carbide and the ergonomic handle can be used with either hand just as easily. A long finger safety guard is included to prevent accidental cuts.
Prep Solutions by Progressive Microwave S'mores Maker
Making s'mores is such a fun activity but why wait to go camping to do it? You can make them indoors but you have to be careful to keep the crackers evenly cooked and getting a bit of gooey mess in the oven or microwave is practically a given. To eliminate these issues, the Microwave S'mores Maker by Progressive lets you make two s'mores at a time in the microwave and ensures that each is evenly cooked and there's no over expansion of the marshmallows. Your microwave doesn't get messy because of that and because the chocolate only just starts melting as you take the gadget out of the micrawave. The water in the in-built reservoir just turns to steam to keep the s'mores from burning.
You stack the two sandwiches of graham crackers, chocolate and marshmallows on the base and place the two s'mores maker arms on top of each stack, fill the water reservoir and put the whole contraption in the microwave for 30 seconds on high. That's all it takes to make two perfectly done s'mores!
Fred & Friends SLOW BREW Sloth Tea Infuser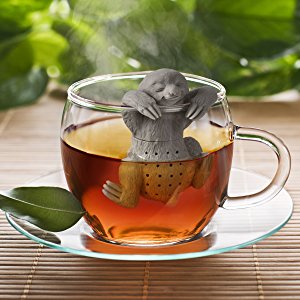 If the giftee is a tea lover, a cute loose tea leaf infuser would make tea drinking even more pleasant. This Sloth Tea Infuser is just right for a large cup or regular mug and its arms are slung over the rim while the body hangs in the hot water.
Just open up the diffuser and fill the pants with loose tea leaves that are not too fine. Secure the pants properly and let the little guy relax over the rim to brew the tea.
The infuser is made of BPA- and phthalate-free silicone and is heat resistant. Make sure not to use tea that has powdered bits among the leaves and don't overfill the pants!
Zak Designs Embossed E-Z-Roll Garlic Peeler
Stinky hands for hours and a time consuming job is what makes garlic peeling quite unappealing. Smashing the clove with a knife is one way to do it but you will still get the smell on your fingers. Not with the 5 inch long Embossed E-Z-Roll Garlic Peeler! This simple little contraption, made completely of silicone, takes a garlic clove of any size and releases a completely peeled one after you roll it inside.
You don't need to cut off the ends of the clove so you never have to touch any part of it unpeeled. Just stick a clove into the embossed tube, set it on its side on the counter, press and roll. The clove separates from its skin cleanly without getting smashed. When done, just throw it in the dishwasher to clean.
Misto Brushed Aluminum Olive Oil Sprayer
Sure, you can buy cooking oil sprays if you want to spray or mist food and utensils sparingly, but there's a way to do it more economically and in an environmentally friendly way. The Misto Olive Oil Sprayer is a good reusable spray and mister bottle that works well for all kinds of oils, particularly olive oil. You can also use it for vinegars, cooking wines and lemon and lime juice. You can't use a normal plastic spray bottle because oil's viscosity won't allow you to spray and instead clog up the nozzle.
This sprayer doesn't use chemicals to propel the oil out. It is a non-aerosol bottle that is refillable, so completely environmentally friendly. All you have to do is fill it half way to the top, pump it first and then spray by pressing on the pressurized valve. Threading the cap on properly is what builds up pressure in the bottle for the next use.
Totally Bamboo Salad Hands – Salad Servers
Another environmentally friendly kitchen tool is a pair of Totally Bamboo Salad Hands. Instead of using standard plastic, steel or wooden spoons or tongs to toss and serve salads, these large salad hands are so much better looking, work better and are made of very sustainable bamboo. Bamboo grows much faster than any other soft or hardwoods and is stronger as well.
The large prongs and scooped palms do a thorough job tossing salads and it's easier to serve without dropping anything as compared to tongs and long salad spoons. Each hand has a thumb at the back so you can hook them to the rim of the bowl without the risk of them falling into the salad.
Zoie + Chloe 3-Piece Dough Press Set
making dumplings, ravioli, empanadas, etc. is time consuming and takes a lot of effort. The Zoie + Chloe 3-Piece Dough Press Set makes the job easier. It is a set of three food-grade plastic presses, each of a different size, so you can choose the one that's right for the job.
A cutter at the back of each press means you can do everything with just this one tool. Cut the perfect sized round piece of pastry from rolled out dough, place the circle on the inside of the press that has been lightly oiled, place some filling in the center, moisten the edges and close the press to form the empanada, calzone, ravioli or dumpling. The crimped edges form a pretty, tight and even seal all around.
Tovolo King Cube Ice Tray
Regular ice cube trays are fine but sometimes there's a need for larger cubes. Many that like ice in their drinks would like the ice to melt more slowly so as not to dilute their drink too fast. If the giftee likes to freeze herbs in olive oil, a regular sized tray is not the best. Freezing baby food in such small portions isn't best either. For all these applications, the Tovolo King Cube Ice Tray is a better tray.
This tray makes 6 large 2-inch square cubes that won't melt as fast because of the smaller ratio of exposed surface area to overall size of cube. All the other uses are also better met by bigger cubes. The tray is made of food-grade silicone, is easy to wash, and the cubes are easy to remove.
 
For more great ideas for gifts for home cooks and professional chefs, for men, women and children, browse through our gift giving guides.