There is nothing like the taste of homemade waffles. Whether you enjoy the lighter Belgian style waffles or the regular American style waffles, a waffle iron is a great way for you and your family to indulge once in a while. With the right waffle iron, a beginner can find cooking homemade waffles as easy as an experienced home cook.
Traditional waffle irons have their challenges. One of the biggest is cleaning them. You can avoid this by investing in the best waffle maker with removable plates that you can find. Removable plates give you more options with what you can make with the iron as well as an easier clean up job.
Now it is time to learn the difference between a Belgian waffle and an American or thin waffle. Belgian waffles are tall waffles with deep pockets and made of a light yeast based batter. They can be round or square. They are usually fluffy but crispy in texture and require less heat than the standard American style waffles that are low, thin and crispy. American waffles are usually square and remind you of the ones you can buy at the store. Some waffle irons with removable plates allow you to cook both. If you're not particular about removable plates but want the best possible crispy thin waffles, take a look at our recommendations for the best classic waffle makers.
While a waffle maker takes care of breakfast, a panini press with removable plates will take care of your lunch.
You can find many removable plate waffle irons for both styles in the market, but there are 5 that we can recommend you check out. Read on to see what they are!
Here's what to look for when purchasing a waffle iron:
Instead of crowding your valuable kitchen storage with a griddle, electric grill, waffle iron and pancake maker, you can buy a good removable plate waffle maker to accommodate many of your cooking needs. If you have space issues, make sure its footprint is small enough to fit in storage and on your kitchen countertop. However, if you frequently have company over or you cook for a large family, consider getting a large electric griddle. You can't make waffles on it but you can do lots of other things.
Some waffle irons are accompanied by reversible or additional plates that can be used to make Paninis, grilled cheese sandwiches, pancakes, and eggs. While all plates are made of metal, some come with a non-stick coating to make removal of waffles and cleanup easier. Many of these plates are dishwasher safe. Be aware that these cannot be used to make crepes. You'll need a special crepe pancake maker for that.
There are a few other things you should consider too. Some models help you to control the temperature or the browning of the waffles. Temperature and wattage has a huge effect on the texture of your waffles. If you like your waffles more crisp than other members of your family, this feature can be a crowd pleaser for all and everyone can get their desired waffle. Some machines also take a long time to heat up before you can start using them.
Check to see how many waffles the iron makes at a time. Round waffle makers usually make only one large one at a time. If your goal is to make many for your family, you may find more convenience in an iron that makes two or more square waffles at a time or that has double grids. This will save you a lot of time.
Stainless steel and chrome handles may look great, but they conduct heat. If you want to forgo the mittens, invest in a waffle maker with plastic. Insulation handles can also keep the handles cool to the touch. Drip trays usually come with waffle irons that flip. Their function is to catch any excess batter that may spill over.
Finally, keep in mind that all these waffle makers have traditional non-stick plates that are not completely safe, especially when heated to high temperatures or when the coating starts to peel. If you want a waffle iron with ceramic coated non-stick plates that is completely non-toxic, then we have recommendations for that too.
Belgian Waffle Maker with Removable Grids
Hamilton Beach 26030 Belgian Waffle Maker
You can make waffles many different ways with the Hamilton Beach 26030. This waffle iron flips 180 degrees with the help of a cool touch handle to enable even cooking of waffles that are crispy on the outside and fluffy on the inside. It features a browning temperature control so you can have your waffles just as you like! An indicator light tells you when the unit is on, when pre-heating is over and it's ready for you to pour the batter on, and when the waffle is done. The deep grooves of the grids means the restaurant style waffle pockets can hold a nice amount of maple syrup, chocolate sauce or even fresh fruit and nuts.
The non-stick grids and drip tray to catch batter are all removable and easy to clean and dishwasher-safe as long as you turn off the sanitizing setting in the washer. The outside is made of brushed stainless steel and wipes clean. The handle is collapsible for easy storage.
Customers say this machine is just as good as a traditional waffle maker where the plates are not removable. One drawback is that the cord is a little short so you will have to find a place on your counter that is close to an outlet. Another thing to watch out for is that it does not beep once the waffle is ready so you'll have to watch it, otherwise it will burn. All in all, this is probably the best Belgian waffle maker with removable plates that you can buy.
Cuisinart WAF-300 Belgian Waffle Maker with Pancake Plates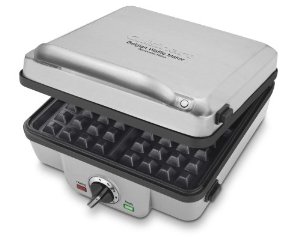 This waffle iron is perfect for someone with a family. You can make four waffles or four pancakes at the same time on the Cuisinart WAF-300 Belgian Waffle Maker. You can control browning with six different temperature settings. This waffle maker goes a step further with the light and sound indicators. The light is red when heating and green when ready for the batter. The machine beeps when ready for cooking and when waffles are done. This waffle iron is almost foolproof for beginners.
The body is brushed stainless steel and the handles are cool to the touch. Two nonstick dishwasher safe waffle plates make 4 waffles at a time and you can change them out to the 4 slot pancake plate if you want. Although it's not designed to make eggs, you can easily use the pancake wells to make perfectly round eggs for a breakfast sandwich. The bottom grids slant inwards very slightly so if you over pour the batter, the excess will drain out onto your countertop and not to the sides of the iron. This makes it so much easier to clean.
It can be stored upright to save room in your cabinet and it comes with tongs and a recipe book.
This versatile waffle maker is a hit with consumers and its loud beeper ensures you never burn your waffles and pancakes. However, there are a few small issues to note. The body of the iron does get very hot so care must be taken to only touch it by the handle. There is no drip tray, so excess batter will fall on to your countertop from the bottom but none will get into hard to reach crevices.
Cuisinart GR-4N 5-in-1 Griddler with Waffle Plates
This waffle maker allows you to grill your favorite hamburgers and steaks as well as make the best Belgian waffles you can. If chicken and waffles are your pleasure, you can use the Cuisinart GR-4N 5-in-1 grill to grill chicken instead of frying it. Pancakes, eggs, Paninis and vegetables are all possible too! This is a 5 in 1 small appliance that can save you time and counter space.
The brushed stainless steel-housed griddler includes a floating style lid that makes it a contract grill and panini press, and the reversible and removable non-stick baking plates allow for a full grill, full griddle and half grill/half griddle. You also get two waffle plates for Belgian waffle making in this bundle. All the plates are dishwasher safe and the griddler comes with an integrated drip tray, scraping tool and recipe booklet. You can control the temperature with a knob, and an indicator light shows you at what stage of heating it is in.
Most customers say that this little appliance is great value for money given that you can do so much with it. The only small flaw with it is that when using the appliance as a griddle or grill, the top lid does not get as hot as the bottom lid, so you have to lift the lid halfway through cooking and flip your sandwiches, steaks or hamburgers for an even sear. This is not a problem you'll have for waffle making.
American-Style Waffle Irons with Removable Plates
T-fal SW6100 EZ Clean Nonstick Sandwich and Waffle Maker
If you want American-style waffles, this waffle maker is the right one for you. It is also the best waffle iron for the money. The T-fal waffle maker comes with two sets of removable and interchangeable plates that are non-stick and dishwasher-safe. You can make crisp thin waffles with one set and sandwiches with the other plate. It does come with an indicator light that tells you when the machine is on and when it is ready to use. The temperature cannot be controlled, but the heat does distribute evenly.
The sandwich plates make delicious pocket sandwiches and delectable grilled cheese sandwiches that your family will love for lunch. The other waffle makers do not have this particular plate.
Of course, at this low price point, don't expect advanced features. This is a simple appliance that gets the job done without a fuss. So there is no temperature control and you have to watch the timing to prevent burnt waffles and sandwiches.
George Foreman GRP90WGR Next Grilleration Electric Nonstick Grill with 5 Removable Plates
For years, George Foreman grills have been well known in the grill and griddler category. But did you know that they have an appliance that you can make waffles with? The GRP90WGR Next Grilleration Electric Nonstick Grill comes with five removable plates with tough scratch resistant nonstick coating. The plates include 2 grills, 2 waffle plates and 1 griddle. With these you can griddle, grill, make waffles, bake and make paninis. You can cook your favorite meats, omelettes, American style waffles, and more with this George Foreman. Clean up is easy and a drip plate is provided. Temperature is controlled with an easy to use dial and there are two indicator lights – red and green.
One cool feature that sets this apart is the adjustable tilt angle. This feature makes it easier to cook on both flat and sloped surfaces so you can take this on a picnic and set it down anywhere because you can adjust the cooking surface to compensate for any slope.
This waffle maker is bigger than the other models. Therefore, it will take up more room in storage and on your counter. There are no additional plates available for purchase, and it is hard to find replacement parts. A few users complain that it takes a long time to heat up.