If you and your family like to have homemade paninis wrapped for lunch, you may want to invest in a good panini press to make things easier. The best ones are multi-purpose grills, griddles and maybe even waffle makers, so it can be a good investment in your kitchen. It differs from a regular grill in that it has a top floating lid whose height can be adjusted to press lightly on the top of a panini for even grilling on the top and bottom. The best panini press with removable plates makes cleanup easy because you can remove the plates for cleaning with soap and water while the base unit can be wiped clean with a damp cloth.
While most plates are Teflon-coated, you can get models with BPA-free coating or ceramic ones. Being able to control the temperature is important too and try to get as much use out of your grill and panini press as possible by experimenting with different foods.
There are several other panini makers to choose from, so find more options on Amazon now!
There is another cool option that you should consider if you like to combine cook-top grilling with kebab and sausage grilling – the Cuisinart GC-15 Griddler Compact Grill Centro.
If you want to know what the current best rated panini press models are, read on. Or, if you have a small kitchen with no counter space for any of these options, check out our picks for top compact electric grills.
Cuisinart 5-in-1 Griddler, Panini and Sandwich Press (GR-4N)
The basics of every panini press are the floating hinges that allow the griddle plates to lay flat atop the panini sandwich. Of course the
Cuisinart GR-4N
has those, but instead of just being a dedicated panini press, it is so much more.
Grilling versatility is the name of the GR-4N's game, and not only does it grill up great panini sandwiches, it also acts like an indoor full and half grill, a contact grill, and a full and half griddle because of the choice of grill or griddle plates. Not only can you make panini sandwiches on this unit, but steaks, burgers, dogs, bacon and eggs, and even frozen fish sticks will all come out great. In fact, if you buy this model along with the waffle plates bundle, you can have Belgian waffles for breakfast too!
The plates are all removable and dishwasher safe and they are coated with a non-stick surface that is BPA free. But, for best results, always use a cooking spray when using this unit for more than heating up panini's. You'll greatly extend the life of the cooking surface by doing so. To help with cleaning up, you also get a scraping tool.
There are three dial controls – one selector to choose between grilling/panini making and griddling, and one each to control temperature for each function from 200°F to 425°F. An integrated drip tray allows for drainage of excess fat.
A more advanced model featured in our head to head comparison of the T-Fal Optigrill Vs Cuisinart Griddler Vs George Foreman Grill.
T-fal OptiGrill Stainless Steel Indoor Electric Grill (GC702)
If you want one of the most advanced and capable panini making grills available, then you'll have to check out the
T-fal GC702D OptiGrill
. This digital wonder grill gives you complete and total control of your cooking and grilling every step of the way. In fact, Oprah Winfrey was so impressed with it that she included it in her famous list of favorite things for 2015!
First of all, there are 6 pre-set cooking functions which are burgers, poultry, sandwiches, sausage, red meat and fish. There is an automatic sensor side indicator that shows you when everything is ready as well. If you want to cook your foods manually, you can switch the sensor off and you have a choice of cooking foods without the top grill in contact.
Here's how the auto sensor works. Let's say you are making a steak. Push the red meat button, and the indicator tells you the grill is heating. After heating to the correct temperature, it then tells you it's ready, and as the meat cooks and the top lid helps sense the thickness of the steak, it adapts cooking time and lets you know the stages of doneness. From, rare, to medium and well-done. You can do this with any of the pre-sets, and when your food is cooked, the grill will let you know.
There is even a defrost function to thaw your food first before cooking, and of course, the floating hinges and sensor always make sure your panini sandwich will be perfectly done and ready when you are.
The grill is angled to prevent food from sitting in its own excess fat and the drip tray as well as the removable plates are dishwasher safe.
George Foreman 4-in-1 Multi-Plate Evolve Grill (GRP4800R)
This may be the most versatile panini maker ever, and in fact, it may be a better idea if it was called a compact oven and grill combo! The
George Foreman Evolve Grill
should be your pick if you want unmatched versatility for grilling and basic space saving baking, as it is the a grill and compact oven, making it the best panini press for the money.
Amazing might be the best way to describe this generation of the Foreman grill. The floating hinge idea has been taken to a new level. Since the top grill "floats" up to a parallel angel over the bottom grill, you can actually remove the grill plates if you want and insert and cover baking pans and cupcake pans, which are included with your purchase. You can literally bake your favorite red velvet pan cake or make half-a-dozen muffins on this grill. Virtually anything that will fit into a cake pan, like quiche, meatballs, stuffed mushrooms, can be cooked on the grill. It's the most novel idea on this list.
Because both grill sides heat, your baked goods will come out faster than if you put them in an oven. That's both time savings and energy savings too. And, the digital temperature and timer controls let you cook or bake for however long the recipe calls for. There is also a sear option that can start your meat off on the highest 500F setting so you can get the nice grill marks on the surface of your steak before temperature is lowered to finish off cooking.
The grill angle can be adjusted to flat or slanted. The flat angle is used for paninis, while the slanted is best for grilling. Of course, you can't bake at an angle either!
The non-stick grill coating is ceramic, so there are no harmful chemicals to worry about. All of the accessories and the plates are dishwasher safe. Take a look at our recommendations for ceramic coated waffle makers too.
Breville Smart Grill (BGR820XL)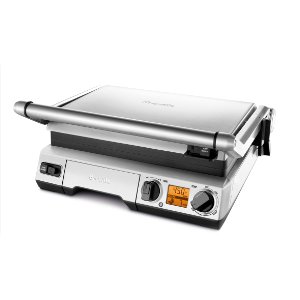 If price is no object and you want bragging rights around your neighborhood, the
Breville Smart Grill
answers the question of "what is the best panini press to buy?". You could safely say that this is actually a barbecue grill/griddle that converts to a panini press, and you wouldn't be far off base. The floating hinges literally allow you to open this grill up and make one large flat surface on which to cook or to press paninis, sandwiches and sliders no matter what height.
There are two plates that are removable and interchangeable. One is a ridge grill plate and the other a flat griddle plate. The LCD screen lets you see temperature and time, both of which are adjustable with digital side knobs. The screen also changes color from orange, when the unit is preheating and cooking, to blue when it is cool and ready to touch.
Sensors adjust the heat automatically if you are adding or subtracting food. Essentially, it always keeps the grill at the same temperature regardless of whether the cover is open or closed. That makes for more effective cooking, and therefore makes this the best sandwich press grill for precise cooks. It even senses when the food is going to be done, and shows you this information with a small timer on the LCD screen. It does this because the heating elements and the sensors are actually embedded into the plates, unlike other grills where the elements are below the plates. That makes for faster cooking and precise control, but the plates must be hand washed instead of going in the dishwasher, which is a minor inconvenience.
There are 3 pre-sets for temperature – "low," to keep food warm after cooking, "panini" which adjusts to the perfect temp for panini sandwiches, and "sear" for steaks, pork and poultry to sear in the flavor. These range from 320F to 450F. Needless to say, if you are willing to pay the price for this unit, which is 2 to 3 times more than anything else on this list, you won't be disappointed.
De'Longhi 5-in-1 Ceramic Coated Grill, Griddle, and Panini Maker (CGH902C)
For a unique design with the controls out front and top and easy to get at, the
De'Longhi 5-in-1 Ceramic Coated Grill, Griddle, and Panini maker
will look good on any counter.
The 5-in-1 are a contact grill, full grill, full griddle, half grill/half griddle and panini maker. This panini press with removable plates opens up flat for grilling kabobs, bacon and eggs, French toast and pancakes. The ceramic coated plates are dishwasher safe, but always remember to use a non-stick cooking spray to minimize wear when cooking.
The rotary knobs are the easiest to use here. Just turn the outside knobs for the desired temp or time, while the center knob selects between grill, panini or open griddle.
This is actually, surface wise, the smallest grill on this list and it has an upright storage locking system. That means it will take up the least amount of storage space of them all. However, small is a relative term, and you'll still be able to heat up 2 large panini sandwiches, or cook 4 eggs and 4 pieces of French toast on the griddles, at one time.
One thing of note. Be careful wiping down the control panel markings, and never use an abrasive, or they might wear off. Other than that, you should be good to go.