Bread makers are useful for a variety of reasons, but our favorite so far is that they allow home cooks to customize their loaves and make them as organic, sustainable, and local as they want. However, one of the most significant concerns for any cook is the amount of electricity required to make a single loaf of bread. If the cost of electricity usage by a bread maker Vs store bought bread is higher and you're trying to lower overall living costs, then there's no point going the homemade bread route. If you're wondering, "Do bread makers use a lot of electricity?" you've come to the right place to get all the answers you'll need before you start.
To summarise, if you already own a coffee machine, you may not have much to worry about because they use more electricity than a typical bread maker. A standard 600-watt machine used for 15 hours per month will only use about 9kwh of electricity per month on average. That's even less than this efficient convection oven we reviewed a little while back.
If you want to get into more nitty-gritty details of a bread maker and its electricity usage and are currently contemplating which one will be perfect for your household if you're trying to remain electricity efficient, keep reading!
How Many Watts Does a Bread Maker Use?
While bread makers are considered fairly efficient machines by most experts, there are various factors, such as the bread type, cycle duration, the machine's run time, and its size, that ultimately conclude how much electricity will be utilized by the end of a month. Moreover, the bread maker's model, brand, run time, and capacity also contribute to its electricity consumption.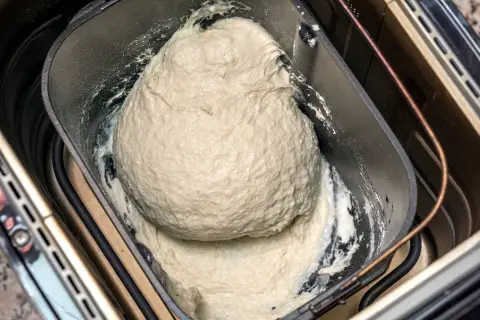 Your ultimate goal should be to invest in a bread maker with well-balanced power consumption and capacity. It is pertinent to mention that even some relatively more efficient bread makers could end up being costlier for you if they support a higher wattage, longer run times, and feature a smaller capacity.
Which Bread Makers Use the Least Amount of Power?
Bread makers with a shorter run time and adequate capacity while also consuming less electricity are ideal if you want to make your bread-making experience cost-effective throughout the year rather than just when you make a purchase. Let's take a look at a few low-wattage models and their specific run time, capacities, and electrical usage:
Cuisinart Compact Automatic Bread Maker
The Cuisinart Compact Automatic Bread Maker is a stainless steel bread maker with 12 preset menu options and a fully automatic function. It has a maximum voltage of 110 volts and a power rating of 550 watts. The maximum capacity of this machine is about 2 pounds, and the total run time is about 3 to 4 hours, putting the kilowatts per hour somewhere between 1.6 and 2.2.
Those who have bought the Cuisinart Compact Automatic Bread Maker have also commended it for being ultra-lightweight and easy-to-clean.
Hamilton Beach HomeBaker 2 Lb. Breadmaker
Another bread maker that supports a whopping 2 lbs. of dough weight is the Hamilton Beach HomeBaker 2 Lb. Breadmaker. This machine also features 12 programmed settings in addition to its gluten-free option and the ability to withstand dishwashing. With a 120 volts system and a separate kneading paddle, this machine maintains 600 watts, which is slightly higher than the Cuisinart Compact Automatic Bread Maker.
Depending on the specific type and size of your loaf, the cycle time for this machine is between 58 minutes and 3 hours and 50 minutes. The total kilowatts per hour range is between 0.57 and 2.2.
Oster Expressbake Breadmaker
Utilizing a little more electricity than the previous two items on this list, 650 watts, the Oster Expressbake Breadmaker has turned quite a few heads with its compact and lightweight design featuring a total of 13 programmed menu options. The 8 lbs. machine supports a total weight of 2 lbs. with a 650 volts system. The aluminum machine, famous for its versatility, offers a total run time between 58 minutes and 3 hours and 35 minutes for 2 lb. loaves, depending on which setting you're opting for to make your loaf. The total kilowatts per hour equal 1.624-2.327.
Zojirushi Home Bakery Programmable Mini Breadmaker
The Zojirushi Home Bakery Programmable Mini Breadmaker, weighing only 1 pound, is the lightest weight bread maker on this list. This machine supports making 1 pound of bread. The stainless steel design has 10 pre-programmed menu options and can consume 450 watts of electricity. Furthermore, the total run time is between 3 and 4 hours, with a total kilowatt/hour of 1.35 to 1.8.
In addition to being electricity efficient, this bread maker also makes the least amount of noise and is highly durable and easy to clean. Read our full review of the Zojirushi Mini here.
Zojirushi Home Bakery Supreme Breadmaker
If you like the brand but the Mini above is not powerful enough or makes too small a loaf, the Zojirushi Home Bakery Supreme Breadmaker will give you 2 Lbs although it consumes a little more power than all the other 2 LB machines. Its power rating is 700 watts.
It uses dual blades to give you a rectangular-shaped loaf and allows you to control the crust browning to 3 different levels. It comes with 10 presets and a delay timer for up to 13 hours so you can use off-peak energy hours to save money on your electricity bill. If you're in a hurry you can use the Quick bake cycle to finish making your bread in 2 hours, while the longest preset takes around 3 hours and 20 minutes. This makes the energy consumption range from 1.4 to 2.3
Take a look at the following table for a quick overview of the four bread makers discussed above:
| Model | Wattage | Run Time | Max Capacity | kWh |
| --- | --- | --- | --- | --- |
| Cuisinart Compact Automatic Bread Maker | 550 | 3-4 hrs | 2 lbs | 1.6-2.2 |
| Hamilton Beach HomeBaker 2 Lb. Breadmaker | 600 | 1-4 hrs | 2 lbs | 0.57-2.2 |
| Oster Expressbake Breadmaker | 650 | 1-3.5 hrs | 2 lbs | 1-2.3 |
| Zojirushi Home Bakery Programmable Mini Breadmaker | 450 | 3-4 hrs | 1 lb | 1.35-1.8 |
| Zojirushi Home Bakery Supreme Breadmaker | 700 | 2-3.3 hrs | 2 lbs | 1.4-2.3 |
Factors That Affect Bread Maker Efficiency
Various factors, including the ingredients you use for your loaf, can have an impact on your bread maker's overall electrical efficiency. For example, if you add veggies, dried fruits, or other heavier items into your dough, the run times will naturally be longer. It is pertinent to mention that you may be better off baking denser loaves of bread in the oven since they add additional kilowatts per hour to the machine's total electricity consumption. Finishing the baking in the oven after kneading the dough in the bread machine also gives you better bread in terms of texture and flavor.
Additionally, the machine's capacity could also directly affect its electrical consumption. Typically, the smaller-sized bread makers are more electricity efficient. If you're making bread for your family, a smaller loaf size of 1 lb. might be sufficient. Additionally, it is also pertinent to note that the relatively larger machines often use more electricity but have the same or similar run times as the smaller machines.
Lastly, those machines with an Express Bake option provide cooks with the minimum run time while maintaining a higher level of electricity consumption. Such bread makers might be a good option for you if you're on the lookout for time-efficient machines and not so much those that are electricity efficient. However, the decreased run time does contribute to ultimately lowering the kilowatts per hour range.
It will also help if you use a bread maker with a delay timer, specifically if your electricity provider spikes the rates during a specific period during the day. You can also go into further specifics of the machine, such as its estimated lifespan, to calculate how much savings you will make by investing in a particular model or brand.
Lastly, as with any electrical appliance, keeping the bread machine clean and well maintained will keep it running at an optimum level.
Bread Maker Vs Oven: Which One is More Energy Efficient?
When it comes to comparing bread makers with ovens, the former often takes the lead amongst cooks as it offers a higher level of convenience and comfort. They're also typically more regarded in terms of energy efficiency. A gas oven uses somewhere around 1.5 kWh of energy per use, whereas an electric oven consumes 1.6 kWh of energy compared to only 0.36 kWh energy consumption of a standard bread maker. There are also some energy-efficient ovens you can consider, but if you're a regular bread eater and going to make a purchase, then going the break maker route would be highly preferable.
Does a Bread Maker Save You Money?
Bread makers save a lot of money, and they are especially cost-effective in the long run for those who enjoy specialty bread. Bread makers outperform both gas and electric ovens in terms of electricity consumption and energy efficiency. So, if you're looking for a quick alternative to buying specialty bread or spending hours baking your own in the oven, a bread maker might be your best bet. Click here to learn more about bread makers, including detailed reviews and comparisons.