Someone who's been cooking for a while at home will probably have a lot of kitchen tools that will suit them for everyday cooking for their family and maybe a for a few small parties. However, if they are looking to take their game up a notch and become a professional chef, there are some tools and gadgets that they would appreciate more. They might make the cooking process more efficient or help them refine their dishes, so giving them something like that as a gift is sure to be appreciated.
We've curated a list of essential gifts for aspiring chefs to help you pick something just right. Some are very inexpensive, while others may be items that the recipient may shy away from spending on themselves.
All the products we have selected have been praised by enough customers that you can be assured of good quality and money well spent.
A Chef's knife
Victorinox Fibrox Straight Edge Chef's Knife, 8-Inch
Every chef needs a good knife, and when you talk quality you have got to mention Victorinox. This Swiss company is known for their Swiss Army Knives but they also make other knives and this Fibrox Straight edge Chef's Knife is as tough and as sharp as they come.
A chef's knife is a general utility knife that most cooks rely on for most kitchen knife work, so it has to be comfortable to use for even the hardest tasks and the blade has to be as sharp as possible for as long as possible. The ideal length of a chef's knife is 8 inches, just like with this one and the 2 inch handle is ergonomically designed for a great grip. The style of the blade is French as opposed to German, in that it is straight until it curves upwards just near the tip.
For the price and caliber, this Victorinox is a terrific bang for the buck knife that rivals those well known German and Japanese brands. It's just as sharp, just as good looking and just as functional as those other guys, and it is only half the price.
A Cast Iron Skillet
Le Creuset Enameled Cast-Iron 10-1/4-Inch Square Skillet Grill
There is no better way to cook food than in a cast iron skillet. Why you may ask? Well, you'll need less oil in a cast iron skillet if it is properly seasoned, there are no chemical non-stick additives to worry about, the entire surface area heats evenly, and you'll get a nice sear on your food when you use one. If you give the Le Creuset Enameled Cast Iron Skillet as a gift, you'll be giving one of the most beautiful and functional skillets ever made.
The enamel outside makes it easy to hand-wash clean, and the ridges inside spirit grease away for healthier cooking while creating those great looking grilled marks on food. It is easy to pick up and carry because of the handle and helper lip on the opposite side. This skillet is also oven and broiler safe, so the cook can sear food first on the stove and then transfer it to the oven to finish cooking. As you can see, this gift is a win-win idea for any beginner or veteran chef in a home or professional setting.
Stainless Steel Saute and Frying Pan
All-Clad 12 Inch Stainless Steel Tri-Ply Bonded Fry Pan with Lid
There is nothing like having a good stainless steel saute and fry pan, and the All-Clad Tri-Ply Stainless Steel Fry pan is one of the best. Stainless steel is universally considered the best material used for cookware because it is tough, durable and doesn't leach off any flavors into food while cooking. It also easy to keep it looking as good as new even after a few years of constant use. While it does need an aluminium or copper bottom for even heat transfer, the rest of the pan can be all stainless steel as long as it is of high quality.
This All Clad pan is dishwasher safe, you can put it in the oven with no worries, and it is induction stove compatible. It also comes with a limited lifetime warranty. But the best part is the Tri-Ply construction. An aluminum inner core is covered by two stainless steel outer plates to give amazing even heating throughout the entire pan. There are no hot spots here, which makes for the best fry pan cooking you can imagine. A starburst finish helps with stick resistance as long as the chef remembers the rule with stainless steel cookware – bring the pan to a high temperature before adding the oil or fat.
Measuring Set
Most cooks have measuring tools like a set of marked cups and spoons, but a quality set is necessary to get measurements right every time, especially when baking. A good set has etched measurements instead of stamped on because the latter ones fade over time. Separate cups for dry and liquid ingredients are best and the edges should not be sharp. Labels should show cups, teaspoon and tablespoon measurements along with volume measurements to cover any method of measurement used in recipes. Rectangular spoons are preferred because they get into narrow jars easily.
The following measuring sets fit these criteria and can be clubbed together to give as one gift.
Bellemain Stainless Steel Measuring Cup Set, 6 Piece
Exact measurements are yours every time with the Bellemain Stainless Steel Measuring Cup Set. The 18/8 gauge Stainless steel means no rusting and no leaching chemicals into your edibles, the measurements are etched into the handles so you'll always know which cup size you have, they nest together and take up very little space and the edges have been de-burred so you'll never cut yourself when washing.
For baking and cooking you'll always have the right amount of dry ingredients at your fingertips, as this set includes 6 pieces – 1/4, 1/3, 1/2, 2/3, 3/4 and 1 Cup. For liquid measurements, read further.
Spring Chef Heavy Duty Stainless Steel Metal Measuring Spoons, Set of 6 for Dry or Liquid Measurements
Quality measuring spoons have engraved measurements on their handles in both U.S. and metric, and that's exactly what you'll find on these Spring Chef stainless measuring spoons that come in 1/8 tsp, 1/4 tsp, 1/2 tsp, 3/4 tsp, 1 tsp and 1 Tbsp.
Their unique rectangular shape lets you get them in and out of small jars better than round spoons, they nest together and will fit in virtually any drawer, and they are ringed together so you'll never lose them but you can remove each of them off the ring if you find it easier to use that way. They can also be stuck on a magnet on a wall or fridge if you want.
OXO Good Grips 2-Cup Angled Measuring Cup for Liquids
One of the best ideas for the kitchen is the OXO Good Grips Angled Measuring Cup. The patented angled surface with additional markings lets you read the measurement from above, not just from the side. That means you don't have to fill, look through the side and fill again. You can do it all just by looking down at the cup.
There are several sizes to choose from, and they all come with cup, ounce and milliliter denominations. The soft handle grip allows you to lift and pour without any hassle even if you're measuring hot liquid. It is microwave and dishwasher safe with no BPA in the plastic construction.
Instant Read Thermometer
Lavatools Javelin Digital Instant Read Food and Meat Thermometer
Forget about old thermometers that make you wait to find out the temperature of food. By the time you get an accurate reading the chicken may already be overdone! The Lavatools Javelin Digital Thermometer gives you instant temperature readings almost as soon as you stick it into the food!
Perfect for baking, candy making and cooking meat, simply insert the probe into the item cooking and you'll get the temperature in 4 seconds with an accuracy of +/-0.9°F. It can be configured to switch between °C and °F and its range is from -40°F to 482°F. Easy, effective and fast, exactly what any chef could ever want, and it even comes in several different colors that will match any kitchen decor. It is splash resistant and has a built in magnetic attachment to allow you to stick it on the refrigerator.
Colander
Bellemain Micro-Perforated Stainless Steel 5-quart Colander-Dishwasher Safe
Every chef wants a colander where the holes won't clog up, and the Bellemaine Micro-Perforated Stainless Steel Colander is the perfect solution to that problem. It's not a mesh colander but perforated stainless steel, so food that gets stuck is easily dislodged by just washing with maybe a quick scrub. While plastic colanders are not good for draining hot pasta, stainless steel holds up just fine. It is even good for washing your fruits and veggies.
The Bellemain is dishwasher safe, rustproof, heavy-duty, and while the closely configured holes drain liquids quickly, the less than 1/16″ in diameter holes will catch even tiny grains of food like uncooked quinoa. A solid ring base keeps it steady on the counter or in the sink and it's built to last a lifetime with anything you have to strain.
Tongs
OXO Good Grips 9 & 12-Inch Locking Tongs with Nylon Heads
One of the most underappreciated kitchen tools, yet one of the most useful to have on hand, is a good set of tongs.
The OXO Good Grips come with 400 degree heat resistant nylon heads that won't scratch your non-stick cookware, and they are completely dishwasher safe too. The 9-inch tongs are great for handling veggies and serving salads, while the 12-inch tongs are terrific for the grill. Plus, these are locking tongs so that once you are finished with them, simply close them up and lock them in place by pulling a tab at the end for easy storage in any drawer. Or, the same tab has a loop to use for hanging them up too.
Dutch Oven
Lodge Color 6-Quart Enameled Cast Iron Dutch Oven
You already know how healthy it is to fry in a cast iron frying pan, well the same holds true for cooking in the Lodge Cast Iron Dutch Oven. Every chef should have a quality Dutch oven as part of their cooking ensemble. It is a tool that is used from start to finish while cooking a dish, unlike a slow cooker. While you can first sear food in the former before finishing the dish off by slow cooking on the stove or transferring it to roast in the oven, a slow cooker won't brown your food at all.
This Lodge 6 quart beauty comes in a variety of colors, it has an enameled exterior for easy hand washing and best of all, it comes with a limited lifetime warranty. The cover seals in the flavor and moisture so that it is self basting and it is oven safe to 500 degrees. The big loop handles make it easy to transport.
A high end brand of dutch ovens would normally cost you a pretty penny, bu the Lodge brand makes this kind of kitchen tool a very affordable gift.
Meat Tenderizer
Chef's Planet Meat Tenderizer and Flavor Enhancer
Roasts, steaks, chops and just about any other meat or cut you can name needs the Chef's Planet Stainless Steel Enhancer. This unit is a meat tenderizer and marinade injector all in one.
Simply place the enhancer onto any cut of meat, push down on the top and several stainless steel blades will slice into the meat to cut through the tough tendons, while three injector needles will insert marinade from a top mounted tank into the cut. You can even choose between two depth settings depending on the thickness of the meat cut. It will help an aspiring chef tenderize and flavor like a pro on any and every choice of meat or poultry that it is applied to.
Professional Cookbook
The Professional Chef by The Culinary Institute of America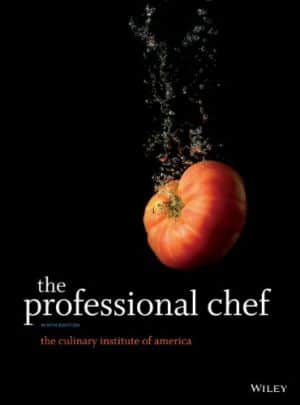 Every kitchen needs a cookbook and for the aspiring chef there is no cookbook better than The Professional Chef. It is called "The bible for all chefs" and virtually every major American chef uses this for reference to understand all the skills of cooking and how cooking works.
The design is user-friendly with every recipe describing the cooking technique, starting with the basic formula and easy to read at a glance methods. It is enhanced by valuable tips from cooking pros and beautiful step by step photographs. The recipient will also find food nutrition, equipment selection help and much more with this book.
If you get just one gift for an aspiring chef, above and beyond all of the others, this is the gift that keeps on giving with every gourmet dish that is created.