If you're looking for an indoor electric grill to help you satisfy cravings for a good homemade meal of grilled vegetables, burgers, and even steaks, then you should consider one of the top contact grills on the market. There are many great ones from which to choose, but in this article, three of the most well-known and highly rated barbecue contact grills go head to head, so if you are considering buying any of them, look no further than this guide. It's the T-Fal Optigrill Vs Cuisinart Griddler Vs George Foreman Grill battle of the indoor contact grills!
Models to Compare
| Contact Grill Model | T-fal GC722D53 OptiGrill XL | Cuisinart GR-300WSP1 Griddler Elite | George Foreman Family Size Smokeless-Digital Smart Select |
| --- | --- | --- | --- |
| Heat range | 212°F - 545°F in manual mode | 325 - 450˚F with a Sear function at 500˚F | 325 - 425˚F |
| Wattage | 1800 W | 1800 W | 1450 W |
| Cooking surface area | 124 square inches | 120 square inches in contact mode, double that when open and lay flat | 90 square inches |
| Smoke | Some | More | Little |
| Grill plate design | Sloped in front | No tilt | Tilted and with open plate holes |
| Cooking modes | Automatic, manual, frozen | Dual zone temperature control and Sear function | Time and temperature digital controls |
| | | | |
Why Choose a Top-of-the-Line Indoor Electric Contact Grill?
An indoor contact grill is a type of grill that cooks food between two grill plates with a heat source from the bottom and the top. Contact grills can also leave the top grill plate off or just hovering over the food, for example when you want to melt cheese over your burger patty after the patty has finished grilling.
They are a popular alternative to traditional grills or Korean BBQ grills because they can cook food faster, with less fat, and without necessarily needing you to flip food over in the middle to cook both sides. These indoor grills are great for grilling steaks, as the meat is cooked from the bottom and top at the same time to seal in the juices.
Key Features and Functions
T-fal GC722D53 OptiGrill XL
The T-Fal Optigrill XL is one of the best indoor electric grills available on the market today. This fantastic product provides convenience and versatility for all kinds of grilled foods. Pick from 6 pre-set programs like poultry, burgers, red meat, sausages, sandwiches, pork, bacon, shellfish, and fish, or the manual mode at high, medium, low, or keep warm temperatures for cooking your own personal recipes the way you want. There's also a frozen foods mode if you grill something that's taken directly out of the freezer.
This indoor barbeque grill is integrated with Automatic Sensor Cooking technology that immediately detects the amount of foods places on the grill as well as their thickness so that it can adjust the temperature and cooking time instantly. This does not work in Manual mode, where the 4 settings that you can choose from are within the 212°F – 545°F range.
It comes with an indicator light for you to track the cooking progress: Blue, then green at the start, then yellow once the food is rare, orange if the food is medium, and red is well done. When preheating is done, the light turns purple. Audible beeps alert you to the end of each stage, so you can take the food out at the right time.
During preheating, the grill will stay on manual mode if the lid is open. The automatic presets work only when the lid is closed. Before first use, you need to follow the manual to recalibrate the grill for it to work properly on the presets.
The powerful heating element is rated at 1800 watts and the clear cooking controls are placed on the heat-resistant handle of the lid. The power cord measures a generous 2.6 feet.
While the housing is made of brushed steel, the grill plates are made of die cast aluminum coated with durable PFOA-free non-stick so that food releases easily from them. These plates are slightly angled in the front so that the juices and extra fat can run off into the drip tray below. Both grill plates and the drip tray are removable for easy cleaning by hand or in the dishwasher.
The cooking surface is 15.75″ by 7.87″ (93 square inches) and accommodates servings for 6 and 8 people.
Pros
Great grill marks.
Gets pretty hot.
Plates are easy to remove and easy to clean.
Big drip tray.
9 auto cooking programs for versatility and accuracy.
Easy to clean.
Cons
Automatic modes may not work without recalibration, which is given in the manual.
Not able to handle uneven thickness of foods.
Cuisinart GR-300WSP1 Griddler Elite
Another very popular indoor barbeque grill is the Cuisinart Griddler Elite. This takes your grilling to a higher level. The housing is brushed stainless steel. It provides six great cooking options with its reversible non-stick grill and griddle plates that are interchangeable. These are contact grill, Panini press, full griddle, half griddle, full grill, half grill, and top melt. The top cover can lie open and flat and is height adjustable when heating from the top. You can lift it up for melting cheese over foods, lower it to create a contact for steaks, or lock it closed to store. An improved integrated drip tray at the back slides firmly in place from the side and does a good job of collecting all the juices and excess fat that drains during grilling.
This grill is rated at 1800 watts with a 2.5 feet power cord and has a good LCD display. It has dual-zone temperature control that gives you complete control over how hot you want the bottom and top plates to be. This appliance is perfect for making pancakes as well as eggs for breakfast, open-faced sandwiches and Panini for your lunch, and fajitas and burgers for dinner.
When both the top and bottom plates are open and lying flat, the combined 240 square inch grilling surface is perfect for entertaining many guests or making meals for your family. The grill and griddle plates are dishwasher-safe.
This is an easy-to-use electric grill. To start with, ensure it is in the preheat mode, then select whether the upper or lower or both plates should be heated. Then set the lower plate and upper plate temperatures to the required setting from Warm to 450˚F and set the timer for up to 60 minutes. A red light on the chosen control will light up to show that the power is on. It takes up to twelve minutes to reach the operating temperature. Once the thermostat has reached the desired operating temperature, a green light will indicate that the grill is ready for cooking. You might vary the settings of the controls anytime during cooking.
It also comes with a SearBlast function to lock in the flavor of steaks and other meats at 500˚F. This engages for up to two minutes so that you can get perfect sear marks on your food.
Once cooking is done, turn off the plates and turn the temperature dials to the off positions. For safety, if the grill is on and preheated for over two hours, it will instantly shut off. Just turn the dial to reactivate.
The grill is easy to clean, as all accessories, including the trays, are removable and dishwasher-safe. It comes with a scraper that can be used to remove stubborn stuck on food.
Pros
User-friendly with individual plate temperature controls and multiple cooking options.
Easy to clean.
Cooks fast and evenly.
Good Sear function.
Has LCD display.
Improved drip tray design catches all juices and grease even when you open the top cover and the condensation runs down.
Cons
Takes a bit of time to get hot initially.
Grease does not drain fast, as the bottom plate doesn't tilt. This creates a lot of smoke with certain foods.
Expensive
Takes up a fair amount of space.
George Foreman Family Size GRD6090B Smokeless-Digital Smart Select
If you are looking for an indoor smokeless grill that fits in a tight space on a limited budget without compromising the quality, George Foreman GRD6090B Smokeless-Digital Smart Select is a perfect choice.
With a surface area of 90 square inches, this grill can serve 4 to 6 people at a time. It is designed to give you an extremely fast grilling experience and operates at 1450 watts. The floating hinge allows you to cook foods of varying thickness as long as all pieces are uniform in thickness.
The digital controls with a touch screen experience, audible beeps, and visual alerts, are for timer and temperature control to provide accurate and consistent results time and again.
This grill has the company's patented durable and triple non-stick coating that is tough and releases stuck on food easily. The grill plate features a unique open hole design, which immediately drains the fat into the integrated drip tray below before it has a chance to burn and produce any smoke, which is what most customers love. Take a look at some of our other recommended indoor electric smokeless grills. The drip tray and grill plates are removable for easy cleaning by hand or in the dishwasher.
The heat range on this grill is 325 to 425˚F and the temperature-ready light shows if the grill is ready to start cooking. The embedded heating elements offer rapid cooking and can even cook a steak to perfection even though there is no way to sear meat. The ergonomic, cool-touch handle offers a secure and comfortable grip.
If you don't want to keep it on the counter when not in use, you can store the grill vertically in any tight space.
Pros
Hardy grill surface.
Very easy clean up.
Little to no smoke.
Can be stored vertically.
Good value.
Cons
Lacks a sear function for meats.
Lid is very heavy.
Head to Head Comparison
Ease of use
T-Fal Optigrill XL:
This is a grill that's equipped with state of the art sensor to detect the quantity of the food and thickness of the meat so that it can grill it at the appropriate temperature and for the appropriate amount of time. If you don't like to use presets for a certain food, you can choose to set a temperature manually. Either way, it will show you its progress throughout the grilling process. This is the grill to choose if you want consistent and accurate results every time.
However, getting started with it means that you have to read the instructions to calibrate it or you will get stuck with the grill always going into manual mode.
 
Cuisinart Griddler Elite:
This is the grill to choose if you want multiple cooking options and want to control every element of the process. You can choose to use it in the fully open lay flat position when cooking for many people, or use it as a contact grill for burgers and steaks so that you don't have to flip your food in the middle to cook both sides. The interchangeable grill and griddle plates mean you can do more than just grilling.
The controls are simple to use and the LCD display shows you which plate is heating, at what temperature, and cooking time left.
 
George Foreman Smokeless-Digital Smart Select:
This is the easiest to use grill. You only have to turn it on, select a temperature and cooking time before using it. Audio and visual cues will alert you when it's ready and when cooking is done.
Grill surface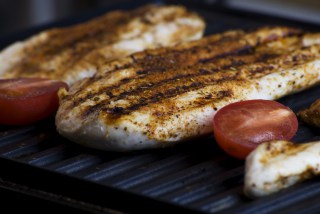 T-Fal Optigrill XL:
This indoor grill has a large cooking surface, enough for 6 to 8 servings. Food releases easily from the non-stick die-cast aluminium plates and the plates are dishwasher-safe. These are slightly angled downwards in the front to drain excess grease. This creates some smoke for certain foods but not a lot.
 
Cuisinart Griddler Elite:
This grill has the largest cooking surface and is even doubled when you open the top lid fully to make it lie flat next to the bottom plate. It has removable and reversible nonstick grill/griddle plates. The ridged grill side is ideal for grilling meat, burgers, veggies, etc., while the flat griddle side is good for eggs, pancakes and bacon. The plates do not tilt, so grease takes a little bit of time to drain, which means fatty foods create quite a bit of smoke. The plates are dishwasher-safe.
 
George Foreman Smokeless-Digital Smart Select:
This indoor grill has a unique open plate design with strategically placed holes to allow grease to drain immediately. This creates little to no smoke. It also comes with tough advanced non-stick coating, which makes it very durable. The grilling surface is enough for 4 servings and has the smallest surface area here.
Temperature range and grilling quality
T-Fal Optigrill XL:
This grill comes with 9 automatic preset programs and a manual mode with 4 settings between 212°F and 545°F. This allows for a wide variety of foods to be grilled. You can even grill an item that's come straight from the freezer because of the frozen mode. Meats will stay juicy and you can get a decent sear with grill marks. The indicator progress bar changes color as it goes from rare to medium to well done, so you can really control your grilling preferences each time.
 
Cuisinart Griddler Elite:
This grill is all about keeping grilling in your control. It can go from 325 to 450˚F for normal grilling, and when you're cooking meat, you can use the Sear function at 500˚F. You get to control temperature and cooking times so it takes a little practice to get perfect results, but once you figure it out, the results are great. You can even control the temperature of the top and bottom plates separately.
 
George Foreman Smokeless-Digital Smart Select:
This grill's temperature ranges from 325 to 425˚F and there's no sear feature, so it's not the option for the hottest grilling. You have to be careful not to overgrill or the meat become dry.
Cleaning
T-Fal Optigrill XL:
The plates and drip tray are easy to clean manually or in the dishwasher.
 
Cuisinart Griddler Elite:
The grill and griddle plates are all removable and so is the integrated drip tray, so they can be washed in the dishwasher. You also get cleaning tool to scrape off food that's stuck elsewhere on the grill. The presence of buttons and knobs on the front means that you'll need to spend a little time wiping them off with a damp cloth after you're done grilling.
 
George Foreman Smokeless-Digital Smart Select:
All removable parts are easy to clean manually or in the dishwasher.
Durability
T-Fal Optigrill XL:
The non-stick coating will wear off in time with heavy use but you can buy replacement plates online.
 
Cuisinart Griddler Elite:
While this appliance is built to last, you are better off washing the grill plates manually instead of in the dishwasher so as to make the non-stick coating last for years. This is because the heating element is built into the plates, making replacement plates more expensive than for the other grills.
 
George Foreman Smokeless-Digital Smart Select:
This grill has the most durable non-stick coating, so the grill plates will last for years.
So Which of These Indoor Contact Grills Should You Buy?
If you want a hands-off and consistent approach to grilling, choose the T-Fal Opti-Grill XL.
If you want more control over your grilling, the ability to sear meat, and the ability to grill or griddle large quantities at a time, choose the Cuisinart Griddler Elite.
If you want an easy-to-use appliance and a smoke-free indoor grilling experience, choose the George Foreman Smokeless-Digital Smart Select.
Of course, these 3 are not the only models to pick from. If you want to take a look at a wider range, we have more top picks for grills that come with removable plates. If you're only cooking for one or two people, you can spend less and save space with a small electric grill instead.