Korean barbecue is known as the "national cuisine" of Korea and its popularity is growing rapidly from coast to coast. Even though you can find Korean barbecue restaurants in many parts of the country, it is not quite the same as cooking your own food in the comfort of your own home. And you can do it for a lot less, especially if you want get togethers with friends. Our guide for choosing the best indoor grill for Korean BBQ covers some electric grill options as well as some barbecue grill pans that you can use over your own gas stove or portable butane burner.
What is Korean BBQ and What Makes it Different from Western Barbecues?
Korean BBQ or Korean barbecue is most commonly a communal dining experience in which diners grill marinated beef, pork, or chicken along with fresh vegetables at their table. At restaurants, there may be a chef to do this grilling for guests at their table.
The most common ingredient is bulgogi, where the meat, like beef tenderloin/sirloin or pork/pork belly, is usually thinly sliced, grilled, and eaten wrapped in lettuce. Another type is galbi, which are beef or pork short ribs. Both types of Korean barbecue can either use meat that is first marinated in a combination of soy sauce, sugar, sesame oil, garlic, and pepper, or the meat can be grilled plain and then seasoned with a dipping sauce.
There is no debate that Korean barbeque and American barbeque are both prepared using a grill, but the similarities end there. What sets Korean BBQ apart is the communal aspect, where diners do the grilling together around the table. Western-style barbecue has one person manning a grill and portioning out each item. Diners are served and they take their plates back to their tables.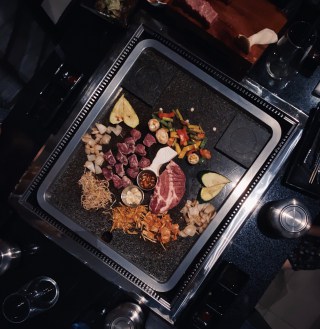 The traditional method of Korean barbecue is to cook the meat and vegetables on a tabletop grill, with the table itself designed to accommodate this process with the diners seated all around. Unlike western electric grills or stovetop grill pans or electric skillets, a grill that's good for Korean BBQ should preferably be grate-style with holes to let the grease drain. The grill has a heating element underneath that's controlled manually and traditionally it's either charcoal or gas.
Another difference is in the meat itself. Where western barbeque may feature roasted or slow smoked pork, ribs, chicken, or brisket as the centerpiece, Korean barbeque includes pork, beef, and chicken skewered or grilled. In Korean barbeque, meats are marinated, sliced, and then grilled or pan-fried, whereas in American barbeque, meat is basted into a sauce or dry-rubbed with spices before slow cooking.
Finally, Korean BBQ is well known for the side dishes, called Banchan, served on small plates alongside the main barbecued meat and noodles. Each diner will get their own set of Banchan. These can be a variety of vegetables to balance out the heaviness of the main dish and several restaurants will refill plates if you ask.
Best Indoor Electric Grill for Korean BBQ
De'Longhi Perfecto Indoor Grill
The Perfecto Indoor Grill by De'Longhi will provide you great experience for a Korean BBQ indoors but it also makes our list for best electric grill for cooking steaks. This grill has a large cooking surface of approximately 12 inches x 6 inches and is made of die-cast aluminum with a non-stick coating. It has an embedded heating element and a grill design that enables the the entire surface area to heat up evenly for more consistent grilling results.
It is very powerful at 1500 watts and the maximum temperature of this unit is 450 degrees. The detachable thermostat allows the temperature to be controlled from one to five levels and can also be turned off. The power cord is short but adequate in most cases and you can use an extension cord if you need to.
Unlike the other grills on this list, this one comes with a tempered glass lid, which can come in handy if you need cooked food to stay on for a while before being eaten. The lid will keep the food juicy and warm. It can also protect against spatters when cooking something very fatty.
The non-stick drip tray located below the cooking surface collects all the excess fat and grease from the food you cook. There's even a maximum water level line marking to show you how much water you should fill in it to prevent a lot of smoke from being emitted. If you follow that you'll find that the grill doesn't create smoke, which is one of the best features of the De'Longhi BBQ grill.
One thing to note is that even though there are handles to lift the grill, they're not attached to the base but rather to the grill surface, so if you want to pick up the base there are no handles for that.
Cleaning is easy. Just detach the thermostat, and the grill plate and pan can go in the dishwasher or be cleaned by hand. The base just needs to be wiped down.
Pros
Big and wide cooking surface with grate holes to drain excess oil.
Very reasonable despite the many amazing integrated features.
Comes with a glass lid.
The thermostat is easy to detach.
 
Cons
The cord is a bit short.
The handles are only for the grill grate.
Zojirushi EB-CC15 Indoor Electric Grill
When you live in a small apartment with a small kitchen, you don't usually have room for a standard sized grill. The Zojirushi EB-CC15 Indoor Electric Grill solves this problem by squeezing an electric grill into a space-saving box that you can place on your dining table. It is perfect for 2 people but can accomodate 4 if you're doing Korean BBQ. The grill surface measures 12.5 by 9.25 inches and its non-stick ceramic and titanium coated aluminum grill plates can reach temperatures between 176°F and 410°F powered by 1300 watts. We rate it as the best electric korean bbq grill on the market.
It disassembles into 4 pieces for easy cleaning and storage – a plastic base with integrated cool-touch handles, a metal drip tray, the Korean style grill pan, and the temperature control with plug. The drip tray is dishwasher safe but the grill plate should be hand washed.
The heat control gives you the choice to turn the heat to high, med, low, and off. With superior heating capabilities, you can cook almost anything. You have to let the unit pre-heat for 4 minutes before adding the food. This ensures that there's no sticking and it heats evenly. Start on high and let the meat get some nice sear marks before turning the temperature down to finish cooking. If you leave it, it will automatically cycle on and off to maintain a steady temperature.
In order to reduce smoke while cooking, you can set it on your stovetop under the exhaust fan, but since we're talking about communal dining, you should add a little water to the drip pan so that the oil that drips onto it doesn't smoke too much. Some people like to line the drip pan with a sheet of aluminum foil to make cleaning easier.
The unit has a safety system that prevents it from working without the drip pan properly in place.
Pros
User-friendly and easy to handle.
It heats up fast to searing temperature and has good temperature control.
The grill surface is coated with safe and non-toxic materials.
Cool-touch handles and housing.
The drip tray is easy to clean and dishwasher safe.
 
Cons
Grill plate can only be hand washed.
Presto 09020 Cool Touch Electric Indoor Grill
With regards to electric appliances, you have heard of Presto at least once. There are a lot of good reasons why Presto is a good household brand. They make a great small electric grill and griddle.
One of their best and most affordable creations is the Presto 09020 Cool Touch Electric Indoor Grill. This reliable grill has a generous cooking surface of 16 inches by 10 inches, which is perfect for 4-5 people if doing Korean barbecue or enough for 2-3 people for grilling hamburgers or any other bigger chunks of food.
The Presto 09020 Cool Touch is integrated with a master heat control system, which maintains the right and proper temperature while cooking. It goes to a maximum of 400 degrees F while allowing you to set it to 5 other temperatures including a warm setting. You can also turn it off without having to unplug the unit. The heating element is attached to the underside of the grill surface, so it gets hot fast. However, you may find that one side gets slightly hotter than the other.
The grill cooking surface isn't a grate-type but it is ridged and that creates an amazing char to the meats. As it is slightly angled, the grease instantly drains from the surface into the drip pan below that slides out for easy emptying and cleaning. To prevent accidental burns, this indoor grill pan comes with a cool-touch base and sides surrounding the surface of the unit.
Cleaning the grill by hand is easy and you should use the provided grooved spatula for best results. However, you can also throw it in the dishwasher after unplugging it.
Pros
Simple and easy to use.
Very easy to clean and dishwasher safe.
Long lasting and durable.
Very affordable.
 
Cons
It doesn't have drainage holes so you may have to tilt the grill a little and help the last bit of oil off with a paper towel.
Thick cuts take a long time to cook but thin cuts will be done fast.
Elite Gourmet EMG-980B Large Indoor Electric Round Nonstick Grill
Now we come to the circular electric grills for barbecue. The Elite Gourmet EMG-980B Large Indoor Electric Round Nonstick Grill is armed with a large round bbq grill plate, 14 inches in diameter, that can easily accommodate up to three to four servings. It is compact yet generous with its non-stick cooking area and can serve 4-5 people for Korean BBQ. The prominent grill crests on its cooking surface play a vital role in giving foods a superb char.
All parts can be taken apart, which makes cleaning fast and stress-free. There's a grease collector that slides into a slot in the base. Everything except the base and electric cord are dishwasher safe and wiping away residue and grease from the base should not need much effort.
This indoor Korean BBQ grill is powered at 1300W and provides five different temperature settings and it can be set to 195 degrees Fahrenheit, which is the lowest, and up to 445 degrees Fahrenheit, which is the highest. You will find that the grill gets hotter closer to the electrical input, so you'll need to work around that. You may also need to experiment with temperature regulation, as the grill automatically turns off once it reaches the set temperature and turns on again after a while.
For splatter control, it comes with a solid tempered glass lid that is vented for steam control. The stainless steel circumference of the lid fits neatly into the circular groove of the grill. It produces little to no smoke depending on what you're grilling.
Pros
Almost smokeless.
Good quality and long lasting non-stick surface.
Affordable
Has a tempered glass lid.
 
Cons
Auto-regulates its temperature by cycling on and off.
4YANG Electric Hot Pot Grill
If you'd like more versatility from your grill, the 4YANG Electric Hot Pot Grill combines an electric barbecue grill surface with a shabu shabu hot pot so that diners can enjoy both styles of dishes in one meal.
Korean Shabu Shabu is similar to barbecue in that you cook meat and vegetables together at the dinner table. The difference is that in Shabu Shabu, the foods are boiled in a broth in a hot pot instead of grilled. Dipping sauces are served alongside it.
This 2-in-1 indoor barbeque grill and hot pot from 4YANG is quite a unique kitchen appliance that can combine both styles of cooking. You can steam, grill, fry, and boil all in one pot. Although it's not a small or cheap appliance, combining the two functions does save table and storage space if you know that you will use both functions.
It heats up fast using 2200 watts with a double tube circle ring heating system. You plug the cord into the base and there are two temperature control dials on the front of the base, one for the hot pot and one for the grill. This makes it really convenient to control the cooking for each part separately. You can even do only a barbecue or only a shabu shabu meal if you want.
The cooking tray is made of 5 layer non-stick coated cast aluminum and is detachable from the base. It has the hot pot in the center and divided in two so that you can separately boil two broths or boil meat in one half and veggies in the other. Surrounding the pot is the integrated grill that forms a ring around it.
It is easy to clean and maintain, as the tray is detachable from the base for washing and the base is easy to wipe clean. There's a small oil leak groove on one end of the grill ring and you'll have a practically smokeless experience.
Pros
Versatile appliance.
Fast heating as well as individual temperature control.
Cleaning is fast and easy.
Large capacity, which makes it perfect for family gatherings.
 
Cons
The power cord is rather short.
Best Korean Grill Pan or Plate
If you'd rather just do you barbecuing on your own fixed or portable stovetop and only want to get a grill pan for barbecue, then you have a few options that are specifically designed for Korean BBQ. You just set the pan over your gas burner and regulate the heat as you would any other pan. These will work on a regular gas stove, a portable stove with an accompanying gas tank, or a butane burner. An electric stove or induction burner may not be adequate for high enough heat if the pan is designed to sit above the burner and not on it.
CookKing – Master Grill Pan
The Master Grill Pan by CookKing is actually made in Korea, so you know it's going to be good for the job. It is not cheap but it is well designed and durable.
You can set this Korean barbecue grill pan down on its 4 short legs over a gas burner and it will get searing hot quite fast. The surface consists of a circular center with a slightly raised textured pattern, which is best for meat that has its own fat to melt or for veggies that will give off a lot of liquid while cooking. The pan manages grease and excess juices efficiently, which ensures that the food will not be submerged in them. The excess oil will flow towards the well-positioned hole at one edge. You have to have a catcher at the base of the grilling pan to collect all of it.
There are ring slots of several sizes surrounding the center circle. These can be used for melting cheese, cooking an omelet, roasting garlic, etc. They're all separated from one another so that nothing mixes between the various ingredients and side dishes.
The CookKing pan is lightweight with nonstick titanium coating. The entire cooking surface is a little over 15 inches, which is perfect for 4-5 people. It is best to clean it by hand in the sink with soapy water and a non-abrasive scrubber. Burned scraps will come off easily if you let it soak a little first.
Pros
Long term durability.
Even heating all around the pan.
Grease draining system is effective.
 
Cons
You need your own small cup to use as an oil collector.
Kitchen + Home Stove Top Smokeless Grill Indoor BBQ
The Kitchen + Home Smokeless Grill Indoor BBQ is another grill pan to be used on a stovetop or over a butane burner, but is designed differently from the CookKing pan.
There are two pieces to this pan. The stainless steel base consists of a ringed pan on the bottom and a raised holder on top. A domed nonstick grilling pan with open slots sits on the holder so that whatever is cooking on it releases extra fat and juices that drain through and collect in the ringed pan right underneath. You can add some water or marinate to the collector to reduce smoke and also keep the grilling meat above from drying out.
The grill pan is made of 100% PFOA free, PTFE non-stick coating and is durable enough to wash in the dishwasher along with the drip pan, although it is recommended that you hand wash the grill pan.
This indoor grill pan can be used on gas or electric burners, as the base is designed to sit directly on a stovetop.
Be aware that because of the dome shape of the grilling surface, certain kinds of foods, like sausage or chops, tend to slide off the grill pan and into the trough of the base surrounding it. However, flat sliced meats for bulgogi will do nicely. Also, high-fat food like bacon will cause oil splatter that won't be caught by the ringed drip pan. If you use it on an electric glass top stove, it is easy enough to clean up, however, this is not good if you're using a gas burner.
Pros
Can be used on gas or electric burners.
Cleaning is a breeze.
Heats up very quickly.
Compact and easy to store.
 
Cons
Large cut foods tend to slide off into the trough surrounding the grill.
Not best for grilling high-fat food over a gas burner.
Only enough for 2 people.
Iwatani BBQ Plate Cb-p-y3
The Iwatani BBQ Plate is very similar to the one above with a domed spiral pattern grill plate with slots around the circumference for extra oil and juices to pass through and into the water ring that the dome fits into below.
Even though the overall size of this BBQ pan is about the same, the grilling surface is less domed, so that it can hold a little more food without anything sliding down to the edge. Both pieces are covered in a nonstick coating, but the grill surface is made of die-cast aluminum, and the bottom holder with a water ring is made of steel.
This grill pan needs care when cleaning, as the nonstick coating may start to peel off if you use an abrasive scrubber. Make sure to pour enough water into the ring, keep an eye on it, and pour some more if it's about to dry off. This way that there's less chance of fat and marinades sticking and burning.
This BBQ pan comes with a pronged tool to safely pick up the hot grill tray off the base and take it straight to the kitchen sink.
Pros
The grill surface easily washes off without scrubbing.
Convenient and compact to use and store.
Comes with a tool for picking up the hot grill pan.
 
Cons
The bottom plate coating is weak.
Portable Korean BBQ Gas Grill
There are also portable Korean BBQ grill gas burners available out there. If you don't already have one, you can get one along with a grill pan.
TeChef – Stovetop Korean BBQ Non-Stick Grill Pan with Agni Portable Gas Stove Burner
Our final recommendation is the TeChef Stovetop Korean BBQ Non-Stick Grill Pan that you can get with or without an Agni portable gas stove burner.
This single-piece Korean-made grill pan is made using high-quality aluminum, coated with five layers of non-stick Teflon material, thereby assuring utmost durability and longevity while being easy to clean and maintain. The diameter of the grilling surface is 12 inches. It is best suited to gas burners, as the bottom is not completely flat.
This portable grill pan also provides a swirled channel style alongside a domed surface that helps the oil to drain gradually towards the drainage hole at one end. You need to have a separate heat-resistant bowl placed under the hole to gather the grease and fat draining from the grill. Once your grilling is done you only need to use some water and paper towels or a sponge to clean the pan.
If you don't already have a propane gas stove to hold the pan at your dining table, you could get the very affordable Agni burner as well. It's high-powered and comes with auto piezo-electric ignition with a temperature control dial. It's quite useful to use for all kinds of cooking both indoors and outdoors and is great for camping.
Pros
Good value.
Almost completely smokeless.
Easy to clean and dishwasher safe.
Lightweight.
 
Cons
You'll need a very shallow oil collector to fit under the drainage hole if you use it on your regular kitchen gas stovetop.
How to Choose the Best Korean BBQ Grill for Home Use?
There are too many brands and types of indoor grills available on the market today, so if you need help narrowing it down, start with our guide on the various features you should look at to make your choice.
Heat Source
While traditional Korean BBQ have a charcoal or gas burner, we're eliminating charcoal for indoor grill use, as the health risks from the smoke are well known. Modern indoor grills are designed to run on electricity or gas.
An electric grill will have its own heating element with a power cord and plug, so you will need a power outlet near enough to where you want to set the grill. This is the most popular type for indoor grilling. While the power rating doesn't have to be extremely high, you do want it to be enough to get the grill plate hot enough that meat actually grills and does not stew in its juices. The power cord will need to be long enough to reach the outlet but if not, you could also use an extension cord.
A gas powered grill would need your own butane burner as a heat source and there will be an attachment to hold the canister. Since both the grill and the burner are portable, this makes a great choice for camping or having a barbecue dinner at a friend's house as well as at your own home or backyard.
A simple Korean grill pan is meant to be placed over a gas stove burner just like you would any other pan. It differs from a regular grill pan by having oil draining edges so that several batches of meat can be grilled without having to manually pour out excess fat.
Material and Grill Surface
Most grills will have a metal exterior for durability and resistance to high heat. However, the handles and top edges may be made of plastic or silicone to prevent accidental burns while everyone is grilling and handling the food.
The cooking surface of the grill is usually coated with a non-stick material like Teflon or ceramic but some are stainless steel. While the former means that food won't stick to the surface and you can use a sweet marinade without it burning, and cleaning it will be easy, you do have to be careful to not scratch it or the coating will start to peel, which is a health risk. These grills won't get extremely hot either, so as to preserve the coating for as long as possible. You will have to use non-metal tongs and spatulas and non-abrasive cleaning materials.
Stainless steel surfaces are safe and can get very hot if needed and you can use metal implements if you want. However, you may need to use more oil so that the meat doesn't stick. Cleaning will take a bit more effort but you can use any kind of scrubber that will get the stuck on food off.
While you can use a grill with a flat surface, the ones made especially for Korean BBQ usually have a raised center so that excess grease easily flows to the edges.
Power and Temperature
Since Korean barbecue needs needs meat to grill fast enough and the meat shouldn't stew in its own juices, the grill needs to perform at a high enough power. If you get an electric grill, you should look for one in the 1000-1500 watt range.
You want temperature control so that you start grilling at a high temperature to seal in the meat's juices and prevent it from sticking to the surface before lowering it to a medium temperature. Sometimes, a batch of food may even cook faster than your guests can eat, so you may want to lower the temperature even further to keep things warm until it is removed to your plates. A grill should also maintain a steady temperature so that the grilling experience remains consistent throughout your meal.
Size and Style
If you only want to do barbecue for a small family of up to 4, then you don't need a large grill and can store it easily after you're done. If you want to do an occasional party, then it's worth getting a large grill. However, make sure that your table is large enough to hold it and that you have a proper spot to store it afterwards.
Most grills are rectangular, which is better for a larger party, but if it's just for 2-4 people, you can also look at round grills or grill pans. Round ones are better for stovetop burners.
Smoke-free and Mess-free
The fat that is released while grilling meat needs a place to go, otherwise you'll find your food dripping in fat after one or two batches! For this reason, the grill should have a removable drip tray to collect extra grease and sauce and the design of the grill should facilitate proper draining. The tray can be emptied out after you're done.
No grill will be 100% smoke-free, but if you're grilling indoors you definitely don't want to inhale too much smoke. The grill should be designed to reduce smoke and direct it away from the table.
Cleaning and Maintenance
Cleaning a grill is not the easiest thing, but choosing one with a non-stick surface can take the hassle out of it as long as you're careful to use only mild soap and water and a non-abrasive scrubber. Even burnt bits come off easily. If the surface is not non-stick, you'll need to soak it in soapy water for a while and scrub more thoroughly. Some grills even have dishwasher-safe parts. Make sure that there are no hard to reach spots that can collect grease or food scraps and that the rest of the grill is easy to clean by just wiping it with a damp cloth.
FAQ
What should I grill for Korean BBQ?
The Korean BBQ is usually with marinated meat, such as pork, beef and chicken, which is cooked on a grill with vegetables. You can either pre-slice the meat and marinate it before grilling or you can grill it plain and dip the pieces in a sauce later. You could also use beef or pork short ribs for more toothsome fare. If you are looking for a delicious marinade, all you have to do is whip up some soy sauce, sesame oil, garlic, ginger, sugar, sesame seeds, and a few other spices and you're good to go.
Can I use griddle for Korean BBQ?
If you already have a griddle and don't want to invest in a grill for Korean barbecue, that will work too. Just make sure that there's a drainage channel to get rid of the excess grease.
Is Korean Barbecue healthy?
Korean barbecue is quite healthy as long as you don't use processed or over-sweetened sauces for the marinade and balance meat with vegetables. Since the barbecue grill will have a drip tray to catch excess grease, you don't have to worry about eating too much fat.

You should place your grill where there's plenty of ventilation and make sure that it doesn't produce too much smoke. One way to reduce smoke is to pour a little water into the drip pan to neutralize the grease that drains off.
What oil do you use for Korean BBQ?
The most popular oil to use for Korean BBQ is soybean oil. However, it is not widely available in western countries and can be expensive. You are probably going to want to use vegetable oil or canola oil, because they do not burn at high temperatures, and they have a neutral flavor that lets the meat's flavor shine through.

While sesame oil is heavily used as a seasoning oil in Korean cooking for its intense nutty and aromatic flavor, it is not used to cook in.
Are the Korean BBQ grills safe to use in an apartment?
While charcoal heat grills are not safe for use indoors, an electric grill is perfectly safe. To ensure that your apartment doesn't fill up with smoke, try to place the grill near an open window or use a nearby fan.
What are the different side dishes for Korean BBQ?
There are many different side dishes with different flavors, textures, and purposes served during a Korean barbecue meal. The Korean word for side dish is "banchan". The most standard are Kimchi, bean sprouts, lettuce, radish, spinach, and marinated mushrooms.

Don't forget to prepare some noodles or rice as well to balance out the meal.