A spiralizer or vegetable spiral slicer is a handy kitchen tool if you're on a low carb diet and want to feel like you're eating pasta even if you're not. It's also useful if you have finicky kids that refuse to eat their veggies.
This tool handily takes vegetables like carrots, zucchini and potatoes and fruits like apples and pears and thinly slices them into ribbons or stands of varying thickness to make them resemble pasta or to serve as perfect garnishing in salads. You just push your choice of product through and the blade that you selected turns it into these strands and ribbons.
If you want to know what is the best spiralizer to buy, our vegetable spiral slicer reviews should help you decide. Some are larger and can be set on the counter for you to crank with a handle while the produce is pushed through the blade. Some are small and hand held and best for slicing small quantities.
There are several types of blades that you may find on a spiralizer. The best can come with 3 to 5 different ones so that you can slice your produce in different ways. One blade may give you spaghetti-like strands that you can use to make zucchini look like pasta, while another might give you long flat strands for a salad garnish. Uses for spiral sliced vegetables and fruits are as varied as your creativity.
Want to see more options of these fruit and veggie slicer and cutter tools? Check them out now on Amazon, otherwise, read on!
Hand Crank Spiralizer for Large Jobs
Paderno World Cuisine Tri-Blade and 4 Blade Plastic Spiral Vegetable Slicer
Paderno gives you a choice between a tri-Blade or four blade spiral slicer that give you versatility when slicing vegetables and firm fruits. Vegetable peeling and slicing has never been easier, and with three sets of blades on the Paderno, you have the option to cut slices of 1/8 inch, ¼ inch and a straight blade for ribbon cuts. With the Paderno Tri-Blade vegetable slicer, you place your vegetable or fruit on the prongs and turn the wheel while pushing the product toward the blade. Made of durable, easy to clean BPA free plastic with blades that are made from durable stainless steel, this slicer is easy to use and clean.
The Paderno shreds vegetables and fruit into long, spaghetti like strands, chips vegetables and fruit into thick spirals (think curly fries) and the straight blade creates long ribbon like strands. It even works well for long wide vegetables – a benefit not found in many other options.
The four blade model includes a blade for thin angel hair strands. A nice bonus is the metal skewer that holds wide vegetables for added stability while slicing. It allows you to make accordion cut ribbons too. A slide out tray can be used to hold cut vegetables. It folds into a compact package for easy storage with the hand crank being detachable. It includes guided rails to let you smoothly slide each blade into position, and the corer is narrow so you won't waste any edible part of the vegetable or fruit. Both left and right-handers can use this easily, as it is adjustable. The blades that are not in use are stored covered so that the juices running through from the top don't fall on them.
Although the four-blade model is of good value because of the improved features, please note that the extra angel hair blade does not work well for vegetables with high water content, including zucchini. Use this blade only for firm fruits and vegetables, like carrots or beets. All in all, this is the best spiral vegetable slicer on the market.
Spiralizer® Tri-Blade Vegetable Spiral Slicer
Triblade design and sturdy construction makes the Spiralizer® one of the best spiral slicers. The "Lifetime hassle-free full replacement" warranty assures that you will never need to worry about replacing your Spiralizer®. Japanese high carbon, stainless steel blades include a shredder blade, a chipper blade and a slicer blade. This will give you finely sliced spirals, medium sliced spirals and thin strips of vegetables or fruits. Make tasty pasta to replace your carbs with zucchini, squash, or any other vegetable that you prefer to give yourself healthy, low-fat meals.
There are strong suction cups on the bottom of the feet to provide stability when in use and the holding prongs are extra long, so the vegetables and fruits are held firmly.
Made from BPA free plastic and stainless steel, the Spiralizer® is easy to use and easy to clean, with the lifetime guarantee that Spiralizer® stands behind. Make garnishes, vegetable pastas, noodles and spaghetti, curly fries, onion rings, coleslaw, pizza toppings, apple chips (perfect for dehydrating), potato twists and salads. The versatility of the Spiralizer® is amazing and its uses are as endless as your culinary creativity.
Brieftons 5-Blade Spiralizer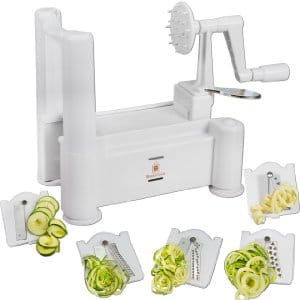 The Brieftons spiral vegetable cutter comes with five blades to give you versatility. It is very similar to the Paderno 4 blade model above and can also be used by both left and right handed people. Its suction cups keep the unit from jumping around on the counter while in use and it has several prongs for gripping the vegetable while being twisted in.
Along with a shredder, chipper and slicing blade, the Briefton slicer also comes with an ultra-thin 2mm blade for making angel-hair spiral vegetables and a curly-fry blade for making perfect curly spirals of vegetables or fruit. High quality design is made from BPA-free, food grade ABS plastic. The ultra-sharp Japanese 304 stainless steel blades will stay sharp and rust-free. The forward handle is made from stainless steel instead of plastic, making it more durable.
The Briefton spiral cutter comes with five interchangeable blades, a color manual with detailed assembly instructions and an easy online quick start guide with demonstration videos so that you can quickly learn to use your slicer. Also included is a Brieftons recipe eBook that will give you meal ideas when using your Briefton slicer.
Hand Twist Spiralizer for Small Jobs
Spiral Slicer Spiralizer Complete Bundle from Kitchen Supreme
This complete vegetable julienne spiral slicer bundle from Kitchen Supreme includes a vegetable cutter and vegetable pasta noodle maker. Smaller in size than the larger spiral slicers but with as much versatility, it is perfect for couples and smaller families. Two julienne size blades give you four thicknesses, 1/16 and 1/32 inch and 1/8 and 3/16 inch, that will make spirals from apples, beets, carrots, cucumbers, regular and sweet potatoes, zucchini, squash and any other firm vegetable or fruits. Easy to use and easy to clean, replace carb heavy pasta with nutritious, healthy vegetables in your favorite recipes.
The included vegetable slicer is perfect for peeling vegetables and making long straight slices of cucumber, squash or zucchini, giving you perfect slices every time. Both slicers are made from BPA-free plastic and heat-treated stainless steel blades that are durable and rust proof.
There is a little bit of wastage with this spiralizer, as the very end of your piece of produce is what you use to hold it while twisting it in.
Brieftons NextGen Spiralizer: 4-Blade
The Brieftons four-blade vegetable slicer is smaller than its larger cranked sibling and is perfect for slicing enough for 2 or 3 people. With the Brieftons NextGen Spiralizer, you can make noodle strands and julienne vegetables from carrots, summer squash, zucchini, radishes cucumbers, sweet potatoes, Irish potatoes and any other firm, fleshy vegetable. The shaft is large enough to fit thicker produce and the cap is shaped like a plunger so you can use it to push pieces right in for less wastage.
It is made from BPA free plastic with four very sharp Japanese stainless steel blades that are guaranteed to remain sharp and rust free over time. With built in finger guard protection, you will be sure to cut the vegetables, not yourself. The Spiralizer comes assembled and ready to use and clean-up is quick and easy because the blades are removable. Use the Spiralizer to replace high carb pasta noodles with delicious spiral vegetables for a taste treat and healthier diet.
The only negative review of this product is that the blades are very sharp and have to be handled carefully, as there is no protective cover included.
 
So what is the best spiralizer to buy? Armed with this information, we'd say that it's the Paderno 4 blade model.