For the wine connoisseur, or the casual hobbyist, a wine cooler can store your acquisitions in a chilled environment, awaiting the opportunity to liven your evenings. No need to take up valuable space in your refrigerator or chill them to a less than ideal temperature.
There are many wine coolers on the market, some holding a few bottles of your favorites or even a couple of cases. The best rated wine coolers for home use hold from eight to 32 bottles and have features that fit all your wine storage needs. These units use thermal-electric cooling as opposed to the compressor driven cooling used in refrigerators. If you want to store more than 30-40 bottles, you'll need a compressor type. Thermo-electric coolers are more energy efficient, less noisy and less expensive, but compressor coolers can give you wider temperature ranges.
In addition to knowing about the type of cooler you need, there are a few other factors to consider before buying one. Do you like to drink only red wines or only white, or do you like both as well as champagne and dessert wines? Each type is best served at specific temperatures so you may want to look at getting a dual zone cooler. This kind can keep two separate areas at different temperatures so you can store your bottles in their respective zones.
Many wine chillers have only fixed shelving to hold standard 750 ml bottles. If you like having champagne every now and then, get one with adjustable shelving. Tinted and double paned glass on the doors is better for insulation and they're better at keeping out UV rays that harm wine if the unit faces sunlight. If you're more of a beer drinker, you could consider getting a kegerator that's designed to keep kegs of draught beer cold and fresh. If you need to just keep a few snacks and cans and bottles of various drinks cold and don't have a lot of space, get a compact fridge or a mini fridge with freezer instead.
Lastly, where you place the cooler determines whether you should get a small countertop model, a built-in one to go between cabinets, or a large freestanding one to go in a corner.
Best Dual Zone Wine Cooler
Haier Dual Zone Curved Door with Smoked Glass Wine Cellar ((18, 16 and 12 bottles)
With three different models for different bottle capacities, this Haier Dual zone wine cellar will not only hold your favorite bottles of wine, it will look good doing it. This freestanding unit is designed with a small footprint and will fit easily in smaller kitchens or bar areas. The thermo-electric cooler is quiet and free of vibration. The double paned smoked glass door helps you keep wine stored in the manner that best suits it, dark, on its side, still and cool, ensuring that every bottle of either white or red wine is stored properly.
The dual touch screen controls have two LED displays that independently adjust the temperature of the upper compartment from 46° to 66° F, and the lower compartment from 54°to 66° F, enabling you to keep each wine stored at its ideal temperature. Full-width chrome storage racks allow airflow and are removable and easy to clean. Though the shelves are not adjustable, larger bottles can fit in if you remove a shelf first and then put it back in after placing the bottle in.
The top compartment is a little bigger than the bottom and has an interior light for you to read the bottle labels without taking them out.
It is found to be quiet by reviewers, and said to hold a consistent temperature. Others found it perfect for the bar area of their homes because it looks nice. Two negatives are the lack of a light for the bottom zone and the racks don't slide out but can only be lifted out, so you have to take bottles out individually to read labels.

Best Wine Cooler Under $200
NewAir AW-181E Space Saver 18 Bottle Thermoelectric Wine Cooler
The NewAir AW-181E is a compact freestanding wine cooler that can fit between cabinets or in a corner without taking up much space. The Thermoelectric cooling is vibration-free and quiet and you can custom set the temperature from 54 to 66° F using a simple control panel that also displays its current temperature digitally. A blue LED light inside can be switched on and off whenever you want from here too.
Although this is a single temperature zone cooler, you can have your whites slightly cooler than your reds by placing the white wines on the lower shelves and your reds on the top ones.
The 5 chrome racks slide out to make access easy, but the best aspect of their design is that they can be positioned in different ways to accommodate different bottles. For example, standard Bordeaux bottles will lie perfectly if you place the shelves right side up. But if you pull a tray out and flip it over, you can now fit a larger Burgundy type bottle in too! The bottom shelf of the cooler can also hold larger 1.5L magnums too.
Customers agree that this cooler gives you great value for money even though it is not a dual zone unit. Since the lowest temperature that it can go to is 54° F, it is not ideal for dessert wines that require it to be around 45° F.

Countertop Wine Chiller
Haier 6 or 8 Bottle Wine Cellar with Electronic Controls
For a countertop unit, this Haier 6 or 8-bottle capacity cooler will fit nicely on a kitchen counter or tucked on a shelf somewhere and is the perfect size for small apartments, bars, and offices. While the larger capacity Haier models are dual zone, the 6 and 8 bottle models are single zone.
The LED thermostat control allows you to adjust the temperature of your wine cooler from 46°-66° F. It is easy to read and operate on the curved glass door. The chrome racks are full width and removable. The smoked glass doors are double paned for insulation and will keep light from your bottles of wine.
Both these two Haier models are super quiet and a bargain, according to one reviewer. Others say that it is economical to run and works well with accurate temperatures. It is compact and one reviewer said that it has attractive lighting. It is perfect for those who a beginning their adventure into wine tasting.
24 Bottle Wine Cooler
Koldfront 24 Bottle Free Standing Dual Zone Wine Cooler – Black and Stainless Steel
A sleek finish and classic good looks give this black and stainless steel wine refrigerator an expensive appearance. The Koldfront 24-bottle wine chiller has a tempered glass door with a lock to keep your bottles safe from children, and dual zone cooling will keep your various bottles at two separate serving temperatures. The sliding wooden shelves give the unit an elegant appearance while they cradle your collection of wines.
The top of the unit will chill wines at a range from 54° – 66° F with a lower unit temperature of 46° – 66° F and can be controlled from the LCD temperature display panel, as can a blue LED light inside.
This wine cooler will automatically power back on after a power outage, unlike most other thermoelectric coolers, however, the temperature will go to its factory setting instead of your customized setting.
The shelves are not adjustable and you cannot fit large magnum bottles here without removing a shelf in between. In order to slide the shelves out, you have to open the door fully, so you must take that into account when measuring the space you plan to place this in. Overall reviewers found the Koldfront wine cooler to have a nice appearance, is easy to set up and has easy to use temperature controls and temperatures stay consistent.
32 Bottle Wine Cooler
Wine Enthusiast Silent 32 Bottle Dual Zone Touchscreen Wine Refrigerator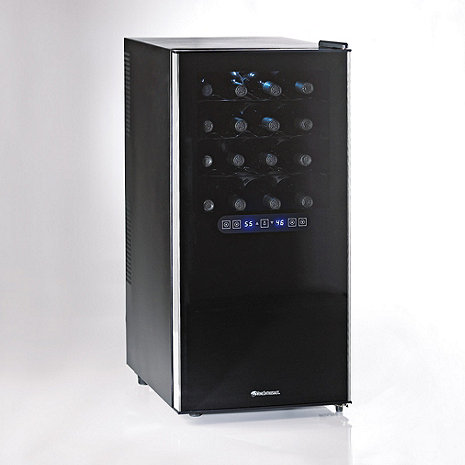 Storing 32 bottles at home doesn't sound easy or cheap, but the freestanding dual zone wine refrigerator from Wine Enthusiast allows relatively large private wine collections to be kept in perfect conditions. This thermoelectric wine cooler is energy efficient and CFC-free and works silently to keep 32 bottles of reds, whites, champagnes and dessert wines at the perfect serving temperature at all times. You can control temperatures via the digital touchscreen on the exterior and the reflective smoked glass doors are so sleek that you can even keep this in your living room! An interior LED light helps you read labels easily.
The upper 16 bottle zone can be set a range of 54-66°F, which is best for reds and whites, while the bottom 16 bottle zone can be set to a range of 46-66°F, which is best for whites, bubblies and dessert wines. You can change settings to Celsius if you prefer. There are 7 pull out chrome racks that can hold standard Bordeaux- sized bottles. To store larger bottles, remove one of the racks.
While this unit does run silently, it can make a noise if it is not level or if the shelves are not positioned properly in their places. The only complaint that some users have is that they would like it to be able to accommodate a few non-standard bottles as well without resorting to removing a shelf.