Maybe you've tried to vacuum seal a batch of stew that you want to keep for next week and found that your current vacuum sealer doesn't give it a good seal or creates a mess? Vacuum sealers vary in design and vary in terms of how much they can handle. Some can only handle dry foods, while others can handle liquids either completely or to a certain extent. To ensure that you can properly and safely store foods that are not completely dry in the fridge or freezer without using bulky jars and boxes, we help you find the best vacuum sealer for liquids, marinades and wet foods.
We cover two types of food vacuum sealers here – chamber type and external vacuum type. We won't bother with handheld vacuum sealers because their vacuum seals tend to be weak and they're especially useless for liquids.
Product
Features

Best vacuum sealer for wet foods

VAC-VIDA VS301 Chamber Vacuum Sealer

Oil pump chamber vacuum


Accepts pouches up to 10" W x 13" L


Settings for pump time, sealing temperature and seal length


Quietest model

Best affordable chamber vacuum sealer

Avid Armor USV32 Chamber Vacuum Sealer

Dry piston chamber vacuum


Accepts pouches up to 10" W x 13" L


Settings for pump time, seal time, and marinate


Maintenance-free

Best FoodSaver vacuum sealer

FoodSaver V4840 2-in-1 Vacuum Sealer Machine

External vacuum


Accepts 8" and 11" wide pouches


Has a retractable handheld sealer for external Foodsaver canning jars, ziplock bags, wine bottles and Quick Marinator.


Automatic bag detection

Best budget vacuum sealer

KOIOS Vacuum Sealer Machine

External vacuum


Accepts up to 12" wide pouches


Has an external pumping hose for canning and bottling.
Buyer's Guide – How to Choose a Vacuum Sealer that Works with Liquid
Type: Chamber Vs External Vacuum Sealer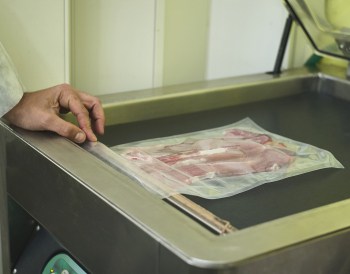 Both these are countertop vacuum sealers but a chamber type is better for vacuum sealing liquids and any foods with moisture. They are also better at creating a complete vacuum and providing a perfect seal. However, these are quite bulky and expensive and mostly only used for businesses or if you regularly want to vacuum pack large quantities wet foods at home. This is what you want if the majority of food storage is going to be soups and stews because they give you a hands off experience. Of all the models available, we have chosen a few models that cost less than $700 and have good feedback from customers.
The way a chamber vacuum sealer works is you place your filled bag in the sealing chamber so that the food and liquid inside don't spill out, and you close the lid of the chamber and start the vacuum process. An oil pump or dry piston pump operates the machine quietly. When the air is sucked out, the bag is not emptied of liquid too. This is because the pressure inside the bag decreases the same amount as the pressure inside the chamber. Once all the air is sucked out, vacuuming stops and you can then seal the bag.
You only have to ensure that you allow cooked food to cool to room temperature before placing the bag in the chamber, as this vacuum method makes liquids boil because of the raised pressure and that can cause liquids to boil out of the bag. Also, ensure that the bag is not overfilled so as to allow for some expansion of the boiling liquid.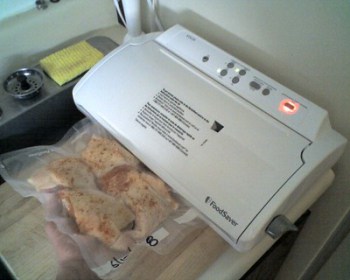 An external countertop vacuum sealer is the type that can easily go in a home kitchen, as it is compact and reasonably priced, depending on its features. This type of sealer is great for vacuum packing dry foods like uncooked veggies, dry roast meat, bread, pies, etc. You fill the bag and lay it in front of the vacuum sealer with the open edge placed inside the machine. You close the lid of the sealer and start the vacuum process.
Here's where you have to be careful when vacuuming food that is even slightly wet, like marinated meat, stews, and soups. You have to stop it exactly at the right time – after all the air is sucked out so that the food isn't exposed to any air while in storage, but before the liquid starts being pulled in. This is because you don't want any liquid to be sucked out along with the air, as this will cause a mess and can damage the vacuum machine. If budget and space are constraints, then you can use an external vacuum sealer but will have to use a technique to prevent this from happening. We'll explain your options later on in this article.
Settings
Some vacuum machines are very simple to use and don't come with more than 1 or 2 settings. If you want to vacuum pack liquids, you may want to have more control over the process, and that's where a few additional settings come in handy.
Those that can handle liquids may have a "dry" setting and a "moist" setting where even if a little liquid comes in contact with the place where the bag is sealed, that won't hinder it from creating a nice tight seal. Some models might give you a pulse setting so that you have more control over suction force, which is handy when you don't want to crush the contents of the bag. For example, a soft loaf of bread or a half-eaten bag of chips. This setting is also useful when you're using wet foods and want to ensure that the vacuuming stops before the liquid gets sucked in.
Power
Powerful chamber vacuum sealers do consume more power but the advantage they have is being able to continuously run for a long time without getting overheated. This is a great time saver if you're doing a bulk job. On the other hand, if you only have a small amount of foods to do at a time or you're OK with resting the machine in between each vacuum and sealing cycle, then you can save on your electricity bills each time!
Size of the machine
Chamber vacuum sealers are quite bulky and heavy so if you want one for your home kitchen, make sure that you're going to use it often and that you have a dedicated space on a countertop. It will be impractical to store it away after every job.
That's a huge advantage that external vacuum sealers have because not only do they take up very little space while running, they can also be stored away in a cabinet when you're done with it. They are pretty light, so you may even be able to lift it up while it's vacuuming a bag of liquid that's resting below on the countertop. A good way to ensure that liquid doesn't get sucked out too.
Available accessories
For the times that you want to vacuum food stored in a box or jar, some vacuum sealers come with an attachment port and maybe a vacuum hose that you can attach to compatible lids of containers. This is very handy if you want to try preserving extra summer fruit and vegetable harvests.
Bag sizes and Types
If you want to save large cuts of meats or big portions of stews in single bags, make sure to choose a sealer that's wide enough to accept wide-mouthed bags. The standard maximum bag width is usually 11 inches. Some models also only accept certain types of vacuum seal bags for liquids and these may be more expensive than generic food saver bags or uncut rolls.
 
All of these vacuum sealers are good for prepping sous vide packets of food. Once sealed, the bags can be dropped in a sous vide cooker for juicy and flavorful dishes. If you want to save thinly sliced dried foods outside of the fridge or freezer, then you should look at getting a food dehydrator.
Best Chamber Vacuum Sealers
VAC-VIDA VS301 Chamber Vacuum Sealer
The VAC-VIDA VS301 Chamber Vacuum Sealer offers some great features for those who need to use bigger bags. First is the sealer bar itself. It's 13″ wide. That means you can use bags that are from just a few inches wide to the whole 13″. Although the chamber is rather shallow, just 2″, the lid adds another few inches to bring the usable depth to just over 5″. And when you consider the width of the chamber, you realize that you can marinate meats in a maximum bag size of 10″x13″, which is more than adequate for most tasks. You'll have a great vacuum sealed bag in less than three minutes. There's no special setting required.
Its oil pump should last for many years, as long as you change the oil at the recommended interval of every 25 hours of use. This is critical. Many of the durability issues of this sealer you may see online are directly caused by neglecting the simple maintenance that's required. Sure, you'll have to keep an eye on this and change it when it's time, but that takes mere minutes. You won't have to let the pump cool after sealing every few bags or so. This can be time-consuming when processing a lot of food at one time. Secondly, it operates very quietly.
To seal liquids, you'll have to try it out first as it is a really powerful vacuum sealer. You have to figure out how much liquid can be filled in a bag before the vacuum pressure causes some to spill out. Any spills that happen are easy to wipe up, thanks to the design of the chamber. There's a little barrier that keeps fluids in one spot. Once you figure it out, saving soups, stews and marinades becomes a breeze!
Keep looking if you need a unit with an exterior vacuum port. But be aware that you can vacuum and seal wide-mouth mason jars right in the chamber. You don't get any other accessories, either, other than 100 large bags.
Pros:
Durable
Very quiet
Not as expensive as other oil pump chamber vacuum sealers
Can handle bags up to 13″ in width
Excellent customer service
Cons:
No eternal port
A bit heavy
Avid Armor Chamber Vacuum Sealer USV32 Ultra Series
Chamber vacuum sealers that feature dry piston pump, like the Avid Armor USV32 Ultra Series Chamber Vacuum Sealer, have several advantages over oil pump sealers. First of all, there's no maintenance required on this wet dry vacuum sealer since you don't have to refill on oil. The pump also allows for a more compact piece of equipment, which makes it really appealing to home users. The drawback is that it works more slowly than oil pump machines. However, for most households it doesn't matter. So if a commercial oil pump model finishes a cycle in 20 seconds, this Avid Amor model does it in 50 seconds. It's the best wet vacuum sealer for the price.
The sleek stainless steel body with low profile glass lid won't take up much space on the countertop, and if you want to remove it for storage in a cabinet, there are convenient side handles for that. The chamber size is 11.5″W x 12″L x 3.5″H and can hold a pouch up to 10″ by 13″ in size. You can also use 6″x10″ and 8″x12″ bags and you'll get a sample pack of 30 vacuum chamber pouches in all three sizes.
The dry piston pump creates a high-pressure suction force to vacuum out air from the food bag and chamber so that no liquid is sucked out during the process. Once you place the bag inside and shut the lid, the one-touch "Auto Vac & Seal" function can do the job in one shot without you needing to do anything. However, if you prefer more control while looking through the window, the adjustable Vacuum Time function is there to ensure a maximum vacuum is achieved on every pouch. The vacuum program is adjustable in 5 second increments.
There's also an adjustable Seal Time Function to provide an extra-secure seal on all types of pouches. You will get two seals on every pouch because of the double seal wire. The sealer function adjusts in 1 second increments.
There is no need to wait between cycles, as it doesn't heat up like an external vacuum model. It is also quiet, though not as quiet as an oil pump model. Those little spills you may have to deal with are easy to clean.
Its marinate mode is a big plus for when you want to do a quick sous vide. When selected, this mode will vacuum down to almost zero atmospheric pressure, then release the vacuum. After that, you run your pouch through the seal mode.
You can't seal jars and boxes outside of the chamber as there is no external hose port. You can however, place small canning jars inside the chamber or lay taller ones on their side. Just leave the lid loose and it will be tightened due to pressure once all the air is sucked out.
Pros:
Long-lasting dry pump
No cool-down periods required during extended operation
Easy to clean up spills
Marinade mode
Highly adjustable vacuum and seal modes
Cons:
Not as fast or quiet as other chamber units
There is no external vacuum port to use on jars
Vertical Chamber Vacuum Sealer by Vesta Precision – Vac Elite
Most sealers are relatively short and wide. This is the prevailing design, but you usually have to watch the sealing process when working with liquids to prevent the spills that can be caused by running the vacuum too long. The vertical design of the Vesta Precision Vertical Vac Elite Chamber Vacuum Sealer means that you can seal your bags full of moist foods or liquids just as you would dry foods, not having to pay any special attention to it. You just set the vacuum pressure you want, insert the bag and press the go button. The unit will shut off when the process is complete.
That sounds pretty easy to use, doesn't it? There's no pulse feature to learn how to use. But you'll get a strong double seal the very first time you use it, as long as you set the vacuum cycle time right. It would be even better if there was an accessory port for processing jars that won't fit inside. Anything you seal has to be able to fit in the chamber.
The largest size bag you can use is 10″x12″x2″. That equates to about a gallon of soup. If you do overfill your bag, you're going to have a bit of a mess. There's no drip channel, so you'll have some quick cleaning up to do.
Pros:
Vertical design is perfect for sealing liquids
Easy to use
Less than $700 – A great value
Cons:
No drip channel
No accessory port
Best External Vacuum Sealers
Weston Pro-2300 Commercial Grade Vacuum Sealer
The Weston Pro-2300 Commercial Grade Stainless Steel Vacuum Sealer will give you a wide and strong 15″ single seal. And it works with any kind of vacuum seal bags up to 15″ wide. This is good for sealing liquids, because you can use those long bags and leave yourself some extra room up top.
There are two modes: automatic and manual. You don't have to worry about setting vacuum pressure or seal time in auto mode, as it is probably the strongest vacuum sealer for home use. But that's not necessarily the best way for liquids. You'll want to go manual and use the moist mode. Just watch the vacuum process, and stop it when the liquid reaches the top of the bag.
Since there's no room for a drip tray, you may want to place a kitchen towel under the unit in case some broth or brine gets sucked up into the vacuum. There isn't any gentle or pulse mode to help you out there. You just have to pay attention when sealing anything that would make a watery mess if it was to spill. If some liquid gets to the sealing position on the bag, you can be assured that the sealer will still create a strong seal across the bag anyway.
This is a vacuum sealer that works with any bag – even bags that aren't made for sealers. You can use standard zip-lock bags, for example. But it will take a while to preserve a lot of food. The double-piston motor has a fan to keep it cool, but you'll still have to let the motor rest for about 20 seconds between each cycle.
It's nice to see an accessory port here. That lets you seal jars and larger vacuum bags pretty easily using a hose, which is of course included.
Pros:
Affordable on a budget
Uses any size bag up to 15″ wide
Will create a strong seal even if there's so liquid present along the seal line of the bag
Accessory port built in
Cons:
Motor must cool between cycles
Pretty loud during operation
FoodSaver FM5200 2-in-1 Automatic Vacuum Sealer Machine with Express Bag Maker
FoodSaver makes some of the best food sealers with home vacuum sealing technology, and their FM5200 2-in-1 Automatic Vacuum Sealer model offers the simplicity and dependability that the company is known for. All of this at an unbeatable price.
There are several options for bags and the methods you can use to seal. Use any bags you want, up to 15″ in width. You can even save some money and time by using rolls. The roll dispenser lets plastic out as you use it, and a new bag is created every time the sealer makes a seal. You also save time here because there's a second seal that's created to prep for the next bag. You do have to cut each bag as it's sealed, but that only takes a twist of the cutter knob.
All it takes is a quick read through the instructions to be able to properly use it. Vacuuming and sealing is pretty straightforward. After you fill your bag, you just insert the top of the bag into the vacuum head. The window on the top lets you control where to seal the bag. While holding the bag from below or resting it on the counter in front of the sealer, you push the vacuum and seal bar to start the process. That's it. There's an automatic moisture detection mode that it will switch to if it detects any juices that shouldn't be sucked out. If any does get sucked up, it'll just go right into the drip tray. Toss the tray into your dishwasher when you're done. The rest of the appliance is easy to wipe down.
This sealer looks good enough to set on your counter all the time. Its slightly vertical design means that it takes up very little counter space, but you can easily store it away when you're not using it. However, the height of the sealer tends to waste some length of bag roll if you rest the bottom of the bag on the counter. If you hold the bag with your hands, it's tricky to push the vacuum and seal bar at the same time.
There is an accessory port that is compatible with the Food Saver jar sealers sold separately.
So what's included with the starter kit? You get an 11″x10′ bag roll and several quart and gallon sized seal bags and zipper bags.
Pros:
Automatic detection of moist food
Accessory port
Saves time prepping bags with double seal
Easy-clean drip tray
Use any bags, including rolls
Cons:
The height of the sealer is not ideal for a single person to operate.
Foodsaver V4840 2-in-1 Vacuum Sealer Machine
The Foodsaver V4840 2-in-1 Vacuum Sealer Machine is a deluxe external vacuum sealer that's easy to use, but still has the features that let you customize your vacuum sealing chores. It is one of the best seal a meal machines available because it takes the guess work out of the process. It is also the best Foodsaver vacuum sealer available.
Let's talk about the automatic bag-sensing technology. Once you properly position the top of the bag in the sealer, it takes over and does the rest. An LED light bar shows you the progress, so you'll know how close it is to being done. That means you don't have to watch it like a hawk to make sure no liquid gets pulled into the sealer. This is ideally how to vacuum seal meat with liquid. It goes to the optimum vacuum level so that all air is sucked out without crushing the food inside. Although there is no pulse button, you can still use it for bread, chips, and any other delicate foods and have them stay fresh and safe in the freezer for up to 3 years.
It senses what kind of food you're processing. So you could go from sealing dry food right to stew or soup, and you won't have to remember to hit the moist or dry mode button. Whichever mode it is in, a really tight seal will be created. This makes quick work of sealing any food you need to preserve, especially if you use the bag rolls. You can also hit the power button before it starts sealing if you want to do any adjustments or vacuum a little more first.
It has the same dispenser and bag roll cutter as the FoodSaver FM5200. However, you do have to prep the next bag for vacuuming yourself, as there is no double seal on this model. The efficient way to do it is to cut several bags and seal one end beforehand.
You can also use the retractable handheld vacuum port to vacuum seal big bags and jars. You can even vacuum the air out of oil and wine bottles if you spring for the special stoppers for these vessels. This is a good way to preserve the flavor of wine and the clarity of oils. The vacuum hose and these accessories are optional.
This one is also compatible with the Quick Marinator. It's worth the investment if you often make marinated meat. You'll get a full flavor infusion in minutes, thanks to the strong negative pressure that pulls the marinade into the meat.
And here's a cool feature that may save you from having to clean up a big mess. There's an indicator light that lets you know when the drip tray is almost full. When the light comes on, just empty and rinse the tray. Then you're ready to get on with some more sealing.
Pros:
Very easy to operate
Indicator lights that show progress of sealing
Use any bags
Has a pulse mode
Removable drip tray
Compatible with Quick Marinator
Automatically detects the type of food for the best sealing method
Long five-year warranty
Cons:
It can be fickle with the vacuum process so you may need to manually stop and vacuum all the air out before the auto sealing process begins.
KOIOS Vacuum Sealer Machine
If you're looking to do a lot of vacuum sealing of meals or moist food but don't want the expense or bulk of a chamber vacuum or even the external vacuum sealers above, then you'll need a machine that works fast and doesn't need to rest frequently. That's where the KOIOS Vacuum Sealer Machine comes in. It's our pick for best budget vacuum sealer for home use.
The well-designed vortex vacuum chamber allows for a very strong suction force without any loss of suction. Once all the air is sucked out, it will start the sealing process. If you want to control the process, you can cancel the vacuuming at any time and use the seal button separately. Keep in mind that this model does not seal properly if the lid is not closed tight and locked, so if you're using the automatic vacuum and seal function, make sure it is locked right from the beginning. There's also a moist and dry setting for a tight seal even with liquids.
The sealing function can be operated continuously for 40 seals without the machine being damaged, making this a contender for the fastest vacuum sealer as well. The sealing wire is long at 11.8 inches, so you could use slightly wider bags or rolls or use two smaller bags side by side at the same time. There's a mica sheet in the bottom pad of the heating strip to withstand the very high temperatures needed to create a super-strong seal.
If you want to use the vacuum on canning jars or wine bottles, there's an external pumping function as well as the accompanying hose. Even though there's an integrated bag cutter, the package includes a portable bag cutter as well as 5 large and 5 small vacuum bags.
There is a drip tray that you can clean with a sponge but it is not removable.
Pros:
Strong suction power
Strong seal when doing it manually
Saves time doing several bags in a row
Very affordable
Cons:
The drip tray is not removable.
The vacuum and seal process is a bit finicky, so it's best to stop the vacuum and manually seal.
GERYON Automatic Food Sealer Machine
It's easy to switch between dry and moist food modes and bag and canister options with the GERYON Automatic Food Sealer Machine. The control panel on this sealer is self-explanatory. That makes it easy to use. There really isn't much to learn before being able to call yourself a pro.
One useful feature that's worth discussing is the gentle mode. It gives you more control over the process by pulsing the vacuum motor. So you still get a good, strong vacuum, but it's easier to see what's going on. That way you can stop the vacuum before any liquids get pulled in. It's also a lot easier to seal soft stuff, like bread and rolls, without smashing them flat.
To seal canisters and jars of juice for many days of storage, you just attach the included accessory hose to the port and touch the canister button. It'll shut itself off when the optimal vacuum is reached. You will have to buy canisters separately. It is only compatible with Geryon mason jars and containers.
You also have the option of only sealing bags, instead of vacuuming and sealing. This can be helpful for really big bags of liquids. Maybe you want a little bit of air at the top of the bags that you're going to refrigerate for shorter periods of time. They're a lot easier to open that way. And this feature lets you seal up bags of bread or even a half-eaten bag of chips for long-lasting freshness.
It does take some effort to close the lid. After you get the bag positioned correctly, you have to really push down on both corners of the lid to get it to snap into the locked position. It takes a similar amount of effort to unlock and raise the lid as well.
If you are OK with the lid being a bit tricky, you'll love the money you can save here. This sealer costs under $100, and you get a big roll of bags and some smaller individual bags to get you started.
Pros:
Awesome price for tight budgets
Gentle mode for easy sealing of liquids
Also has a seal-only mode
Cons:
The build has a somewhat flimsy feel
No drip tray
Difficult lid
Only compatible with its own jars and containers.
NESCO VS-12 Deluxe Vacuum Sealer
The NESCO VS-12 Deluxe Vacuum Sealer has a powerful pump to quickly produce a superior vacuum. And it can double seal the bag, if you choose. That gives you peace of mind that the seal will hold.
It has the same roll storage and dispensing system that other sealers of this type have. But this one cuts the bag after it forms the seal. This can save time and effort. You should buy better rolls, however. The one that comes with this sealer as a bonus isn't made of the highest quality plastic, and there have been some leaking issues in the past.
The gentle mode you'll find here doesn't pulse the vacuum. It actually cuts the power to produce a lighter vacuum pressure. That's fine, but it takes some getting used to if you're accustomed to pulse vacuum sealers. You have to watch pretty carefully the first few times you use it to make sure you are getting all of the air out.
Use the dry mode for dry foods. When you are sealing moist food or liquids, use the moist setting. That allows more time for a good seal to form. In fact, it'll even seal the plastic right through any moisture that may be present on the part of the bag that gets sealed. This makes things easier, but it also assures that you won't get any leaks.
The drip tray is rather small, but it is easy to clean. Just wipe it out if it gets full, and toss it in your dishwasher when you're done sealing.
You can use the 8″ or 11″ rolls. But it isn't recommended to use regular zip-lock bags. Those bags are usually too thick for this sealer's bar. You can, however, seal jars, large vacuum bags and even canisters with the optional accessory hose. Ho
Pros:
Automatically cuts bags when done sealing
Gentle setting for extra control over liquids and soft foods
Moist setting provides a superior seal for liquids
Compatible with most Food Saver attachments.
Cons:
Small drip tray
Best results only with bag rolls or regular vacuum bags
How to Vacuum Seal Liquids Using an External Countertop Vacuum Sealer
When you're vacuum sealing with liquid, a powerful suction force would easily suck the liquid out of the bag along with the air. This would cause a huge mess and could even damage the machine's motor. A chamber vacuum sealer reduces this risk because it decreases the pressure inside the chamber as well as the pressure inside the bag, so the liquid doesn't come out of the bag. However, the bulk and expense of this type of commercial vacuum sealer for liquids makes it out of reach for most home users.
So do you want to know how to vacuum seal any moist foods and liquids with an external food vacuum sealer? Then follow one or more of these tricks:
The most foolproof way to vacuum seal liquids is to freeze them first in boxes or ice cube trays. You can then move the frozen blocks to freezer bags and vacuum them tight like you would for dry foods. However, this is a time consuming method and the freezing phase will require adequate space in the freezer if you're doing a lot of liquids at a time.                                                                                                                 
There are liquid blocking vacuum bags that are precut and come in 1 quart sizes. These bags have a liquid blocking strip near the opening to prevent liquid from getting sucked out during the vacuum process. However, these bags are expensive and not worth it if one of your food saving goals is to reduce expenses from food waste.                                                                                                                                  
You can try a hack using a similar technique by rolling up a paper towel and wrapping it around the inside edge of the vacuum bag. The towel will soak up at least some liquid that may escape after all the air has been sucked up. It's not the best method if you're vacuuming soups and stews but is adequate for foods in small quantities of marinade.                                                                                                                            

The best method for home food vacuuming using an external countertop vacuum is to hang the vacuum bag over the edge of the countertop once the lid of the vacuum is closed over the mouth of the bag. This way gravity takes over and only air can move upwards and out of the bag. You will need one hand under the bag just in case it slips out from the machine.                                                                                                   

The above method may waste a little bit of bag length depending on the design of the vacuum machine. If it is too much, another way is to let the bag sit on the countertop with its mouth closed by the lid of the machine and you can hold the machine up over the bag until it is sealed. You can do this only if the machine is light enough but this method can create a seal closer to the food level.
FAQs
How long does vacuum sealed food last?
Most vacuum sealed food can last between 1 year for fresh fruits and vegetables and 3 years for marinated meat as long as all the air has been sucked out first.
Can I vacuum seal bread?
Yes, you can vacuum seal bread using two methods. The first it to freeze the bread first so that it becomes rigid enough to withstand the pressure of an ordinary dry vacuum seal. However, if the vacuum machine comes with a pulse function then that will provide enough control that you can slowly vacuum the saver bag until all the air is out but before the bread starts to be crushed.
Are food vacuum sealers worth the money?
If time is money then food vacuum sealers are absolutely worth the money! For busy moms who don't have time to cook on week days, making large batches of food on weekends and storing them safely in the fridge or freezer is a huge time saver.

Since buying food in bulk saves money, you can also vacuum pack the excess for later in the month instead of throwing out produce that spoils. Those that grow fruit and vegetables in the summer months know that you'll have lots of excess produce that can be enjoyed in the winter while reducing food bills.
What foods should not be vacuum sealed?
Freshly cooked hot food should not be vacuumed unless you want a major mess on your hands. Let the food reach room temperature first.

Raw mushrooms, garlic, and soft unpasteurized cheeses should not be vacuum packed because these contain anaerobic bacteria that can grow even without the presence of oxygen. If this happens, you may unknowingly consume contaminated food thinking it is safe.

Most cruciferous vegetables produce a gas in their raw state. This gas spoils food fast if there's no way for it to escape. If you want to vacuum pack these vegetables, first blanch and dry them for safety.

"New Food Saver" by Tim Patterson is licensed with CC BY-SA 2.0. To view a copy of this license, visit https://creativecommons.org/licenses/by-sa/2.0/