The sous vide is a method of cooking that is actually simpler than it sounds. You seal your food in an airtight bag and cook it very slowly for many hours in a controlled temperature water bath until the food reaches a certain temperature. This method ensures perfectly cooked food that is evenly done right in the center as well as on the surface. The cooked product can be seared off on a pan or smothered in a delicious sauce.
So how do you get your food into an airtight bag? By using the best vacuum sealer for sous vide cooking. This gadget sucks the air out of the bag and creates an airtight seal with the food protected inside.
Not only is this device useful for cooking, but you can also vacuum seal excess food for freezing for later consumption. The lack of air in the food bag means there's no freezer burn and the flavor and texture of the food remains unchanged. Keep in mind that if there is more than just a little liquid in the bag, it will get sucked out along with the air and create a mess. If you want more convenient vacuum packing, then you can choose a chamber vacuum sealer that's designed for marinades and other wet foods.
You will need vacuum food storage bags or rolls to store the food. These are made of thick food-grade plastic and can withstand the heat from the sous vide water bath. Food saver bags are most convenient but a little more expensive if you do a lot of sous vide cooking or freezing. Rolls come with a bag cutter and you seal one end first before filling it. These are cheaper than premade bags.
Before you look at your options for a home vacuum sealer, you want to be clear as to what the differences are between various types of models. Firstly, there are manual machines and automatic machines. A manual sealer is inexpensive and allows you to control the vacuum process so you can be sure to not crush delicate foods. You press the stop button, check if the vacuum is good enough and if not, vacuum some more until you're satisfied before sealing the bag.
An automatic sealer costs more but is great for beginners who can't tell if all the air has been vacuumed out. In this case, the machine senses when to stop and then automatically switches to sealing the bag.
Most machines meant for home use are best used for only dry or moist foods, as vacuuming using these machines tends to suck out liquids as well. For the little bit of juices that do get out, a removable drip tray to catch it all is recommended. If you want to vacuum seal bags of soup, stew or marinated foods, you'll need a chamber vacuum sealer, which is quite expensive. You can also use a good home vacuum blender if you want to retain maximum nutrients and prevent oxidation of your homemade smoothies and sauces.
The following best vacuum food sealer reviews covers all these types of machines so you can make the best choice for your needs. We have also reviewed some top rated sous vide cookers for home use.
FoodSaver Vacuum Sealing System with Starter Kit (V3240)
If you are looking to get into sous vide, the FoodSaver V3240 Vacuum Sealing System is the way to go. Whether it's long-term storage of frozen fish or meat, short term storage of cheese in a freezer, or delightful sous vide cooking, this sleek, compact, and easy to use sealing system comes in handy when it comes to food sealing.
The V3240 system is engineered in such a way that it can remove air from its FoodSaver bags. The starter kit includes a 1 heat seal roll, 3 pre-cut 1 quart heat-seal bags and 2 pre-cut 1 gallon bags. To operate, add food to the Food Saver bag or roll bag that you have previously sealed on one end, position the filled bag in the sealing channel, close the latch, select a preferred vacuuming speed, a dry or moist food type, and choose either the seal or Vacuum and Seal option from the control panel and the system takes care of the rest. It creates a tight wide seal without crushing the food and it is a manual machine because you can cancel the vacuuming process at any time, can control speed and input your food type.
Regarding accessories, the V3240 comes with built in roll holder and bag cutter if you choose to use rolls, and a hose port that can be used with the Food Saver containers and canisters, so even stews and soups can be preserved. This accessory hose makes it simple to get rid of all the air from the containers, making it easy to get them airtight.
This vacuum system comes with a dishwasher safe, removable drip tray that makes it hassle free to clean and it is very quiet during operation. In addition, the FoodSaver bags are designed to ensure that your foods keep fresher longer and they are also safe for sous vide and boiling.
The device lacks automatic operation capabilities, so you'll have to control the process yourself, and according to some users, the machine is bulky hence difficult to shift it from one spot to another.
FoodSaver 2-in-1 Vacuum Sealing System with Bonus Built-in Retractable Handheld Sealer (4840)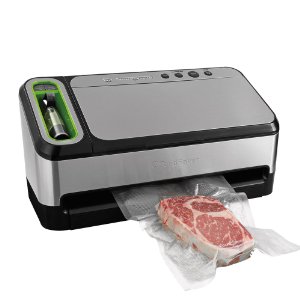 The FoodSaver 4840 2-in-1 Vacuum Sealing System is everything you can ask for in your daily food storage needs. Designed elegantly but simple to use, this appliance features an incredible 2-in -1 vacuum sealing system. Unlike most vacuum sealing machines, the FoodSaver 4840 can be used for paper bags, zip bags, boxes, and containers.
The device comes with an automated heat seal function that makes the process faster. In addition, it comes with an additional sealing strip that ensures the extra airtight seal and a fast marinating feature. A built in hand held sealer can be used on zip lock bags, containers and canisters.
The device measures 11 x 20 x 12 inches and in terms of weight, the 4840 weighs 10 pounds. This makes it easy to shift it around and store. Other additional features for the starter kit include 11"x11" roll, 3 Qt Heat seal bags, 2 gallon heat seal bags, 3 Qt zipper bags, and 2 gallon zipper bags. It also includes a roll holder, bag cutter and removable drip tray.
Amazingly, the flawless design of the FoodSaver 4840 allows it to detect moist and dry food automatically. In addition, the indicator lights show whether the sealing process is complete or not. Besides being faster and cost effective, the FoodSaver 4840 packing capacity is not only limited to food. In fact, it can pack products like documents, silver, and cutleries. The automatic function detects bags and thus does not need any manual backing.
The equipment is not very effective when it comes to storing or packing liquids in bags. For that you should use the hand held sealer and pack the liquid foods in containers and canisters. Another work around is to freeze the food in a container or zip lock bag and then remove the frozen solid food and place it into a Food saver bag before vacuuming the air out and sealing.
Many users have found the automatic feature rigid. The device is primarily designed for domestic use and therefore cannot handle bulky packaging.
Weston Pro-2300 Vacuum Sealer (65-0201)
The Weston Pro Vacuum Sealer gives you a choice between manual vacuum sealing and a one-touch auto mode and it gives you an extra wide 15 inch seal from the Teflon bar and the seal is extra thick. Its housing is stainless steel, which most users like, but it does take up more space than other models. A see through lid allows you to align the bags properly for the seal. A little open drawer in the back gives you a place to store the cord when the unit is not in use.
The vacuum pump runs on a double piston with a fan cooled motor to prevent overheating and all its parts are replaceable.
Because this is the best sous vide vacuum sealer of the bunch, you do have to wait about 20 seconds in between each bag. You also have to ensure that the bag is straight with the smooth side down to ensure a proper seal.
While this is a great appliance for doing what it's meant to do, it does not have space for bag roll storage, nor does it come with a bag cutter. You also can't use it with hose attachments as it does not have an accessory port, so this is not the right model for you if you want to vacuum air out of containers, canisters and jars of food.
SousVide Supreme Vacuum Sealer (SVV-00300)
The SousVide SVV-00300 is one of the few vacuum sealing machines that is specially designed to perform sous vide operations. But you do not have to use it strictly for this style of cooking, you can also use it for other household uses. It comes with 12 cooking pouches that easily withstand hot water baths used for sous vide cooking.
An essential feature of SVV-00300 is its easy touch activation that allows you to press easily down the top to begin the sealing process. The machine also comes with an easy to use control panel that is customizable according to your needs. For example, you can manually select settings depending on the type of food you want to seal or you can select a speed for vacuuming.
The strong suction mechanism of the SVV-00300 sucks air from the bag without shriveling any of the bag's contents, creating a vacuum in the bag that allows effective heat transfer required for the sous vide process.
One other outstanding feature of the SVV-00300 is its elegant exterior and the glossy silver finish highlighted in its stylish rectangular shape. Although the body is made of plastic, the machine feels robust and sturdy.
The SousVide Supreme is light in weight and therefore easy to carry around. It also has a unique extra wide heat seal making it appropriate for packaging food bags of various sizes. In addition, you can select your desired settings from the control panel.
The drawbacks are that it lacks a liquid drip tray and roll cutters. In addition, it cannot be used with zip bags for containers.
Oliso® PRO™ Smart Vacuum Sealer (VS97A)
If you are an avid outdoors person or if you do a lot of freezing, the Oliso PRO Vacuum Sealer VS97A is your perfect bet. Designed to vacuum seal foods in Oliso's specially designed storage bags, the VS97A uses Oliso's patented punch and seal technology with liquid detection to provide professional level vacuum sealing.
The VS97A comes with a dual motor system, an automatic sensor that starts the motor when the bag is correctly placed, a moist or dry setting for superior sealing accuracy, and an easy no touch operation. All you do is fill your bag with food, place the bag into the machine, and it does the rest. If you ever need to add food to an already vacuum sealed bag, there is a zipping disc than zip locks the bag after the original seal. All you have to do is unzip the lock, add food and create a new vacuum seal!
The Oliso VS97A comes with a big, simple to clean drip tray, a water resistant carry case, 12V DC adapter, and a flexible tube and capping for removing air out of bottles and other containers. It also comes with a set of different sized reusable bags that are dishwater and microwave safe and of course, great for sous vide cooking or boiling. The device is covered by a one-year warranty from Oliso.
Its compact size makes it easy to carry around and makes a great sealer for moist or dry foods. It is also fast, quiet, and simple.
The only drawback is that you have to use Oliso's vacuum seal food bags but these are reusable, resealable and available on Amazon, so you they are very practical to use.
VacMaster Chamber Vacuum Sealer (VP210)
If there is one vacuum sealer that has an edge over the others, then it's the VacMaster VP210. This vacuum sealer works with liquid or food stuff with high liquid contents, unlike other vacuum sealers. The VacMaster VP210 uses advanced chamber technique to suck air and not the liquid out of the bag. This allows storage of foods with soups or juices.
The machine comes with a vacuuming chamber that is 11 x 15 x 5 inches in size. In addition, it has filler plates that permit even vacuuming for all types of foods. It also has a 10-inch broad sealing bar that permits vacuuming of bags a mouth size of 10 inches.
The machine also comes with a good-looking control panel that is easy to handle and features an easy to read pressure gauge that shows the vacuuming process. A transparent top allows you to see the entire vacuuming process.
The exterior of the VacMaster Chamber Vacuum Sealer is beautifully finished with steel, making it both stunning and sturdy. The control panel, which is black and white, gives the entire design an eye-catching contrast. In terms of size, the VacMaster VP210 is larger than most vacuum sealers, and this gives it a touch of a commercial equipment use for home. However, it is easy to use, making it the best vacuum sealer for sous vide of dry, moist and liquids foods.
If you want to try other methods of preserving food at home, take a look at pressure canning and food dehydrating.